In our continued quest to test most of the major website platforms and figure out the best options for you, dear artists, we've taken some time to give ArtStoreFronts.com* a try.
*This post previously disclosed an affiliate relationship with ASF. TAA no longer has a financial relationship with them as of 2021. Our current top website platform recommendations are Squarespace and Shopify.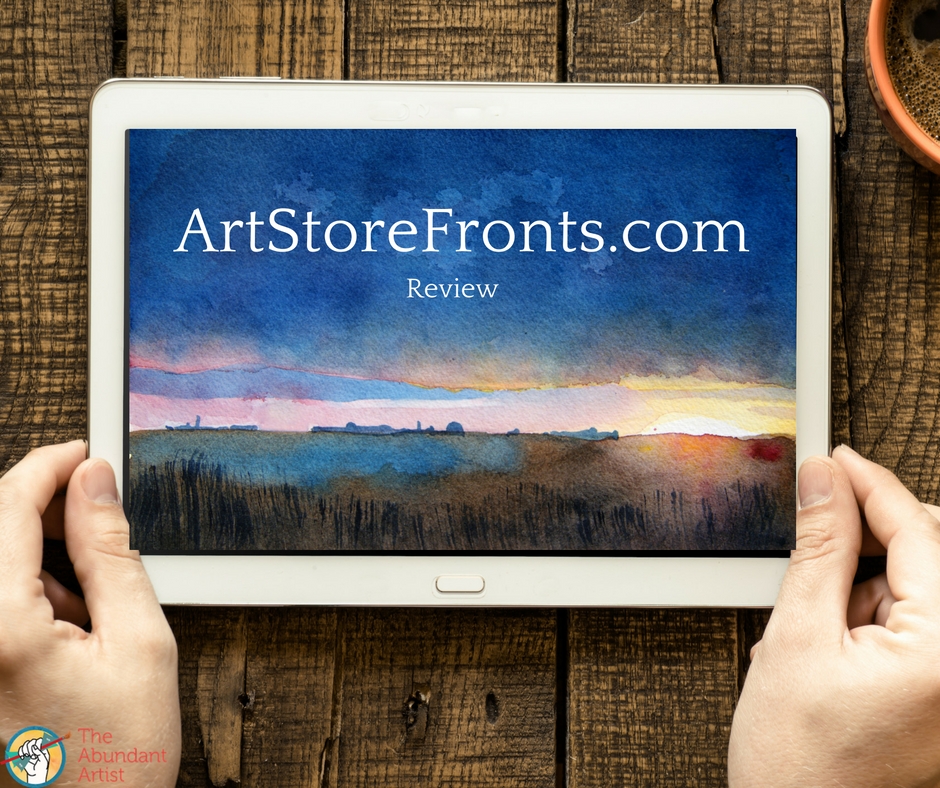 ArtStoreFronts.com = A Done For You Print on Demand Service
A website service similar to FASO, Shopify or Squarespace, ArtStoreFronts.com (ASF) offers websites for artists.
ASF's biggest plus? If you are an artist who wants to sell prints, ASF gives you a Print on Demand (POD) business for just your art, alongside a store where you can also sell original art.
We've covered the POD business a couple of times before here on the TAA blog. See our Ultimate Guide to the Print on Demand Business.
Other POD companies act as marketplaces where thousands of artists sell their art. These companies also act as gatekeepers between the artist and the buyer. The customer's contact info stays with the company, and the artist is unable to market to that person again later.
ASF solves this problem by connecting the website that they provide for you with a printer who will print, package, and ship to the buyer. Since the transaction happens on your website, the buyer's info is yours and you build your mailing list when you make sales. ASF sites do all of the things you need them to do – ecommerce, a blog, secure transactions, and more. They also allow you to add tracking pixels for marketing on Facebook and other advertising platforms.
You don't have to sell prints to use ASF. About 60% of their customers just use the website and either don't sell prints or sell via a local printer not using the ASF system.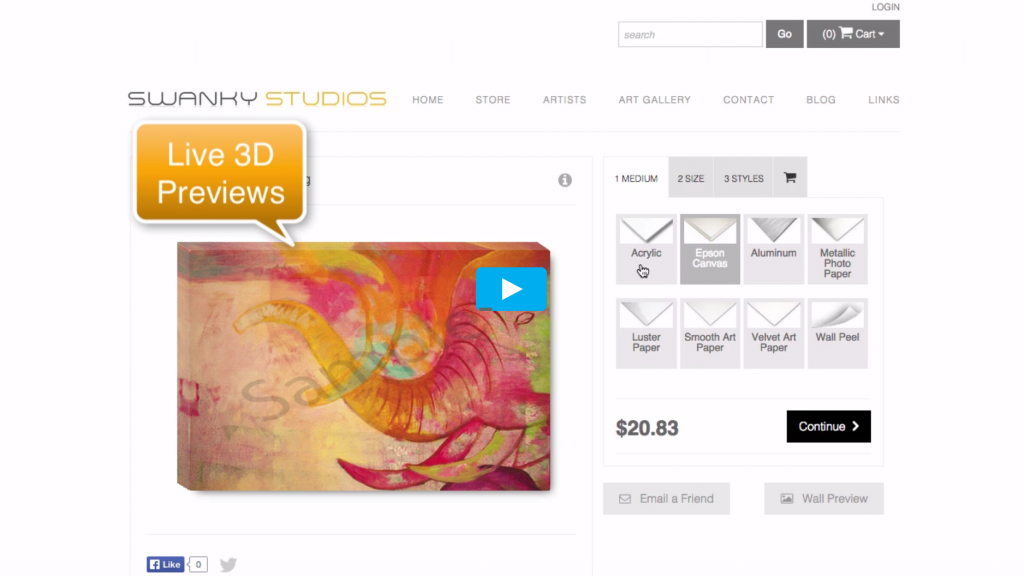 What Artists Are Saying
ASF has a host of testimonials and positive reviews on their website. I communicated with one of those artists, William K. Stidham, via email and he told me:
…the fact it ties directly into Skyline Art Printing for fulfillment makes my life easier. They also came up with a great teaser at the front of my website offering the end user a 20% discount on their purchase. It has more than paid for itself on a monthly basis.

All in all, I'm super happy with Art Storefronts! They have completely streamlined my system, and dramatically improved the way I sell my art online, and fulfill my art for my customers!
I spoke to two artists who were very frustrated by their ASF experience. One artist, a successful wildlife oil painter, told me this:
"My Art Storefronts experience continues to be a nightmare for me so I've begun the transition over to Shopify's professional plan with abandoned cart recovery.

My list of negative experiences with Art Storefronts is pretty large but to sum it up in short I feel I've lost control of my business (my authorized print studio has more control than I do), I receive weekly emails (3 yesterday alone) from people trying to buy but are too confused by the print design interface on the product pages… With Shopify I can continue offering various price points with drop shipping from my reliable print studio, and build the site way it should be."
When I asked ASF about this quote, they said that ASF had multiple accounts that had millions of dollars in sales. EDIT 9/7/16: ASF tells me that this artist was on an older plan that no longer exists, and that future customers would have a completely different experience going forward.
William Stidham also mentioned some frustrations with the point of sale system, "I've suffered through some growing pains…To their credit, they have addressed many of the initial limitations… Especially their payment processing."
Not for Beginners
ASF carries a relatively steep price tag for a template website service. Their setup cost starts at $500, and their monthly fee is $29 – $59 per month (a discount is available if you pay annually). ASF says that this up front fee is because they schedule an initial onboarding call with a member of their staff to make sure you get your site up and running successfully.
In addition to the fee, the website can be relatively time-intensive to set up. Because ASF offers many variations of sizing and substrates for each of your paintings, setting up each piece of art can take some time. If you aren't used to complex internet and software tools, ASF might cause you some frustration.
Because of this heavy up-front investment, we recommend that if you are just getting started in your art career and don't have a strong business background with a clear path to recovering that investment, we recommend you start with something simpler. See our guide to picking an artist website service.
The Success Plan
With all of that said, ASF has an impressive Success Plan. It's a step-by-step guide to selling art online with their platform. ASF's team includes some pretty savvy marketers. I've had a few conversations with them, and I respect their knowledge. At the very least, you should read their blog, because it's both hilarious and really helpful – a rare combination indeed.
Its Up to You
At the end of the day, ArtStoreFronts.com* is like any other artist website platform – it's just a tool. They provide a website that works, albeit with a fair amount of complexity. While we don't recommend ASF for beginners, we think that it's a solid option for artists who have a strong audience and business acumen.
*indicates affiliate link