We wanted to do something a little different this year. We are rounding up some of the best Black Friday deals that are artist-specific. This email is a heads-up to look out for Friday.
Divi WordPress Theme
One of my favorite companies, Elegant Themes, is doing a week-long giveaway where you can win things like a brand new iMac just for entering, and their Divi theme is the best WordPress theme on the market.
If you are looking to build a WordPress website for yourself, we've recommended Divi for years (I use it for several sites – here's our review). Now they're offering 25% off on Friday, and a bunch of cool goodies. Check out the giveaway page (affiliate link).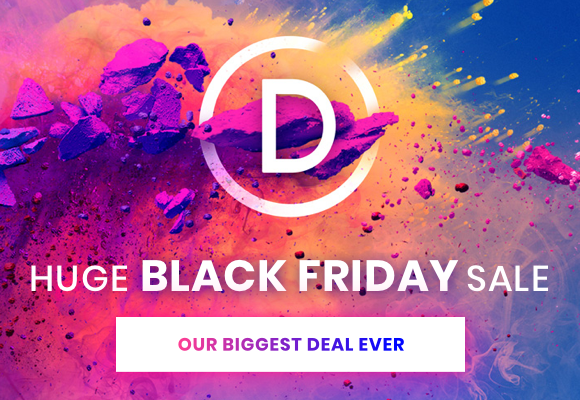 Here's a few more on the horizon. We'll have a longer run-down on Friday, including Black Friday deals on several of our favorite books and other resources.
If you use WordPress, you'll need hosting. Bluehost is having a huge sale. You can get web hosting for as little as $2.95 per month if you pay for a year in advance. Here's the link.
Other Tools & Supplies
For Digital Artists, the iPad Pro can be had at a substantial discount at Best Buy for $524.99. MacRumors has a comprehensive list of Apple discounts at this link. https://www.macrumors.com/roundup/black-friday/
Michael's craft store has 40% off all regular priced items from noon to 10 on Friday and a bunch of great deals. Lots of artists recommended this sale.
Jerry's Artarama has some killer deals on a wide variety of supplies as well. Do your planning here: https://www.jerrysartarama.com/promotions/black-friday-art-supply-deals
Printer sales! From Dawn at Cool Aunt Designs: "B&H Photo. Last Black Friday I purchases the Epson P800 printer. They had an additional $50 rebate on top of the $300 rebate. Free shipping and since they are in NY and I'm in PA, no sales tax. If I ordered from Epson I would have to pay tax." https://www.bhphotovideo.com/holiday-shopping/deals
Email Marketing Service: ConvertKit. Our recommended email marketing service, ConvertKit, is offering a full year subscription at the price of just 9 months. You have to be on their list. http://mbsy.co/convertkit/20835474
Check our Tools & Resources page. We have a page with all of our recommended resources. You might check that page to see if any of those companies are offering Black Friday discounts.
Deal from artists
I wasn't originally going to do this, but several artists suggested their sales, so I thought I'd offer this round-up.
Acrylic portrait painting. I teach painting classes online and for Black Friday I am offering 50% off on my online course, "Paint Your First Amazing Acrylic Portrait." I launched this course mid-last year and since then have taught over 100 students to paint portraits. I've heard back from many of my students and seen how they were able to paint a really nice looking portrait, their very first attempt.
Paint Your First Amazing Acrylic Portrait (Beta) http://realistic-acrylic-portrait-school.teachable.com/p/paint-your-first-amazing-acrylic-portrait/?product_id=285774&coupon_code=HALFOFFBLACKFRIDAY&preview=logged_out
Epiphiano is offering 30% off her entire online shop. https://www.epiphanio.com/
Sandy Blass has a special on her Etsy shop for original paintings. https://www.etsy.com/ca/shop/BlassArt?ref=search_shop_redirect
Only the Moon has 20% off on her Etsy shop. https://www.etsy.com/uk/shop/Itsonlythemoon
What Else You Got?
Got a Black Friday / Cyber Monday deal you want everyone to know about? Comment here and let us know before Wednesday morning so we can include it in Friday's email.