Most email marketing opt-in pages or forms look something like this:


This is the bare minimum, and technically works, but lacks any sort of compelling call to action or reason to join the list.
Below, I'm going to share some examples of artists who are doing a good job with their opt-in forms.
PLEASE NOTE: I'm showing these as examples. It's not necessary to join these artists' lists. You can if you want to, but unless you plan on buying from them, there's no need to overload them with a huge number of new subscribers who are just observing.
Some more advanced artists will have specific calls to action, like this: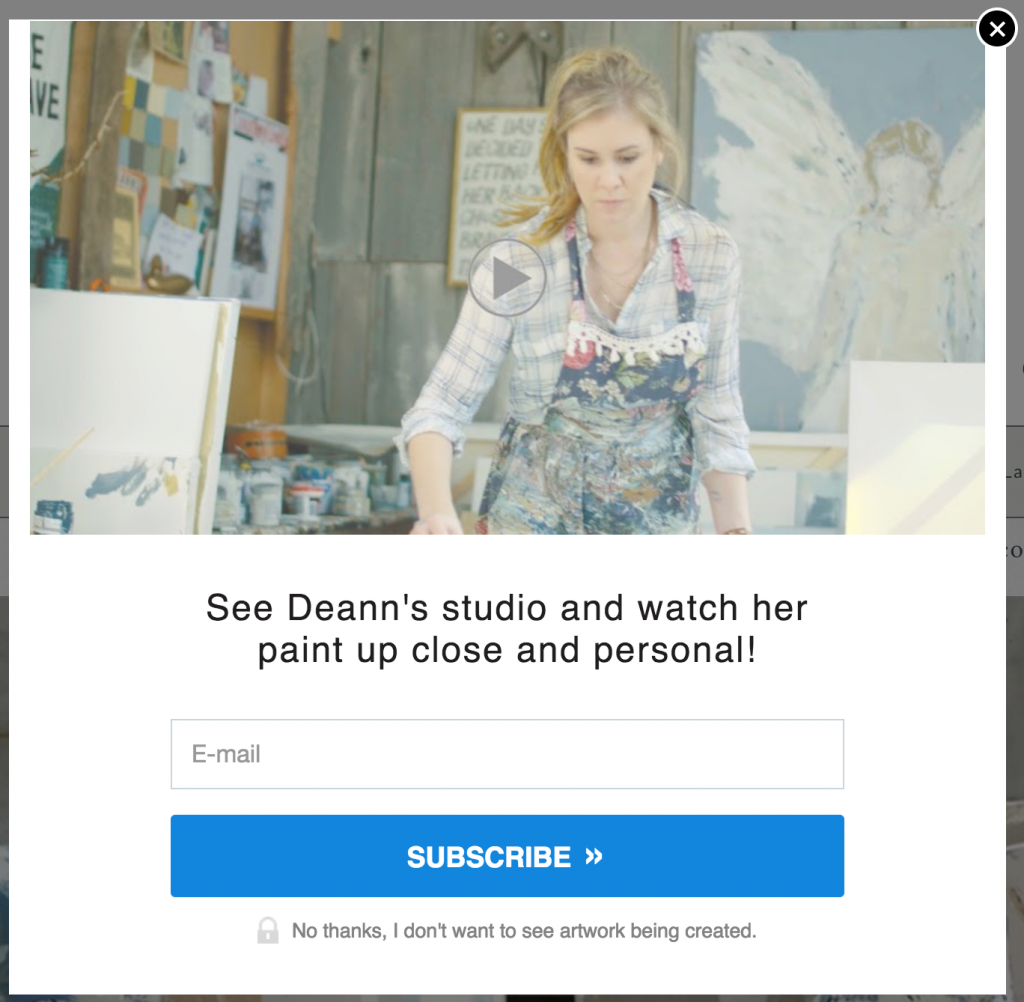 These basic invites (see inside my studio) are good. They perform the minimum function of giving someone an idea of what to expect when they join your list. People really do love watching artists create things.
Here's another opt-in form from Jolie Guillebeau.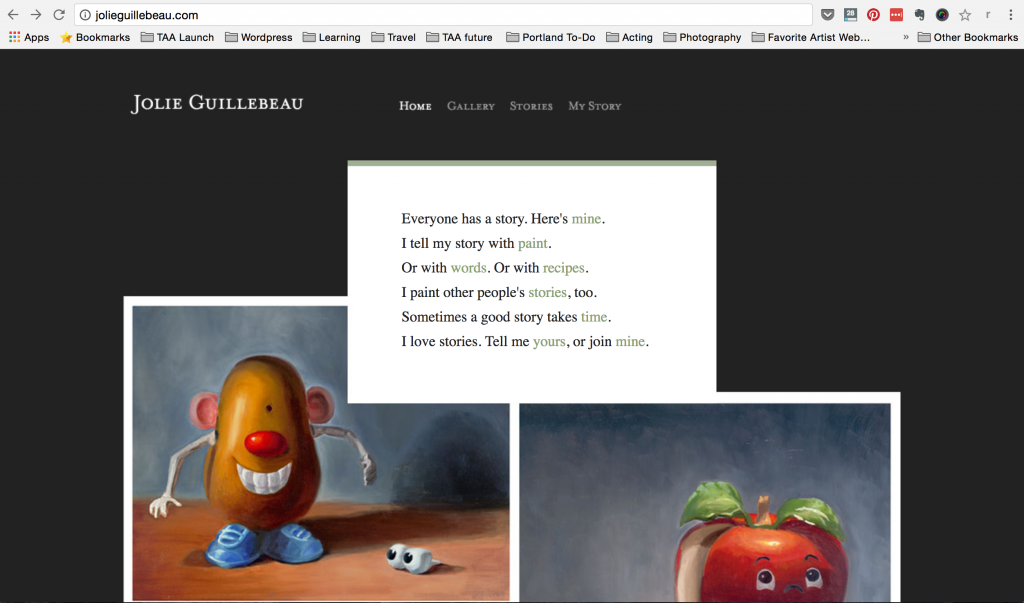 This one is a bit better. Mostly text but Jolie introduces you to some of her own personal stories, so that you can get a general feel for what her writing is like, and then has a short, sweet call to action.
This one gets even better.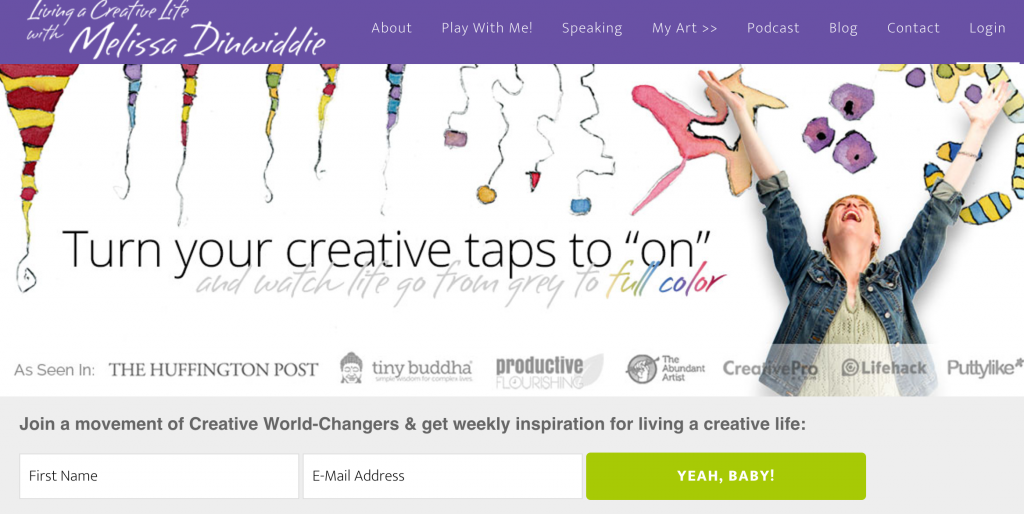 Melissa Dinwiddie is a multi-disciplinary artist with a compelling call to action: turn your creative taps to on. She goes beyond selling her art and focuses on helping people feel more creative. This works for her coaching business, and also sells her art.
Here's another great artist opt in form from Melissa Kojima. It's long and complex, so let me break it down.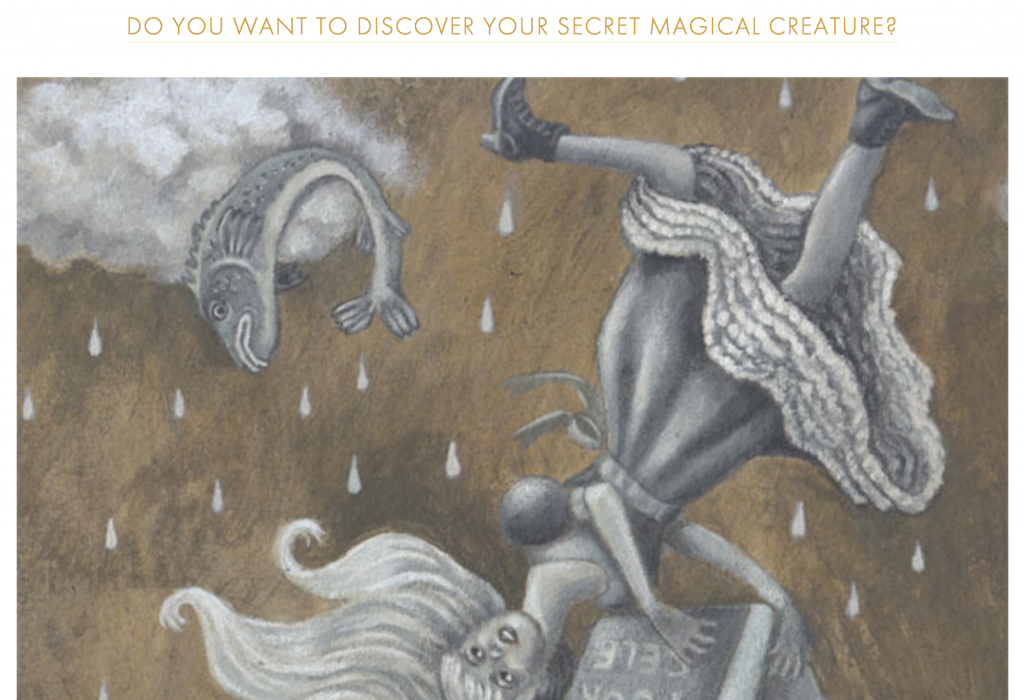 The top section doesn't even have the opt in form visible. Normally, I would frown on this, but what Melissa's doing here is actually pretty smart. She's starting a story, using a portion of one of her paintings to illustrate it.
The story continues down the page.
By the time you reach the bottom of the page, you're engaged with her story and you want to be a part of her Secret Society of Magical Creatures. The CTA button:

Takes you to the final sign up page: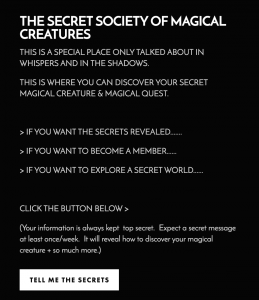 In tomorrow's lesson, we'll go into detail on how artists like Melissa and the others are using the next step in the process to improve their email marketing results.
Update June 2018: Are you in compliance with the EU's GDPR requirements? I talk about it briefly in the embedded video below. Here's a blog post that explains it in plain English.
TODAY'S HOMEWORK:
Come up with one way that you can insert your own story into your email marketing call to action.
Some ideas:
– invite people to watch you paint live, or watch videos of you painting
– invite them to join a movement like Kelly Rae Roberts' Posssibilitarians or Melissa Dinwiddie's Living a Full Color Life
– tell an engaging story and invite people to participate further in the story
Share your story and call to action in the Facebook Group so others can see, get ideas, and give feedback. We have turned comments off and moved discussion to the group.