Day 2 Homework
Create a confirmation email that moves people to get excited about your work and take the next step towards collecting.
How to Do That
If you've made an interesting opt-in offer to your audience, the next thing you want to do is continue that offer and invite them to make a commitment. This prepares them to start making bigger commitments – like buying your art.
This process starts right after someone gives you their initial email opt-in. Your email management service (ConvertKit, Mailchimp, or the like) will automatically send a confirmation email. You can design that confirmation email – and you should. It can be something as simple as a reminder of why they are receiving the confirmation email.
For example, here's Kelly Rae Roberts' confirmation email
It also includes a link to the manifesto that she promises, so she's fulfilling her opt-in promise right away.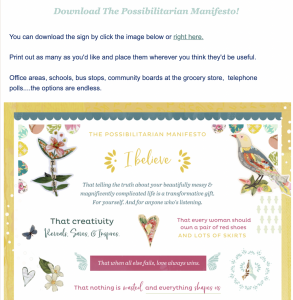 If you want to do something extra-fancy, check out Melissa Dinwiddie's interstitial offer page that shows up right after you submit your email address. Here's a pdf of the page.
Also, here's a confirmation page from Melissa Kojima that does a great job setting expectations. Click to enlarge.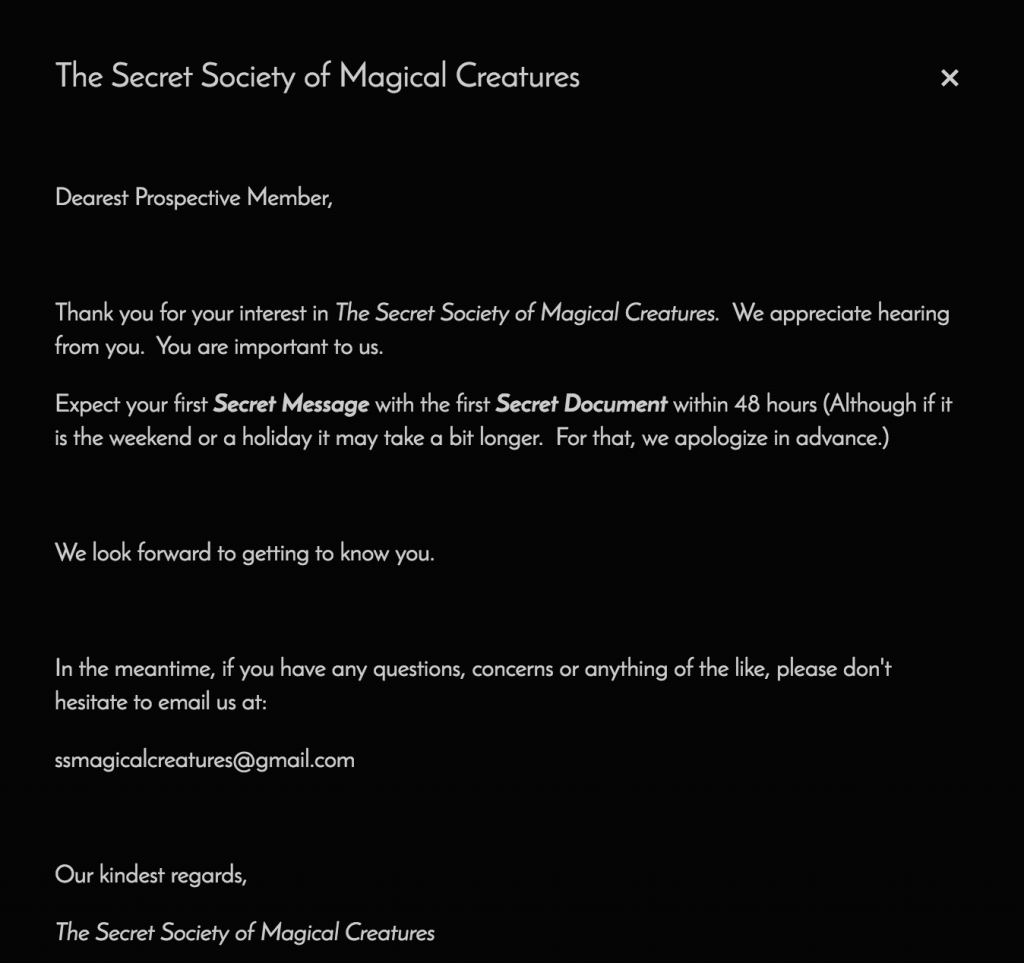 The final confirmation email should give them something to do. In addition to delivering your opt-in gift (if you have one).
Here's a pdf of the entire final confirmation email from Melissa. It's a great study in how to get people prepared for what you do as an artist.
In that final welcome email, you want them to really commit to their interest in what you do.
One way to do this is to ask a question in your final confirmation email. You could try something like one of these:
what is your favorite kind of art to collect?
what kind of help you do you need in expanding your art collection?
what's your favorite place you've traveled to?
who is someone you'd like to memorialize via portrait?
Most artists don't do this, so I'm including a couple of examples from non-artists. You can use these as examples to model.
[NLM] Getting Started – from a private membership site that I joined last year
MNIB Consulting – My friend Breanne's consulting business.
– Cory Huff
P.S. The next three lessons we will be talking about what happens AFTER the final confirmation email – what do you send them first? Stay tuned to find out…