Day 3 Homework
Introduce your new potential collector (email subscriber) to your origin story with your first autoresponder email.
How to Do That
Set an automation up so that one day after joining your list, your new potential collector receives an email about your origin story. ConvertKit (our recommended email service) users can get instructions on this page. Look for the video titled "Your First Sequence: Welcome Sequence."
On the day someone joins your mailing list, you'll never have a better shot at their attention. This is a great opportunity to introduce them to your art and the underlying ideas and emotions of your work.
The easiest way to do this is with your origin story. Earlier in the challenge I suggested that you prepare your Hero's Journey story. This email is a great time to share the thing that was your Call to Adventure.
Here's a great example from Art by Deann.
"In 2004, I took a major leap of faith. I traded in my corporate high heels for paint brushes and boots, and for the past 12 years have had an open working art studio located inside a once abandoned stove-and-mattress factory in Franklin, TN, just south of Nashville. I started out doing art festivals on the weekends, and a lot of "sweat equity" was put into those years. it has truly been a journey, and hasn't always been easy, but one I would never trade. It has taken a lot of trust, and knowing deep down this is what I was meant to be doing. And, the funny thing is, when you find the work you are truly meant to do, I'm learning that everything seems falls into place just as it should. Now, my work is published in national magazines like Country Living and featured on national television networks like HGTV. I have the words "Trust the Journey" written on an old door inside my studio as a daily reminder."
Then Deann inserted a link to a video of her making art. Gotta get that call to action in.
art by deanne email << Here's a full pdf of that email.
The secret here is not necessarily to pitch a sale. It's the first step in something called an "indoctrination sequence." You're orienting your collector to your world and familiarizing them with your brand.
One more example >> melissa dinwiddie
And a template >> Conditioning sequence 1
If you want to get really fancy, you can flip the Hero's Journey story around. Make your collector the hero, and position yourself as the mystical guide – the person who is going to take them on a journey of self discovery and change.
That's what Melissa Kojima has done with the Secret Society of Magical Creatures. She's helping people discover what kind of magical creature they are, positioning them to pay her for a commission of their creature later.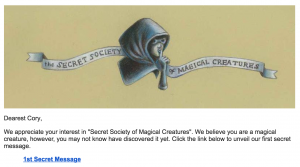 secret society of magical creatures day 1 (pdf of full version of above email)
So, go forth and create your origin story email, and set up your first auto responder.
BTW, there are lots of ways to do this. This is just one.
If you want further study, check out Dan Kennedy's No BS Sales Letter, as well as Andre Chaperon's Autoresponder Madness course.