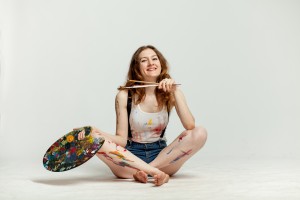 Angela is ready to give up on trying to sell her art.
She's a talented artist, and she's been trying to sell her art-making skills in a variety of ways for many years.
When Angela was in art school, she had big, ambitious dreams. She was going to graduate, be discovered by a great gallery, and reap the financial and creative benefits of worldwide artistic acclaim.
But her art school teachers never showed her how to actually market her work after she graduated. They never taught her how to run a business that regularly brought in sales of her art.
After she finished school, she realized there were a lot of art marketing skills she didn't have – like choosing a business model, talking to people about her work, or bringing in consistent sales.
She'd like to sell her work online, but she struggles every day with a mounting sense of confusion and frustration. There are so many things to do (Create your website! Get a shopping cart! Use Instagram! Build your list!) that she feels completely overwhelmed.
Angela feels like she's working really hard, but she's just not getting any recognition or sales.
She does get an occasional appreciative comment from a fan, but praise doesn't pay the bills – and when it comes to online marketing, she simply has no idea where to start.
As of today, Angela is so frustrated and overwhelmed, she feels like she's ready to pack it in altogether and just stop trying to sell her art.
The Sad Truth About Selling Your Art
Does Angela's story sound familiar?
Perhaps you're in the same situation.
Maybe you've been struggling to sell your art for a long time. Maybe a sales method that used to work for you isn't working as well as it used to – or perhaps you've never really been able to sell your art on a regular basis.
Or maybe you've recently decided to switch careers, and make a go of it by selling your art – and you're overwhelmed with options and possibilities for selling your work.
Either way, you're probably really frustrated right now.
You're tired of chasing art galleries and begging them to show your art.

The galleries are already full, or your work isn't a good fit. The few galleries that are interested want to take a huge commission.
You've paid painfully high fees to get booths at large art fairs,

and racked up huge travel and shipping costs to show your art at those shows. Perhaps some of these art fairs worked out, and you sold a few pieces, but most of them were a complete bust. Hours of sitting in the humid, hot weather (or freezing, rainy weather) felt like a total waste when you barely break even after your travel costs and booth fees.
Maybe you're trying to post images of your art on sites like Instagram,

but it feels like a lot of work and your efforts aren't bringing in website traffic or online sales. You get lots of compliments, but no one is buying.
Worse yet, you might have family members who keep asking you when you're going to get a "real job," or whispering that art doesn't really matter.
Bottom line: No one is recognizing your art or buying your work. You love to create, but you're feeling like you're ready to quit, walk away, and do something else.
You Are Not Alone – and There Is Hope.
Trying to sell your art can be a lonely, frustrating business – but there is another way.
Imagine what it would feel like if you could:
Bring in consistent, substantial art sales on a regular basis.

Attract crowds of people to your exhibitions and art shows.

Get the recognition you crave

by getting people talking about your work to their friends, family members and co-workers – or better yet, getting regular media coverage for your art!

Create the kind of work you want to create,

instead of needing to change your style or media to suit the market.
Why You Can Trust Me to Help You Sell Your Art Online
I'm Cory Huff, and I'm a business coach for artists. I've been helping artists sell art online since 2009, and I've helped hundreds of artists just like you figure out how to navigate the hidden path of the fine art career.
I literally wrote the book on selling art online. Harper Collins published my book, How to Sell Art Online: Live a Creative Life on Your Own Terms, in the summer of 2016. I've done guest lectures on marketing at schools like Southern Methodist University, Pacific Northwest College of Art, and the Fashion Institute of Technology.
My mission is not only to teach talented artists to sell their art online, but to dispel the "starving artist myth" forever. It is possible to make the art you want, live the creative life you want to lead, and make good money doing it.
There is no reason artists need to take a vow of a poverty in order to create their art – it is possible to be an artist who makes regular, consistent sales by using the Web to sell directly to your fans.
Want to know how big you can go, with this approach? Just to give you a little taste:
Some of my artist clients have sold their work online for $20,000 or more.
The 4 Biggest Myths About Selling Your Art Online
In my experience as a business coach for artists, I've noticed that a number of questions and myths come up over and over again with my clients. Let's sort out some of the biggest myths that are floating around in the art world.
Myth #1: "I'm a great artist. Shouldn't my art sell itself?"
Fact: Unfortunately, no. Nothing truly sells itself – especially in a market as crowded as the art market. You must put effort into telling the world about what you do, and creating a connection with potential buyers and collectors.
But there are ways to create those connections (and spread the word about your art) in more efficient and effective ways.
While you can't avoid marketing, it is possible to become the best artist and marketer you can – and that's exactly where I can help you.
Myth #2: "I have an Etsy shop (or Fine Art America, or Artfire, etc.). Won't I make plenty of online sales through those platforms?"
Fact: Sites like Etsy, Fine Art America, etc. (I call them "art malls") can be one tool in your toolbox – but putting up an Etsy shop is not a marketing strategy. You still need to market your work, attract traffic, and make an emotional connection with each potential buyer.
These sites give you the impression that all you need to do is post your work on their site and their customers will find you. But keep in mind that you're always competing directly with millions of sellers on that site – and sometimes, the art mall site will feature others artists' work right on your artist page!
Instead, I recommend you use art malls as distribution tools to let people know you exist. You can sell a few items there, but keep your full inventory on your own site – and make sure you've got a full-fledged marketing strategy in place to help you attract buyers.
Myth #3: "People only buy cheap art online."
Fact: Hiscox, the art insurance company that underwrites Lloyds of London, releases an annual Fine Art Report that details the state of the online art trade.
Their 2016 report stated that online art sales jumped 24% last year, to $3.27 billion. Among 18 to 35 year olds who bought art in the previous year, 49% reported that they were repeat buyers.
The art market is booming, and my own experience working with artists has shown me that it's common for artists who sell their work online to make sales of $5,000 (or even $10,000 and up!)
Myth #4: "If I sell my art online, it's going to take all my time. I'm going to spend my life in front of the computer and I'm never going to have any time to make art."
Fact: You will have to put time and energy into marketing your art if you're going to be successful. Dedicating some time for marketing your art is absolutely essential.
I want you to look at it this way, though – would you rather spend some time marketing your work, and get to live the kind of creative life you want to live? Or spend zero time marketing, and be forced to give up your creative life because you can't pay your bills? Sounds harsh, I know, but to most artists, that's an easy decision.
The Real Secret to Selling Your Art Online
You already know there's a lot of competition in the art world. There are thousands of artist trying to sell their work online, and you're often competing for the same buyers.
How do you stand out in such a crowded market?
The key to standing out is the story that you tell about yourself as an artist, and about your work.
The stories you tell help you make an authentic connection with your online audience, and they help collectors imagine what your art is about.
Great storytelling helps you shift the conversation you have with potential buyers, too. Stories help you move away from saying "I'm an artist, please buy my work!" to:
"I'm an artist, here's what I'm about, here's what my creative process looks like, and here's why you should care about this piece of art."
Sound daunting? It doesn't have to be. And the good news is that once you start thinking like a storyteller, you will never be at a loss for what to write on your blog or in your marketing emails, and you'll have plenty of things to put in your updates on social media sites like Facebook, Instagram, Twitter, or Pinterest.
What Previous Students Are Saying
"I just had my best month ever in November making almost twelve thousand dollars in gross sales. I quit my job. The class, and the help of the Facebook group was one of the best investments I have ever made."

Adam Hall
"I've made sales of originals I almost painted over because they'd sat around for sooo long. I love seeing many bucks flowing into my bank account! I'd say close to 10K from painting and sculpture sales."

Angela Treat Lyon
Introducing How to Sell Your Art Online
Join How to Sell Your Art Online. Give me 4 weeks, and I'll show how to identify and communicate what makes you unique as an artist, write compelling online stories that connect with buyers, and start making regular online sales.
Here's how it works:
As soon as you join the course, you'll get a series of video lessons, transcripts, workbooks, and other resources to help you create – and grow – a success online art business.
This program will give you practical advice you can implement immediately, to get your first online art sale in 30 days or less – or if you're already making sales, this program will help you double your sales in under a month.
Whether you're just getting started, or you've been selling your work for years, you'll get the exact strategies I've used to help hundreds of artists kick-start their online art sales.
At this point, you might be wondering, "Is How to Sell Your Art Online right for me?"
If You Can Answer "Yes" to Any of These Questions, You're Perfect for This Course:
Do you want to sell your art online, but feel like you're not sure what to do next?

Are you looking for a step-by-step, organized way to get more visitors to your website, more email subscribers, and more online art sales?

Do you feel like your art is good, but you don't know how to communicate that to potential buyers?

Do you have a lot of hustle – and feel ready to do the work – but always feel overwhelmed and unsure of what to do next with online marketing?

Are you looking for an artistic community to collaborate with?
Sound like you? Great! Let me walk you through everything you'll learn inside How to Sell Your Art Online…
More Feedback From Students
In 2015 my sales increased by about 50 % versus 2014. 2016 sales are on their way to double 2015.

Frederic Lecut
"I sold $100 worth of art before the class was over. I really enjoyed the step by step instruction on how to actually DO the THINGS! Plus we had the added benefit of getting help from the group which was awesome. I learned so much! I'm still working through the course, it's just packed with information. I will recommend this to others, its awesome."

AnneMarie Talon
Here's What You'll Learn in How to Sell Your Art Online
Module 1 What You Need In Order to Sell Art Online

Wondering what you need to sell your art online? This module will show you exactly what's required in terms of your work, your website, and your online audience. You'll also learn what you can expect from the rest of the course. In this module, you'll define your goals for your art business, and share those goals with the rest of your How to Sell Your Art Online community.
Module 4 How to Tell Compelling Stories About Your Art

This module will help you start telling powerful stories about who you are as an artist and what your art is about. You'll learn why storytelling is such a powerful tool for making online art sales, and how stories help you connect with potential buyers and collectors. I'll walk you through the step-by-step process of using Joseph Campbell's storytelling framework (The Hero's Journey) to tell your memorable and compelling artist story. You'll also get a number of example "Hero's Journey" stories from successful artists.
Module 2: Documenting Your Artistic Process

In this module, you'll learn how successful artists document their process when creating their art through images, video and journaling. When you learn to document your own process, you'll have a solid foundation for creating marketing materials about your work. We're not going to turn you into an art teacher – you don't need to create instructional content – we're simply going to showcase your work and create context for potential collectors.
Module 5 How to Connect Your Stories with Your Ideal Collector

People buy things – including art – from people they know, like, and trust. In this module, you will learn how to take the common threads that connect your various pieces of art and your own origin story, and use those threads to create your personal brand as an artist. We will also teach you how to get inside the mind of your ideal collector and figure out where they spend their time online, so you can connect with them on their favorite sites. Finally, we will show you how to help your collectors make an emotional connection with your art and your stories. This module includes examples of how to use your story in social media, blogging, and email.
Module 3: Discovering What Makes You Unique as an Artist

In this module, we'll use a journaling process to help you define what makes you different from other artists, and how you can leverage those unique qualities to stand out in the art market. You'll discover how to position your art in the marketplace (don't worry – it's not scary!), and I'll help you figure out how to get people to care about who you are and what you do. During this module, you'll complete the "Discovering Your Uniquity" worksheet to define and document your unique qualities as an artist. I'll also walk you through the step-by-step process of researching exactly who you're trying to reach with your art (Hint: The answer may not be what you think!)
When You Enroll Today, You'll Also Get…
You might be thinking, "This sounds great – but what if I have questions about the course materials?
We've got you covered there, too.
BONUS #1: Weekly Accountability and Coaching Calls

These weekly calls are designed to help you with any specific questions you might have as you're attracting your first online sale, or working on doubling your online sales. Got a question like, "I do lots of different kinds of art. How should I focus my marketing message from Module 4"? You can get feedback and answers from me every week for the four weeks of the course. If you're stuck on a particular homework assignment, this is the perfect place to get unstuck – you can pick my brain about any of the content or assignments from the course, or about any overall art marketing question you may be wrestling with. If you can't attend the coaching calls live, that's no problem! All the calls will be recorded. You can email me your question in advance, and I'll answer it on the call – then you can access the recording later.
BONUS #2: Private Online Artist Community

Launching (and growing) an online art business can be really lonely, and I often hear from my clients that they feel really alone when they're trying to build their online audience and connect with potential buyers. When you're on your own, you've got no one to turn to for support and advice if you get stuck or need advice on what your next step should be. That's why I've put together the "How to Sell Your Art Online" Facebook community, where you can connect with a vibrant and active community of like-minded artists. In this group, you'll be able to talk with other artists, ask questions, get ideas for areas where you're stuck, build friendships with your classmates, and celebrate your successes.
Once You Finish the Five Core Modules, Here's How to Take Your Business Further…
After your five core module training is complete, you might be wondering, "What else can I do to increase my online art sales?"
That's when you can dig into these exclusive bonuses:
BONUS #3: Successful Artist Interviews

Get over 10 hours of recorded video and audio interviews with successful artists, writers, and other creatives who are making a living from selling their work online. This interview series includes conversations with Chris Guillebeau, Owen Garratt, Kelly Rae Roberts, and more – they'll talk about their work, their online strategies, and how they make a living from their work.
BONUS #4: Access to the Paint the Ocean Course

Get access to an exclusive painting module from Scott Christensen's best-selling ocean painting video course.
BONUS #5: The Great Clutterbust

Discover how to fall in love with your studio (or other art creation space) and fire up your creative joy with Melissa Dinwiddie's Great Clutterbust course. Melissa is an artist, Happiness Catalyst and Creativity Instigator who helps people turn their creative taps to "on." She will walk you through the step-by-step process of decluttering your space, creating order out of chaos, and making room for creating your art.
BONUS #6: 10% Discount at ArtSquare.com

The fine folks at ArtSquare.com have a network of experienced fine art photographers who can help you get your images ready for printing & the web – and you'll get a discount code worth 10% off a Fine Art Photography Session when you sign up for How to Sell Your Art Online.
BONUS #7: The Abundant Artist's Art Marketing Checklist

This step-by-step, printable marketing checklist gives you the exact steps you can follow to market your art online and start making sales. You can use this checklist as you create each new piece of art, to document your creation process and tell your story online.
"My work was featured in the Topeka Kansas Journal."

Michelle Leivan
"Yes! I sent a newsletter with a call to action advertising an Open House for my new studio and classes (limited to 8 students) and had a great turn out. I sold prints, filled my classes, increased my email list and had a few prospective buyers. I also sold a painting online with the shopping cart which totally surprised me! Very pleased - this would not have happened without your help turning the social media switch on - thank you."

Anne Kindl
"I sold $100 worth of art before the class was over. I really enjoyed the step by step instruction on how to actually DO the THINGS! Plus we had the added benefit of getting help from the group which was awesome. I learned so much! I'm still working through the course, it's just packed with information. I will recommend this to others, its awesome."

Anne Marie Talon
My first ever art calendar print run has sold out. We got it together and printed whilst I was doing the Content Marketing course. We made a few hundred euros! Think doing the course gave me a bit of a boost to get it out there.

Gill
$77.72 has been transferred to your account. I know it is a little bit, but it was a little bit that required NO effort on my part. THANKS Cory and class for the kick in the pants. I am expecting this trickle to be the beginning as I tighten up my website and supporting social media.

Gwen
"The biggest thing I took away from the class and I guess the most useful was the research methods and tools for figuring out where to look to promote my art."

Aron Johnston
Join How to Sell Your Art Online Today and Get:
All of these bonuses are included when you sign up for How to Sell Your Art Online!
The full How to Sell Your Art Online program

including 5 information-packed modules.
Short, focused videos and lessons you can watch on any device,

so you can go through the lessons a little bit at a time.
Lifetime access to the entire course,

so you can re-watch the videos or refer back to the worksheets, tools, and resources at any time.
Easy, actionable steps you can use to create immediate changes

and start bringing in more sales as soon as possible.
Weekly accountability and coaching calls

with me and your How to Sell Your Art Online classmates.
The Private Online Artist Community,

where you can connect with other artists, brainstorm ideas and work through your online marketing problems.
All the additional learning bonuses,

including the artist interviews, the Great Clutterbust program, the Abundant Artist's Art Marketing Checklist, and more!
Which option works best for you?
My Guarantee: Double Your Art Sales (or Make Your First Art Sale) in 30 Days, or Your Money Back.
I'm confident the How to Sell Your Art Online course will help you reach your art marketing goals. If you don't double your current art sales (or make your first online sale) in 30 days, I will personally get on the phone with you and help you figure out your next steps.
If you've done the work from the course and you're not satisfied with the course after that call, just let me know, and I'll happily refund your full purchase price.
Frequently Asked Questions
Frequently Asked Questions
Since I started teaching How to Sell Your Art Online, dozens of questions have poured in….so I thought I'd take a minute to answer the most common ones right now.
Question #1: "Will this course work for my style of art?"
We've had artists from many different styles and mediums succeed with this class. Digital art, sculpture, jewelry, fiber art, encaustic and of course oils, watercolors and other styles of painting.
Styles have also ranged the gamut from realism to abstract to tribal.
There are a few things that tend to not work well for this class. If you make the kind of art that requires huge sums of public funding or art that is overtly political around a specific contemporary event, then this course may not be a good fit. Otherwise, this class will definitely work for your style of art.
Question #2: "Do I need a complicated website or shopping cart system to take this course?"
You do not need a website for this course, a simple page or social media profile will work just fine. No need to spend thousands of dollars on a fancy website before you join us.
Question #3: "What if I already know my unique value, and I just want to know how to do social media and emails effectively?"
Are you absolutely sure you know your unique value? If so, can you state it in a sentence or two?
Do you know who your ideal collectors are? If the answer to all of the above is "yes," then you will probably want to check out our more advanced HTSYAO courses.
If you answered "no" to any of these questions, this course will help you.
Question #4: "My art gallery won't like it if I sell my art online – what should I do?"
I hear this question pretty frequently, so I want to address this one directly by asking you a question in return:
How much is your art gallery selling? Are they bringing in all the sales you want or need? If the answer is "no," you MUST be able to do your own online marketing to directly speak to your fans and sell your work.
To put it even more directly: You need to ask yourself if you are you are comfortable letting an art gallery dictate how you run your business.
Question #5: "How long is the course going to take?"
The whole course takes about 10 hours of work, or about one hour a day for 10 days. If you have a day job, we totally get it – the course is completely self-paced, so you can break it down into tiny chunks and do the work a little bit at a time.
We make it as easy as possible for you to do the work for this course -- and you get lifetime access to the course materials, so you can go through the materials at any time.