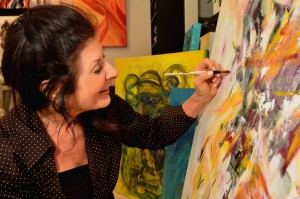 Jamie is a painter who was struggling with bringing attention to her art. She did many of the things a lot of artists do – posting her art to social media, doing the local art shows, and opening up her studio for visits.
Jamie was making sales, but not at the level that she would have liked to make. Sales were coming inconsistently. She might have a big month with several original sales and a handful of prints, followed by a slow month with just a print sale or two.
One day Jamie lucked into getting a story in her local paper. She met a reporter at a party and the reporter did a short story on her work. It brought her attention, website traffic, and a handful of sales. Jamie decided to see if she could leverage that media opportunity into bigger opportunities.
But getting more attention and website traffic was a little more complicated than Jamie realized. The difference between a blog and a magazine can be confusing. There are so many blogs that have millions of followers, how do you pick one? Why is the art media so focused on New York City and the major metros, to the exclusion of the brilliant artists working all over the world? Why does social media work so well for some artists, and so poorly for so many others?
The Problem with Getting More Attention for Your Art
Perhaps you're in the same situation.
You've got a completely unpredictable art business – and you're sick and tired of inconsistent sales.
You have long, agonizing dry spells, where you don't sell anything at all...
Then you have periods when you're hustling and filling tons of orders and you're exhausted.
You get noticed and get some attention, but within a month or two that publicity dies down, and you're back where you started, wondering where your next sale will come from. 
You know your art is great, and receive regular praise from your peers and from collectors – but you're not sure how to translate that excitement and praise into a steady, consistent art business.
Maybe you're trying to market yourself using social media, but you're not getting sales from it. You're liking, commenting, following and sharing, but you're not bringing in traffic to your website, and no one is buying. You don't understand how other artists are attracting thousands of followers, and why their followers are turning into sales.
You might have a small mailing list of subscribers who have signed up with you over the years, but you feel like your list is  just too small to make a difference.
You feel like you could tell a great story and get lots of sales if only you could get in front of the right audience. Maybe you've got a day job that you'd love to quit, but your sales aren't consistent enough for you to make the leap...or if you are already running your art business full time, you feel like you're spinning your wheels when it comes to marketing.
All this results in stress, overwhelm, fatigue, and money problems. You've got a business that is stressful, impossible to predict, and nerve-wracking – and you're wondering where the JOY in your art business has gone.
Don't Give Up! There Is a Solution.
Trying to sell your art can be frustrating – but there is hope.
Imagine what it would feel like if you could:
Bring in consistent sales

so you know when sales will happen

Generate regular press coverage

for your business instead of being subject to the boom and bust cycle

Consistently attract more collectors instead of focusing on social media followers or email list size 
Develop a process for building relationships with influencers who write and talk about you generating attention and new opportunities
Put an outreach program in place

, so you touch base with your new fans on a regular basis and turn them into buyers (and then

repeat

collectors!)
As it turns out, there is a way to escape the boom and bust cycle of your art business, and start bringing in consistent, steady income you can count on – year after year.
Why You Can Trust Me to Help You Sell Your Art Online
I'm Cory Huff, and I'm a business coach for artists. I've been helping artists sell art online since 2009, and I've helped hundreds of artists just like you figure out how to navigate the hidden path of the fine art career.
I literally wrote the book on selling art online. Harper Collins published my book, How to Sell Art Online: Live a Creative Life on Your Own Terms. I've done guest lectures on marketing at schools like Southern Methodist University, Pacific Northwest College of Art, and the Fashion Institute of Technology.
My mission is not only to teach talented artists to sell their art online, but to dispel the "starving artist myth" forever. It is possible to make the art you want to create, live the creative life you want to lead, and make good money doing it.
There is no reason artists need to take a vow of poverty in order to create their art – it is possible to be an artist who makes regular, consistent sales by using the Web to sell directly to your fans.
Want to know how big you can go with this approach? Just to give you a little taste:
Some of my artist clients have sold their work online for more than $20,000 per piece 
I've helped artists with over a million followers, who weren't making any money, turn that audience into a real business 
I help artists build businesses that enable them to keep making art for the rest of their lives 
The Real Secret to Generating Attention and Traffic
Many artists think that they have simply have to hustle harder in order to get more attention, or that they need to spend a ton of time and money advertising on Instagram, commenting and sharing individual social media posts with their followers.
The truth is, neither of those things are strictly required to grow an audience and generate sales.
So how do you start attracting consistent interest in your art business?
The key is creating a regular process for reaching out to influencers: bloggers, journalists, famous people in your art niche, and other people who can help you. You can learn to develop your own Public Relations (PR) strategy.
The most important function of your PR strategy is to identify your target media outlets, understand their content calendars, and help them create interesting stories for their audience.
Here are the basics of a PR strategy: 
When you have your PR running,

you've got a systematic way to bring in consistent, repeatable media attention
Leveraging other people's people is super effective

at bringing new fans and collectors into your world. It's much higher leverage than trying to meet people one at a time

Media attention keeps working day and night,

getting shared on social media, broadcasting to new audiences, and bringing you new sales
If you're selling one on one (like at an art show), you probably do this intuitively.
When you're showing your work at an art show, gallery, or café, someone will walk in the door and look at your art. She gives you a compliment or starts talking to her friend about your work.
You start a conversation with her, and tell her about your technique, or what was happening to you as you were making the art. Her eyes light up with curiosity as she leans in and start asking you questions.
She asks you how you made it, how long you've been studying, and what your art is about. It becomes a natural conversation and an interesting story.
See the way that process flows naturally? Art is magical, and non-artists are almost always fascinated by an individual artist's story.
That's exactly what you do with PR. You're just doing it with people who have a bigger audience than you: influencers, journalists, and others who will then share your story with their much larger audiences. Get one person interested, and you'll potentially get thousands more.
You connect with a new fan who finds you on social media. Because they're interested in what you do and they'd like to learn more, they follow through to your website and make a purchase.
You develop the relationship using your existing sales process, often by email marketing, by sending your subscriber regular stories about your work, photos of your creation process, and other interesting content.
Your email list explodes in size, helping you gain confidence in your sales process by enabling you to test and tweak your marketing in a virtuous cycle.
You get more sales via your website.
You turn that new customer into a repeat buyer by continuing to build your relationship via email and social media, getting them excited about your events, and transforming them into a super fan.
PR is simply developing a system to make all of this happen regularly.
You complete the building of a sales system that is automated, scalable, and runs 24 hours a day, 7 days a week – even if you're an introverted artist, and even if you consider yourself someone who is "bad at selling."
By putting yourself out there in small ways with a small group of journalists, and you can turn that into connecting with thousands.
The Four Biggest Myths About Social Media and PR
Let's sort out some of the biggest myths about PR and social media.
Myth #1: It's hard to get media coverage.
Fact: Artists get media coverage every day. Quite often it's actually really easy. There are thousands of small media outlets like local newspapers, blogs, and other organizations that need new stories to tell their readers.
If you make it easy for them, you can land small media placements quickly, often in just a few days or weeks. This placement then allows you to leverage it into bigger media placements with larger organizations that reach millions and have a lead time of months.
Myth #2: You're supposed to grow a massive social media fan base
Fact: Most artists who have a huge fan base got there by building a PR campaign. If you see an artist with 100,000 followers, it's almost certain that they are famous in some other way and people found them on social media after they became famous.
We will show you how to use large platforms to grow your own audience of people who love you.
Myth #3: I have to be in a major art city to get media coverage.
Fact: While you might not end up in the New York Times or Hyperallergic, you can still land effective press coverage in nationwide magazines, regional magazines and blogs, and niche publications that can rapidly increase your sales.
There are literally thousands of media outlets. By focusing on the small and mid-size media outlets, you can bring lots of attention to your art without competing against the big galleries and auction houses that are sucking up all of the attention from the big media companies.  
Myth #4: You have to be a great writer or have a remarkable story to get media attention.
Fact: While it certainly helps to have great writing chops and a remarkable story to tell, it's not required. In fact, most news isn't that remarkable. It's all about how you tell the story. Story structure can be learned. 
The truth is that most artists have an interesting story at the root of their art. They just need to learn how to express it. If you can formulate a basic, mildly interesting story, you can get published by many media outlets.
The first press release ended up bringing in features in five different regional papers, features in newsletters and put me in touch with tons of regional organizations which took an interest in the project. Maybe most importantly, that networked me into a bunch of contacts that I can still draw from today. I can probably attribute at least 1000 email signups which all came from the project and the press releases around it, and doing the press releases were absolutely a direct influence from TAA.

Eric Jackson, Fiber Artist
Introducing Media & PR for Artists
Here's how it works:
As soon as you join the course, you'll get access to a series of video lessons, transcripts, a workbook, and other resources to help you grow your audience and make more sales. 
You ALSO get access to our group calls with Cory Huff, the founder of TAA, and business coach for artists. Cory has been helping artists sell art online since 2009. He has helped hundreds of artists just like you figure out how to navigate the hidden path of the fine art career.
The calls are scheduled for:
Monday, May 8 Orientation session, then Mondays May 15, 22, 29 and June 5 at 2 PM Pacific / 5 PM Eastern.
All calls are recorded, and you can ask questions in advance and watch a replay, in case you can't make the live call.
Media & PR for Artists is a multimedia online training, designed to take about 10 hours over 4 weeks, that teaches you to break down the media's garden walls and go around the gatekeepers, so you can bring your art the attention it deserves.
By the end of this training, you'll know how to:
Design a press kit

so you know exactly what to pitch to your media contacts

Make friends with journalists, bloggers, and influencers

and leverage those contacts into media attention

Pitch stories in a meaningful way

and then follow through to make sure they happen
When you join the course, you'll get a series of video lessons, transcripts, a workbook, and other resources to help you create automated, scalable systems for your art business, so you can make more money and have more fun talking to people about your art.
Here's a complete breakdown of what you'll learn in each module...
What's Inside Media & PR for Artists
Module 1: Promotion Principles 
Does the process of reaching out to journalists and bloggers mystify you, leaving you with no idea what to say? In this module, we will show you what to promote that gets media attention and how to build your promotion list.
Module 2: Materials That Get Attention
We will teach you how to put together a press kit, a handy tool that you can refer to over and over again when you are asked for contact info, images, and other press materials.
Includes real example press kits, press releases, and pitches from successful artists, including several who have completed this course in the past.
Module 3: How to Identify and Leverage Influencers
Beyond journalists and bloggers, the world is full of influencers, celebrities, social media mavens, and other people who have massive influence with your ideal collector audience. We will show you how to research, identify, and reach out to your influencers to get them to share your art with their audiences so you can keep leveraging other people's people.
You will begin reaching out to journalists, bloggers, and other media organizations to pitch your stories. We will teach you how to understand media editorial calendars, submission processes, and the difference between pitching magazines, blogs, tv shows, and other media.
Module 4: Social Media & Coordination
In this module, we will walk you through how to ask for social media shares, how to turn your website into a social media sharing machine using viral marketing tools, and how to make your images more shareable so you can turn your fan base into an evangelizing army bringing you more website traffic and sales.
We will also show you how to coordinate your campaigns to bring the maximum effect all at once. The best PR efforts make sure that all of your marketing works together in a coordinated fashion.
"I just had my best month ever in November making almost $12,000 in gross sales. I quit my job. The class, and the help of the Facebook group was one of the best investments I have ever made."

Adam Hall
One of my collectors was a patron for New York Botanical Gardens. I sent her [my media kit] and asked if she could put me in touch with staff that would be interested in my images. She did and I had an arrangement for them to have limited copyright for 8 images in greeting cards for one year.

Maud Guilfoyle
When You Enroll Today, You'll Also Get…
When You Enroll Today, You'll Also Get These Bonuses…
BONUS #1:
Access to a Coaching Call With Cory
These calls are designed to help you with any specific questions you might have as you work through the course material. Got a question like, "I do lots of different kinds of art. How should I focus my marketing message?" Submit your questions as they arise, and I will address them live on the call. If you're stuck on a particular homework assignment, this is the perfect place to get unstuck – ask questions about any of the content or assignments from the course, or any overall art marketing question you may be wrestling with.
If you can't attend the coaching call live, that's no problem! All the calls are recorded and you have lifetime access.
BONUS #2:
Private Online Artist Community on Facebook
Launching (and growing) an online art business can be really lonely, and I often hear from my clients that they feel really alone when they're trying to build their online audience and connect with potential buyers. When you're on your own, you've got no one to turn to for support and advice if you get stuck or need advice on what your next step should be. That's why I've put together our online community, where you can connect with a vibrant and active community of like-minded artists. In this group, you'll be able to talk with other artists, ask questions, get ideas for areas where you're stuck, build friendships with your classmates, and celebrate your successes. Note: you don't have to have a Facebook account to access the course materials or participate in the course, but you may miss some of the conversations between students.
Once You Finish the Four Core Modules, Here's How to Take Your Business Further…
After you've completed the four main training modules, you can also dig into these valuable bonuses:
BONUS #3:
Pitch templates for Media Outreach
Get this one-of-a-kind set of pre-written emails for marketing your art. These templates will help you quickly and easily write and send emails, without ever having to face the dreaded blank page.
Just pop your own information into the appropriate spots, and click "send!"
BONUS #4:
Successful Artist Interviews
Get over 10 hours of recorded video and audio interviews with successful artists, writers, and other creatives who are making a living from selling their work online.
This interview series includes conversations with Chris Guillebeau, Owen Garratt, Kelly Rae Roberts, and more – they'll talk about their work, their online strategies, and how they make a living from their work.
BONUS #5:
The Great Clutterbust
Discover how to fall in love with your studio (or other art creation space) and fire up your creative joy with Melissa Dinwiddie's Great Clutterbust course.
Melissa is an artist, Happiness Catalyst and Creativity Instigator who helps people turn their creative taps to "on." She will walk you through the step-by-step process of decluttering your space, creating order out of chaos, and making room for creating your art.
BONUS #6:  
The Abundant Artist's Art Marketing Checklist
This step-by-step, printable marketing checklist gives you the exact steps you can follow to market your art online and make more sales. You can use this checklist as you create each new piece of art, to document your creation process and tell your story online.
"I've made sales of originals I almost painted over because they'd sat around for sooo long. I love seeing many bucks flowing into my bank account! I'd say close to 10K from painting and sculpture sales."

Angela Treat Lyon
"Yes! I sent a newsletter with a call to action advertising an Open House for my new studio and classes (limited to 8 students) and had a great turn out. I sold prints, filled my classes, increased my email list and had a few prospective buyers. I also sold a painting online with the shopping cart which totally surprised me! Very pleased - this would not have happened without your help turning the social media switch on - thank you."

Anne Kindl
"The biggest thing I took away from the class and I guess the most useful was the research methods and tools for figuring out where to look to promote my art."

Aron Johnston
My first ever art calendar print run has sold out. We got it together and printed whilst I was doing the Content Marketing course. We made a few hundred euros! Think doing the course gave me a bit of a boost to get it out there.

Gill
In 2015 my sales increased by about 50% versus 2014. 2016 sales are on their way to double 2015.

Frederic Lecut
"I sold $100 worth of art before the class was over. I really enjoyed the step by step instruction on how to actually DO the THINGS! Plus we had the added benefit of getting help from the group which was awesome. I learned so much! I'm still working through the course, it's just packed with information. I will recommend this to others, it's awesome."

Anne Marie Talon
$77.72 has been transferred to your account. I know it is a little bit, but it was a little bit that required NO effort on my part. THANKS Cory and class for the kick in the pants. I am expecting this trickle to be the beginning as I tighten up my website and supporting social media.

Gwen
Join Media & PR for Artists Today and Get:
All of these bonuses are included when you sign up for Media & PR for Artists!
The full Media & PR for Artists course

including 4 information-packed modules

Short, focused videos and lessons you can watch on any device

so you can go through the lessons a little bit at a time

Lifetime access to the entire course

so you can re-watch the videos or refer back to the worksheets, tools, and resources at any time

Easy, actionable steps you can use to create immediate changes

start bringing attention to your work right away and build momentum

Access to Coaching Calls

with me and other artists taking the course

Access to a student community

where you can connect with other artists, ask questions, and network

All the additional learning bonuses, including the Email Templates, the Artist Interviews, the Great Clutterbust program, the Abundant Artist's Art Marketing Checklist, and more!
My Guarantee: Double Your Website Traffic
I'm confident the Media & PR for Artists course will help you reach your art marketing goals. If you're not happy with the course, or you're not making real progress toward making consistent art sales, I will personally get on the phone with you and help you figure out your next steps.
If you've done the work from the course and you're not satisfied with the program after that call, just let me know, and I'll happily refund your full purchase price.
Frequently Asked Questions
I've been a getting a lot of questions about Media & PR for Artists, so I thought I'd take a minute to answer the most common ones right now.
Question #1: "What is the difference between this course and How to Sell Your Art Online 101 or 201?"
HTSYAO 101 is primarily a course for people who hadn't made their first online art sale. It was designed for the artists who wanted to learn how to effectively tell their stories to their potential buyers.
How to Sell Your Art Online 201 is primarily for artists who are already making sales, but want to create systems to start getting steady income from their art businesses.
You don't need to have completed HTSYAO 101 or 201 to sign up for this course – if you feel like you're ready to do media outreach and grow your website traffic, we'll welcome you with open arms!
Question #2: "Will this course work for my style of art?"
We've had artists from many different styles and mediums succeed with this class. Digital art, sculpture, jewelry, fiber art, encaustic and of course oils, watercolors and other styles of painting.
Styles have also ranged the gamut from realism to abstract to tribal.
There are a few things that tend to not work well for this class. If you make the kind of art that requires huge sums of public funding, or art that is overtly political around a specific contemporary event, then this course may not be a good fit. Otherwise, this class will definitely work for your style of art.
Question #3: "What do I need, in terms of my website and online presence, to take this course?"
You will need a website or other online presence. It's possible to grow an audience with just a social media profile, but it will be harder. Marketplace services where you have a single page on someone else's website, like Etsy or Fine Art America, will not work for this course. 
Question #4: "What do I need to have in place before taking this course?"
You should have a good idea of who your target collector audience might be, and track record of at least a few sales. Ideally, your website will also be set up to capture emails via an opt-in form, and you also have ecommerce set up on your website. If you don't have ecommerce, you should have some other way of selling your art. 
You should also feel comfortable with telling a basic story about yourself, your art, and have some basic sales pitch skills. If you have never sold a piece of art before, we would recommend checking out How to Sell Your Art Online 101.
Question #5: "How long is the course going to take?"
The whole course takes about 10 hours of work, or about one hour a day for two weeks. If you have a day job, we totally get it – the course is completely self-paced, so you can break it down into tiny chunks and do the work a little bit at a time.
You get lifetime access to all the materials, so you can go through the materials at any time, and learn at your own pace. If you can devote at least 10 hours of work to this course, we can help you set up a basic sales funnel that start bringing in consistent sales from buyers who love your work.
Question #6: "Why did you rename the course?"
Two reasons: we're moving away from focusing only on Internet sales. After the pandemic, the art world has leaped forward in terms of comfort with ecommerce and selling online. We're moving toward a world where there the difference between online and offline marketing is becoming smaller. 
The second reason is a little more practical: 301 implies that the student has taken other courses or is progressing through a series of courses. Many of our artists come to us now with training from other programs and we want to emphasize that you don't have to do our other courses in order to do this one. 
Pay Monthly
4 payments of $100
Access to our members-only student community
Lifetime access to Media & PR for Artists, and 30 days access to other TAA courses when this one ends
Artist Websites That Sell Course
Pay Upfront
One Payment of $400
Access to our members-only student community
Lifetime access to Media & PR for Artists, and 30 days access to other TAA courses when this one ends
Artist Websites That Sell Course