Do any of these describe you? 
You are you an artist successfully selling at shows or from your studio, and you want to sell more online to increase your revenue or your time freedom
You are you an artist with a successful online business that you want to double or triple in revenue
You are an artist whose sales have hit a plateau for several months, or even years
If any of these descriptions fit you, then we need to talk.
Its one thing to sell a few pieces of art. Its another thing to build a long term, sustainable art business that supports your desire to make better, more fulfilling art and gives you the financial and time freedom to live the life you want.
If you would like to have a coaching relationship with someone who understands how art businesses are built, that's me. Most business coaches don't understand the realities of making art every day. Material expenses, shipping (who knew shipping costs so much, right?), packaging, taxes, and that doesn't even begin to touch on the desire to make art that is meaningful, challenging, and fun for you.
Of course it's great to be getting more inquiries and more potential collectors - but if you don't have the capacity to make more work or spend time in the studio, what's the point? You got into this so that you could express yourself and make more art, right? 
I want to tell you this: it's going to be ok. You're totally normal. This happens to every artist. 
The key to making the transition from where you're at now to where you want to be is not a secret. You're probably already doing all of the things you need to be doing. In fact, there's a good chance you might be doing too much and you need to cut some things out. 
And that's what I help artists do.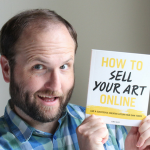 I'm Cory Huff, and I'm a business coach for artists. I've been helping artists sell art online since 2009, and I've helped hundreds of artists just like you figure out how to navigate the hidden path of the fine art career.
I literally wrote the book on selling art online. Harper Collins published my book, How to Sell Art Online: Live a Creative Life on Your Own Terms, in the Summer of 2016. I've done guest lectures on marketing at schools like Southern Methodist University, Pacific Northwest College of Art, and the Fashion Institute of Technology.
My mission is not only to teach talented artists to sell their art online, but to dispel the "starving artist myth" forever. It is possible to make the art you want, live the creative life you want to lead, and make good money doing it.
There is no reason artists need to take a vow of a poverty in order to create their art – it is possible to be an artist who makes regular, consistent sales by using the Web to sell directly to your fans.
Want to know how big you can go, with this approach? Just to give you a little taste:
Some of my artist clients have sold their work online for $20,000 or more.
Here's some feedback from a couple of artists that I've worked with:
"I'm busy with custom work, t-shirt sales are steady and automated, and my limited edition prints are selling consistently. Between that and original drawings I'm running to the post office every single day to ship art. In addition I used the knowledge you gave me and took my email marketing plan a step further. I receive between 10-25 signups consistently now each day. I really have a lot to thank you for. Unknowingly what you have done for me is changed my pattern of thinking which has inspired me to create new ideas and fuel for my business. I see a bright future in store now and I'm steadily doing it!!"

Chuck Black
"Cory understands how to talk to the both the artist and business owner in you. I was able to develop a plan that allowed me to live from my work in less than a year even making $1200 for a single 16×20 piece by my 5th month as a full time artist. Through following our plan I finally feel seen and capable to make this career happen at 25 with no formal art training."

Luz Donahue
Coaching is a bit of a broad term, so here's what coaching means when you work with me: I will talk with you, one-on-one, via phone or video chat, to discuss your specific art business challenges and how to overcome them. 
At a practical level, here's what you get when you sign up for coaching for six months (the minimum commitment): 
monthly strategy sessions (phone or Zoom), up to one hour long
weekly accountability emails where I ask you what worked, what didn't work, and what you need help with, you respond, and I provide any guidance necessary
email, text, and telephone access to me between sessions for help/questions
access to all of our course materials at TAA ($900+ value)
A lot of people ask me if that means I have a curriculum that I follow. I do have a curriculum and it's called the Hidden Path of the Artist Career. I've blogged about it extensively. Essentially, this curriculum is what I've been developing since 2009, working with artists from all over the world. I know what works. 
Having the curriculum is a good background, but in our time together I'm not going to give you the same assignments I give every artist. Once you start picking up some momentum, each artist really needs some personalized guidance. That's what we do in coaching. 
Together, we will come up with the right next steps for your art business.
We can cover any of the following:
Sales Strategy

Zeroing in on your marketing position w/ worksheets, research and discussion.
Press & Media Outreach

We'll develop a PR strategy together.
Website Strategy

Website not doing what you need? Let's figure it out.
Fix Your Systems

Let's talk through your sales and show systems to ensure the most success.
Social Media Strategy & Tactics

Stop wasting time and make social work for you.
Anything else!

Whatever aspect of your art sales you want to cover.
As you implement these plans, I'll be there to help. As a coaching student you get access to me via email between sessions, and we can also schedule catch up sessions if you get stuck. I'm here to take as many obstacles out of the way as possible. 
Julia Taylor

I did get a mention in Adventure Cycling Association's newsletter with 55,000 subscribers! I have sold 4 originals and 5 prints, have gotten about a dozen newsletter sign-ups, an inquiry about a commission, an inquiry about editorial artwork for ACA, an inquiry about book cover art, and an inquiry about featuring my work on a blog that connects people with nature. My mind is reeling! I also sold an additional $1200 a week later.
Natasha Kohli

My average size canvases go for about $5000 each right now.
I'd love to say that every artist is a good fit for coaching, but that's just not true. If you don't want coaching, then no problem. You don't have to sign up for it. I do coaching a few times a year myself, but that's my choice. Some people do just fine without it. 
If the following is true for you, then you are probably not ready for coaching: 
you've never sold art before, or haven't sold for a long time - we have courses for artists who just getting started or re-started
if you have to put coaching on a credit card and have no clear way of paying it off - please don't put yourself in a bad place financially just to work with me
if you are the kind of person who tends to blame others for their lack of success then we should not work together
Fill out our intake form

We'll ask you some questions about your art business so that we're ready to go as soon as we start talking.
Schedule your appointments

Our system will let you schedule your first session when it's convenient for you. Sessions thereafter are on an as-needed basis.
You take charge

We'll work with you to build a strategic plan for more sales.
Coaching is by application only
Coaching is a six month commitment, and costs $2,000. Payment plans are available.
Apply Now
If it's a good fit for both of us, we will send you next steps.
Coaching Plain English Terms: 
Coaching is not a guarantee of success. You agree to do the work on the ideas we come up with together, and you should get good results, but I can't promise any specific outcome. 
6 months means 6 months. You're signing up for 6 months of coaching. I'll help you all I can within that 6 months. After 6 months, if you need additional help, that will be an additional cost.