Note: We're not currently offering this course, but join our email list to find out when we'll offer it again.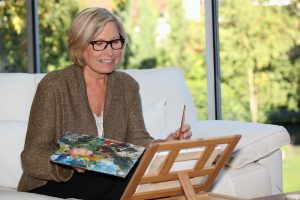 Jamie got an MFA at a prestigious art school. It was a major accomplishment they were proud of, but it also left them feeling burned out in every way. Somewhere along the way the joy of creating art seemed to have dimmed. So Jamie took a job as a graphic designer at a startup. It was exciting and paid well. But after a few years Jamie realized that they hadn't made much art in a while. That longing was starting to come back, but fear kept rearing its ugly head. What if the art wasn't good? Would anyone like it? Could they sell it? If this story sounds like you, you're not alone. Thousands of MFA, BFA, and other art school grads have the same story. There's a way out of this wilderness.
Introducing The 4 Foundations for a Thriving Art Practice
The 4 Foundations for a Thriving Art Practice is a new course specifically for artists who are feeling burnout after art school, who are looking to build an art practice that is sustainable, fulfilling, and practically doable even if you don't have a dedicated studio space.
This is not a "business" course, it's a life course for artists. But if you're hoping to sell your art, this course will help you do that too.
By the end of the course, you will
Feel excited and energized about making art daily, or at least at a regular pace

Be free of head trash that comes from academic training & cultural conversations about what it means to be an artist

Learn the practical tools that allow you to live a fulfilling life as an artist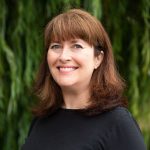 Sarah C.B. Guthrie, MFA, MA is a full-time professional artist with over 20 years experience in painting, marketing, and communications, including facilitation, coaching, storytelling, performance management, public speaking, social media, and design. She is a Certified Innovation Facilitator by The Creative Problem Solving Group; a certified Development Dimension International (DDI) customer service trainer; and completed Training Resources Groups' facilitator training. She specializes in creativity, accountability, and business coaching for artists. Sarah earned her MFA in Visual Arts at the Vermont College of Fine Arts, her MA in Literature at The George Washington University in Washington D.C., and her B.A. in Literature (with courses in Art) from Davidson College in North Carolina. Sarah was born in England and emigrated to the United States with her parents when she was a toddler. She now lives in Seattle with her husband, a retired U.S. Marine, and their beloved rescue Golden Chow Chow, aka Mory the Studio Dog.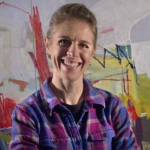 Jessica Singerman, MFA: The focus of Jessica's work as an artist is primarily painting and drawing, with some installation and video projects thrown in on occasion. She is interested in the human experience in the outdoors and specifically in getting more people outside communing with nature.
Jessica has taught college and community art classes since 2002, and also coaches artists one-on-one. Her area of expertise is helping artists tune into and build their creative muscle. Jessica earned her BA in Studio Art magna cum laude with Highest Honors in 2002 from the College of William & Mary, Virginia, and her Masters of Fine Arts in 2004 from the University of Delaware while on a fellowship. Her watercolors are the subject of a book published in 2017, Little Watercolor Squares, and her award-winning paintings and drawings are exhibited and collected internationally. In previous lives, Jessica taught yoga and worked as a guide and project manager leading epic bicycle tours all over Europe, Central America, and Australia. She rides bikes, runs, hikes and practices yoga, and lives in Winston-Salem, North Carolina with her husband and their 8-year old son.
ABOUT THE ABUNDANT ARTIST
The Abundant Artist was founded in 2009 by Cory Huff as a way of helping his artist friends understand how to sell their art online. Since then, thousands of artists have participated in TAA courses and successfully sold art by implementing what they've learned. Cory is a serial entrepreneur and named as one of five top art business coaches by Artsy.
Here's What You'll Learn in the 4 Foundations of a Thriving Art Practice
The course is composed of four individual modules with videos and worksheets. This course is designed to be a self-study program that takes about 20 hours to complete.
Module 1: Build a Sustainable Art Practice

Limitations only inform how art is made - they don't stop it. In this module Sarah & Jessica will teach you what it means to have a sustainable art practice. You'll learn how to make art within your own physical, financial, and emotional constraints. They will also address perfectionism and how to protect your art from external critics while you're still in process.
Module 2: Change the Way You Think

Art school critiques are meant to be tough in order to make you a better artist. We will help you unpack and stop internalizing those critique sessions. You will learn how to practice positive self-talk, affirmations, and how to create joy and enthusiasm for yourself and your art.
Module 3: Make Money with Your Art

The Starving Artist is a myth. It's an idea that our culture perpetuates. We will show you how to detach art making from money making and keep them separate so you can feel free to make the art you want to make. There are a myriad of ways to make a living as an artist, and whether you earn a living from your artwork or while working a day job (or any combination), our focus is on making your artwork sustainably.
Module 4: Dismantling Art Speak

Art school and the gallery world is immersed in jargon that is exclusionary. This is part of the reason potential collectors feel alienated. We will show you how to simplify your writing and speaking so that it feels vital and unforced. This will result in feeling more connected with your art and your audience.
Optional Small Group Coaching Upgrade
The live cohort orientation starts Monday, April 25 at 10 AM Pacific / 1 PM Eastern. Additional office hours will be held at the same time on May 2, 9, 16, and 23. Office hours are held via video chat on Crowdcast - you'll need to use the Chrome web browser or the Crowdcast app to participate.
The live coaching cohort is composed of an orientation and four individual modules with videos, worksheets, and weekly office hours. Students are expected to do work on their own and use the office hours and private group to ask questions and get help. There are three texts recommended for the course and you will receive information about those after registration.
You will have access to the course materials forever and can review and revisit them as you see fit.
Feedback from Past Clients
While this is a new course, the principles in it have been taught by Sarah & Jessica in private coaching for years. Here's what people say about coaching with Sarah & Jessica. 
"When I came to Sarah, I had little confidence as an art business-owner, few sales, and several 'failed' products behind me. With Sarah in my corner [as coach], I ended the year with my first book contract, a strategic direction that feels right with my soul, and no doubt in my mind that I should keep going."

Gina, professional artist and published illustrator
Being part of the coaching group led by Sarah "has totally transformed my career. I had a lot of motivation, but wasn't sure how to translate that into meaningful progress. I literally became a full-time artist thanks to Sarah's coaching."

Chelsea, professional artist and online art instructor
"I've been reflecting about my work over the past year. Just the fact that I've worked in the studio almost each week is a big accomplishment... There have been no breaks from the studio work long enough to make me feel I was starting at square one again. Going into the studio and making work feels like a habit now. This is all due to the coaching I've done with you. I'm very happy with what I've accomplished with your help."

S.T, professional artist and art professor
"I'm in a transitional point in my career and it's been enormously helpful to have Jessica talk through some of the issues, focus my goals and set waypoints for the near and long term. Jessica easily adapts to different styles and needs of her clients. I highly recommend!"

E. Stern, professional artist
Which option works best for you?
Take the self-study version now.
Purchase the Self-Study Course
1 Payment of $97
How to Sell Art on Facebook Course
Artist Websites That Sell Course
Access to our Private Facebook Group
Sign Up Now
Full access to the Four Foundations of a Thriving Art Practice
Add the Group Coaching Sessions
One Payment of $295
How to Sell Art on Facebook Course
Artist Websites That Sell Course
Access to Private Facebook Group
Testimonials are from real students and clients, but their experiences should not be construed as a guarantee of specific outcomes.
Full Website Terms and Conditions page.