Selling art online has become an overwhelming swirl of options.
From online galleries to Instagram to print on demand, it seems like there's a new option every day. What do you choose, and once you've chosen one, how do you make it work?
At the core of the confusion is this: learning how to tell a story about yourself and your art helps people form an emotional connection with you and your art. Out of that emotional connection, collectors are more likely to buy, which means you will have more financial success and fulfillment as an artist.
Even if you're thinking, "I don't have a story," please keep reading.
Every artist, and every piece of art, has a story.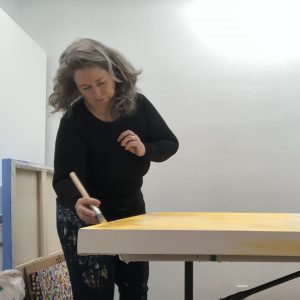 Most artists are so steeped in the process and details of art-making that they can't even see the magic that they inhabit every day.
This course is about how to articulate that experience so that others can connect with it.
For example, most artists know that sharing work-in-progress images and videos online is a good way to get attention - but how do you convert that into actual sales?
The 4 Biggest Myths of Selling Art Online
Good art sells itself.

If this were true, art galleries would not exist. The reality is that there is a lot of good art in the world, and people who like to buy art want to form relationships with their artists, or at least feel like they are connected to the work in some way.

Setting up shop on Instagram or Etsy or (insert your favorite platform here) will help me sell my art.

Maybe in the early days of Web 2.0, that was true, but every platform is now crowded with tens or hundreds of thousands of artists. Artists get lost in the noise. It's easy to see a piece of art you like, then see another one, then another one, and soon buyers have 27 tabs open and can't make a decision – or they decide to buy someone else's work.

People only buy cheap art online.

We've been doing this a long time and while it's true that the most common sales are inexpensive pieces, that's true offline as well. The reality is that even expensive art is sold through in-person AND online relationships. In an age of online dating and car sales, it's out of date to think you can't form real relationships and make significant sales online.

Running an art business will take over my life and I'll never get to actually make art.

It's true that getting a business off of the ground is a lot of work, but eventually, you'll find ways to settle into a rhythm of making and selling. After all, you can't sell stuff you haven't made, and there are many, many artists who make a living and they find time to make and sell.
Stop falling for these myths and learn this one thing: selling art comes down to learning how to say:
"I'm an artist, here's what I'm about, here's what my creative process looks like, here's why you should care about this piece of art, can you see this work of art in your home or office, and how would you like to pay."
What Previous Students Are Saying
"I just had my best month ever in November making almost twelve thousand dollars in gross sales. I quit my job. The class, and the help of the Facebook group was one of the best investments I have ever made."

Adam Hall, New Orleans Oil Painter
Jessica is booked out for six months on new commissions. "I started off not really knowing what my story was and it was really delightful to discover I had one. I actually discovered what my artistic influences were and the life experiences that they came from and why painting dogs was what I was meant to be doing. I was able to articulate all this clearer on my website due to your teaching!"

Jessica Marie, Pop Art Puppy Dogs
INTRODUCING HOW TO SELL YOUR ART ONLINE 101
Join How to Sell Your Art Online. Give us 5 weeks, and we will show you how to identify and communicate what makes you unique as an artist, write compelling online stories that connect with buyers, and gain the foundations to start making regular online sales.
Here's how it works:
As soon as you join the course, you'll get access to a series of video lessons, transcripts, a workbook, and other resources to help you create – and grow – a successful online art business.
You ALSO get access to our group calls with Cory Huff, the founder of TAA, and business coach for artists. Cory has been helping artists sell art online since 2009. He has helped hundreds of artists just like you figure out how to navigate the hidden path of the fine art career.
The calls are scheduled for:
Monday, June 26 Orientation session, then Mondays July 3, 10, 17 and 24 at 2 PM Pacific / 5 PM Eastern.
All calls are recorded, and you can ask questions in advance and watch a replay, in case you can't make the live call.
This program will give you practical advice you can implement immediately, which many of our artists have used to get their first online art sale in 30 days or less – or if you're already making sales, this program will help you learn how to make sales regularly.
Whether you're just getting started, or you've been selling your work for years, you'll get the exact strategies we've used to help hundreds of artists kick-start their online art sales.
Why You Can Trust Us to Help You Sell Your Art Online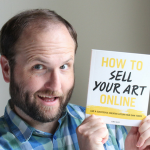 I'm Cory Huff, and I'm a business coach for artists. I've been helping artists sell art online since 2009, and I've helped hundreds of artists just like you figure out how to navigate the hidden path of the fine art career.
I literally wrote the book on selling art online. Harper Collins published my book, How to Sell Your Art Online: Live a Creative Life on Your Own Terms, in the summer of 2016. I've done guest lectures on marketing at schools like Southern Methodist University, Pacific Northwest College of Art, and the Fashion Institute of Technology. I'm also a serial entrepreneur and marketing executive in tech and online course programs.
I love helping talented artists sell their art online while also dispelling the "starving artist myth" forever.
It is possible to make the art you want, live the creative life you want to lead, and make good money doing it.
There is no reason artists need to take a vow of poverty in order to create their art – it is possible to be an artist who makes regular, consistent sales by using the web to sell directly to your fans and collectors.
Want to know how big you can go, with this approach? Just to give you a little taste:
Some of my artist clients have sold their work online for $20,000 or more.
"The courses Cory created at The Abundant Artist helped me turn my dreams of being a full-time artist into reality. I love taking what I've learned from my own experience, combined with a 20+ year career in marketing and communications, to support other artists in making their dreams a reality." – Sarah C.B. Guthrie
If You Can Answer "Yes" to Any of These Questions, You're Perfect for This Course:
Are you looking for a strategy to get more visitors to your website, connect with buyers online, and sell more art?

Do you feel like your art is good, but you don't know how to communicate that to potential buyers?

Do you have a lot of hustle – and feel ready to do the work – but always feel overwhelmed and unsure of what to do next online?

Are you looking for an artistic community to collaborate with?
Sound like you? Great! Let me walk you through everything you'll learn inside How to Sell Your Art Online…
More Feedback From Students
"I often forget just how much I've learned, because I just feel like it's natural knowledge now, but there was a time when I knew little or none of it. I'm armed with a good set of tools, including a supportive network, thanks to TAA."

Tom Harold, Rolling Ball Sculpture
Raised $15,137 on Kickstarter. He said the 101 course, "works best for people who are just getting started, people who are drawn to making art but don't really know why."

Jonathan Crow, Illustrator
Here's What You'll Learn in How to Sell Your Art Online
Module 1 What You Need In Order to Sell Art Online

There are three things you need in order to successfully sell your art online: good art made in a series, a place to show your art (it doesn't have to be your own website), and an audience with money. In Module 1 we talk in more detail about how to figure out where your challenges are and what to do about them. We also start the process of designing an art business that is the right fit for your personality, and help you figure out where you can look first for your first sales.
Module 3 Discovering What Makes You Unique as an Artist

In this module, we'll use a journaling process to help you define what makes you different from other artists, and how you can leverage those unique qualities to stand out in the art market. You'll discover how to position your art in the marketplace (don't worry – it's not scary!), and I'll help you figure out how to get people to care about who you are and what you do. During this module, you'll complete the "Discovering Your Uniquity" worksheet to define and document your unique qualities as an artist. I'll also walk you through the step-by-step process of researching exactly who you're trying to reach with your art (Hint: The answer may not be what you think!)
Module 2 Documenting Your Artistic Process

In this module, you'll learn how successful artists document their process when creating their art through images, video and journaling. When you learn to document your own process, you'll have a solid foundation for creating marketing materials about your work. We're not going to turn you into an art teacher – you don't need to create instructional content – we're simply going to showcase your work and create context for potential collectors.
Module 4 How to Tell Compelling Stories About Your Art

This module will help you start telling powerful stories about who you are as an artist and what your art is about. You'll learn why storytelling is such a powerful tool for making online art sales, and how stories help you connect with potential buyers and collectors. I'll walk you through the step-by-step process of using the Hero's Journey storytelling framework to tell your memorable and compelling artist story. You'll also get a number of example "Hero's Journey" stories from successful artists. Finally, we will show you how to help your collectors make an emotional connection with your art and your stories. This module includes examples of how to use your story in social media, blogging, and email.
Pay Monthly
4 payments of $100
Access to our members-only community
Lifetime access to How to Sell Your Art Online 101 and 30 days access to 201 and 301
Artist Websites That Sell Course
Pay Upfront
One Payment of $400
Access to our members-only community
Lifetime access to How to Sell Your Art Online 101 and 30 days access to 201 and 301
Artist Websites That Sell Course
When You Enroll Today, You'll Also Get…
You might be thinking, "This sounds great – but what if I have questions about the course materials?
We've got you covered there, too.
#1: Weekly Accountability and Coaching Calls

These weekly calls are designed to help you with any specific questions you might have as you're attracting your first online sale, or working on doubling your online sales. Got a question like, "I do lots of different kinds of art. How should I focus my marketing message from Module 4"? You can get feedback and answers from us every week for the five weeks of the course. If you're stuck on a particular homework assignment, this is the perfect place to get unstuck – you can pick our brain about any of the content or assignments from the course, or about any overall art marketing question you may be wrestling with. If you can't attend the coaching calls live, that's no problem! All the calls will be recorded. You can post your questions in the Crowdcast in advance, and we will answer it on the call – then you can access the recording later. All calls are recorded and the replay is available soon after the live session is complete.
#2: Private Online Artist Community on Facebook

Launching (and growing) an online art business can be really lonely, and I often hear from my clients that they feel really alone when they're trying to build their online audience and connect with potential buyers. When you're on your own, you've got no one to turn to for support and advice if you get stuck or need advice on what your next step should be. That's why I've put together our online community, where you can connect with a vibrant and active community of like-minded artists. In this group, you'll be able to talk with other artists, ask questions, get ideas for areas where you're stuck, build friendships with your classmates, and celebrate your successes. Note: you don't have to have a Facebook account to access the course materials or participate in the course, but you may miss some of the conversations between students.

BONUS: Get 201 & 301 for a month

All students get How to Sell Your Art Online 201 & 301 courses for a month after the 101 course ends. Learn about email marketing, blogging, social media, and influencer marketing as well. If you like the 30 day trial, you can upgrade to permanent access at a deep discount.
Once You Finish the Four Core Modules, Here's How to Take Your Business Further…
After your four core module training is complete, you might be wondering, "What else can I do to increase my online art sales?"
That's when you can dig into these exclusive bonuses:
BONUS: Successful Artist Interviews

Get over 10 hours of recorded video and audio interviews with successful artists, writers, and other creatives who are making a living from selling their work online. This interview series includes conversations with Chris Guillebeau, Owen Garratt, Kelly Rae Roberts, and more – they'll talk about their work, their online strategies, and how they make a living from their work.
BONUS: The Great Clutterbust

Discover how to fall in love with your studio (or other art creation space) and fire up your creative joy with Melissa Dinwiddie's Great Clutterbust course. Melissa is an artist, Happiness Catalyst and Creativity Instigator who helps people turn their creative taps to "on." She will walk you through the step-by-step process of decluttering your space, creating order out of chaos, and making room for creating your art.
BONUS: The Abundant Artist's Art Marketing Checklist

This step-by-step, printable marketing checklist gives you the exact steps you can follow to market your art online and start making sales. You can use this checklist as you create each new piece of art, to document your creation process and tell your story online.
"In 2015 my sales increased by about 50% versus 2014. 2016 sales are on their way to double 2015."

Frederic Lecut, Mosaics
Sold 4 pieces of jewelry in a single Facebook post. "I got sales, but the process was nothing like what I thought it would be."

Marianne Goodell, Paintings and Jewelry
"Yes! I sent a newsletter with a call to action advertising an Open House for my new studio and classes (limited to 8 students) and had a great turn out. I sold prints, filled my classes, increased my email list and had a few prospective buyers. I also sold a painting online with the shopping cart which totally surprised me! Very pleased - this would not have happened without your help turning the social media switch on - thank you."

Anne Kindl
"I sold $100 worth of art before the class was over. I really enjoyed the step by step instruction on how to actually DO the THINGS! Plus we had the added benefit of getting help from the group which was awesome. I learned so much! I'm still working through the course, it's just packed with information. I will recommend this to others, its awesome."

AnneMarie Talon
My first ever art calendar print run has sold out. We got it together and printed whilst I was doing the Content Marketing course. We made a few hundred euros! Think doing the course gave me a bit of a boost to get it out there.

Gill
$77.72 has been transferred to your account. I know it is a little bit, but it was a little bit that required NO effort on my part. THANKS Cory and class for the kick in the pants. I am expecting this trickle to be the beginning as I tighten up my website and supporting social media.

Gwen
"The biggest thing I took away from the class and I guess the most useful was the research methods and tools for figuring out where to look to promote my art."

Aron Johnston
Join How to Sell Your Art Online 101 Today and Get:
All of these are included when you sign up for How to Sell Your Art Online 101!
The full How to Sell Your Art Online 101 program

including 4 information-packed modules.

Short, focused videos and lessons you can watch on any device,

so you can go through the lessons a little bit at a time.

Lifetime access to the entire 101 course,

so you can re-watch the videos or refer back to the worksheets, tools, and resources at any time.

30 days access to HTSYAO 201 & 301,

so you can see how to apply your 101 learnings to email, blogging, social media, and more.

Easy, actionable steps you can use to create immediate changes

and start bringing in more sales as soon as possible.

Weekly accountability and coaching calls

with your coach and your How to Sell Your Art Online classmates.

The Private Online Artist Community,

where you can connect with other artists, brainstorm ideas and work through your online marketing problems.

All the additional learning bonuses,

including the artist interviews, the Great Clutterbust program, the Abundant Artist's Art Marketing Checklist, and more!
Our Guarantee: Make An Online Art Sale in 30 Days, or Get a Free Coaching Call
I'm confident the How to Sell Your Art Online course will help you reach your art marketing goals. If you complete all the homework, attend or re-watch all the recordings, take action steps towards a sale and don't make your first online sale in 30 days, I will personally get on the phone with you and help you figure out your next steps.
If you've done all the work from the course and you're not satisfied with the course after that call, just let me know, and I'll happily refund your full purchase price.
Frequently Asked Questions
We've been doing this since 2009. Here are the most commonly asked questions about the course.
Question #1: "Will this course work for my style of art?"
We've had artists from many different styles and mediums succeed with this class. Digital art, sculpture, jewelry, fiber art, encaustic and of course oils, watercolors and other styles of painting.
Styles have also ranged from realism to abstract to 'outsider' art.
There are a few things that tend to not work well for this class. If you make the kind of art that requires huge sums of public funding or art that is overtly political around a specific contemporary event, then this course may not be a good fit. Otherwise, this class will work for your style of art.
Question #2: "Do I need a complicated website or shopping cart system to take this course?"
You do not need a website for this course, a simple page or social media profile will work just fine. No need to spend hundreds or thousands of dollars on a fancy website before you join us.
Question #3: "What if I already know my unique value, and I just want to know how to do social media and emails effectively?"
Are you absolutely sure you know your unique value? If so, can you state it in a sentence or two?
Do you know who your ideal collectors are? If the answer to all of the above is "yes," then you will probably want to check out our more advanced HTSYAO courses.
If you answered "no" to any of these questions, this course will help you.
Question #4: "My art gallery won't like it if I sell my art online – what should I do?"
How much is your art gallery selling? Are they bringing in all the sales you want or need? If the answer is "no," you MUST be able to do your own online marketing to directly speak to your fans and sell your work.
To put it even more directly: You need to ask yourself if you are comfortable letting an art gallery dictate how you run your business.
Question #5: "How long is the course going to take?"
The whole course takes about 10 hours of work, or about one hour a day for 10 days. If you have a day job, we totally get it – the course is completely self-paced, so you can break it down into tiny chunks and do the work a little bit at a time.
We make it as easy as possible for you to do the work for this course -- and you get lifetime access to the course materials, so you can go through the materials at any time.
Pay Monthly
4 payments of $100
Access to our members-only community
Lifetime access to How to Sell Your Art Online 101 and 30 days access to 201 and 301
Artist Websites That Sell Course
Pay Upfront
One Payment of $400
Access to our members-only community
Lifetime access to How to Sell Your Art Online 101 and 30 days access to 201 and 301
Artist Websites That Sell Course
Terms and Conditions: 
There is no guarantee of a specific dollar amount or outcome. Course alumni who do implement what they learn typically see a significant increase in sales ranging from a few hundred to several thousand dollars annually. Some course alumni have seen sales in the hundreds of thousands after 3 - 5 years, but these results are not typical.
Full Website Terms and Conditions page.