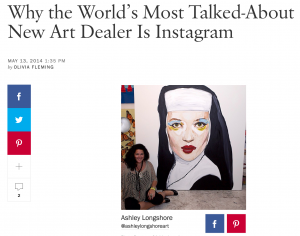 A lot of artists see Social Media as the modern savior of art sales. But Big Business is slowly taking over the promised connection that social media once offered.
Artists are casting around looking for the next great opportunity to reach their collectors outside of the gallery system.
Due to its open nature, some early adopters of Instagram have found great success.
In Spring 2014, Vogue magazine called Instagram the "Next Big Art Dealer." They highlighted a handful of artists who are selling massive amounts of art on Instagram and auction houses that are using Instagram to announce their upcoming sales.
One artist, Ashley, has used Instagram to magnificent success. Her Instagram account only has a few thousand followers, but she has connected with the right people. Her enthusiastic Instagram followers include celebrities and other wealthy art collectors who can't wait to buy her next piece. Journalists love her too. She's been featured in major newspapers and magazines, all because of her Instagram account.
And it's not just Ashley. Dozens of artists from all over the world are gaining recognition and making sales from their Instagram accounts.
And Instagram doesn't cost a thing.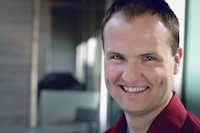 Hi, I'm Cory Huff. I've been helping artists like you sell art online for five years.
I've spent the last six months doing in-depth research on how artists are selling their art online. I've been coaching clients one-on-one and talking to artists like Ashley who've had massive success, to crack the Instagram code.
I have to tell you that right now is a golden moment for artists to seize the day, jump on Instagram, and start connecting with their ideal collectors – collectors who are hungry for awesome art, who see Instagram as the place to find it.
In this recorded Instagram video training, we show you:
How to make art sales happen by engaging with your fans and collectors effectively
How to ensure that your art looks as good online as it does in real life by using your Smartphone camera and the Instagram editing tools
How to explode your reach and fan base by connecting with Instagram's biggest curators and influencers
Get all of your Instagram Questions Answered
During this live webinar, I'll be answering all of your questions about Instagram. We will stick around until everything is answered to your satisfaction.
What Artists Are Saying About Our Courses
"I liked how each session was jam-packed with useful information, and I liked being able to review the information at my own pace later by listening to the recordings…All in all, I'm so glad I bit the bullet and signed up for this course. It is going to flatten out my learning curve going forward. A million thanks!"- Hannelore Dean
Here's all the details of what you get
Everyone who signs up will get
90 minute webinar on how Instagram works
information on how to effectively use third-party programs that enhance your Instagram power
a recording of the webinar to watch online or download to their computer
pdf copies of the presentation and transcript
Is Instagram really this big of a deal?
As much as I'm going on about this, you might think Instagram is paying me. They're not. I've worked in online marketing for more than eight years. I've watched a lot of Internet fads come and go. I think Instagram is the real deal. It only took them 2 years to reach 100 Million users, and they're still growing like crazy. Artists who jump on the bandwagon now have a golden opportunity.
Ready to sign up?
It's only $25!

Money Back Guarantee
As with all of my courses, I guarantee you're going to learn a lot. If you don't, you can ask for your money back, no questions asked.
Students Make Money from TAA Classes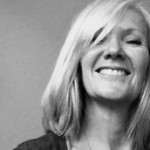 "I did earn a commision from a local dance studio that I belong to…I contacted the owner, she looked at a few of my pieces and liked them and my ideas. So now I am doing 2, 12 x 12 paintings for her. If she likes them, she will comission 10 more for a total 12.
The only reason I did this was because of the course."
– Therese La Londe
P.S.
If you want to learn to sell art on Instagram, you can certainly jump in and do it yourself through experimentation. But that's what I've been doing for the last six months. I'll show you what works – surely your time is worth the $25 this webinar will cost?