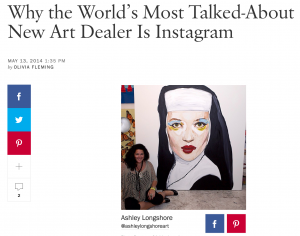 For some strange reason, most advice about selling art on Instagram is focused on growing a bigger Instagram following and not actually selling art. This advice is backwards. 
There are artists with hundreds of thousands of followers who can barely manage to squeeze out a sale. There are artists with just a few hundred followers who regularly sell large originals and commissions. What's the difference? 
In this course Sarah Guthrie breaks down how she actually sells her art through her Instagram account. She pulls the best of what's out there to show you tips and techniques to use Instagram to find your ideal collectors and sell more art.
Come to the workshop and Sarah Guthrie will show you how to:
Build rapport and make sales to your followers. 

Stop stressing about follower count and hashtags.

How to use the latest Instagram features find your ideal collectors.

Grow your email list.
This is a recorded self-study course that includes: 
A workbook that breaks down what we teach, step-by-step

Generating Sales Leads 

Use Instagram to Grow Your Email List

How to Set Realistic Goals for Insta

Post Consistently, But It Doesn't Have to be Everyday

Ask Your Followers to Promote Your Work on Their Social Media

Bonus Tip #1: Use Reels

Bonus Tip #2: Instagram Shop

How to Sell Your Art through Instagram: Q&A