Sign Up for Your Solo Session
$300
You'll hear from me right away. Can't wait to get started.
Sign Up Now
These sessions are the regular full price sessions for 60 minutes, plus a 30 minute follow up.
How do you want to feel about your art business? 
Excited

about your income
Confident

that you know what you're going to do next, and that it will work!
Relieved

that you're finally on the right track.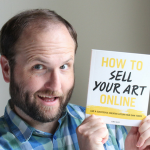 I'm Cory Huff, and I'm a business coach for artists. I've been helping artists sell art online since 2009, and I've helped hundreds of artists just like you figure out how to navigate the hidden path of the fine art career.
I literally wrote the book on selling art online. Harper Collins published my book, How to Sell Art Online: Live a Creative Life on Your Own Terms, in the Summer of 2016. I've done guest lectures on marketing at schools like Southern Methodist University, Pacific Northwest College of Art, and the Fashion Institute of Technology.
My mission is not only to teach talented artists to sell their art online, but to dispel the "starving artist myth" forever. It is possible to make the art you want, live the creative life you want to lead, and make good money doing it.
There is no reason artists need to take a vow of a poverty in order to create their art – it is possible to be an artist who makes regular, consistent sales by using the Web to sell directly to your fans.
Want to know how big you can go, with this approach? Just to give you a little taste:
Some of my artist clients have sold their work online for $20,000 or more.
What previous clients are saying
"I'm busy with custom work, t-shirt sales are steady and automated, and my limited edition prints are selling consistently. Between that and original drawings I'm running to the post office every single day to ship art. In addition I used the knowledge you gave me and took my email marketing plan a step further. I receive between 10-25 signups consistently now each day. I really have a lot to thank you for. Unknowingly what you have done for me is changed my pattern of thinking which has inspired me to create new ideas and fuel for my business. I see a bright future in store now and I'm steadily doing it!!"

Chuck Black
"Cory understands how to talk to the both the artist and business owner in you. I was able to develop a plan that allowed me to live from my work in less than a year even making $1200 for a single 16×20 piece by my 5th month as a full time artist. Through following our plan I finally feel seen and capable to make this career happen at 25 with no formal art training."

Luz Donahue
We can cover any of the following areas of your business (best to pick just one):
Sales Strategy

We can discuss and role-play some sales scenarios so that you feel more confident in your sales skills.
Press & Media Outreach

We'll develop a PR strategy together.
Website Strategy

Website not doing what you need? Let's figure it out.
Fix Your Systems

Let's talk through your sales and show systems to ensure the most success.
Social Media Strategy & Tactics

Stop wasting time and make social work for you.
Anything else!

Whatever aspect of your art sales you want to cover.
You sign up for a solo coaching session.
Fill out our intake form

We'll ask you some questions about your art business so that we're ready to go as soon as we start talking.
Schedule your appointment

Our system will let you schedule your 60 minute session when it's convenient for you.
You take charge

We'll work with you to build a strategic plan for more sales.
Sign Up for Your Solo Session
$300
You'll hear from me right away! Can't wait to get started.
Sign Up Now
These sessions are the regular full price sessions for 60 minutes, plus a 30 minute follow up.