Are you stuck inside all Summer working on your art? Missing the outdoor art fair circuit? Wishing you knew whether the galleries and fairs were coming back? Are you making some sales but would like to make more sales, more consistently, especially online? 
Give us eight weeks this Summer, and we will help you transform your art business. 
We did this last year and it was so popular we're doing it again. We are combining two of The Abundant Artist's popular courses into a single Summer business intensive, all for the price of one course.
Introducing the Summer how to sell art online intensive
At the end of this intensive you will be able to: 
turn your website into an ecommerce engine so you can focus on making more art

send emails your collectors are actually excited to open so they start buying from you consistently

smoothly pitch your art to magazines, newspapers and blogs so you can get press coverage for your work

skillfully navigate social media so you can build relationships with collectors and fans that turn into sales

feel confident about your art sales skills so you can continue to grow your business
What Previous Students Are Saying
"We rescheduled a canceled Art Party at my studio/gallery for this last weekend, and sent a newsletter about it to our 3000 recipients, with a followup just before the event. Result was $5,302 in new sales."

Will Enns
"Mid-Pandemic and I've had my best 3 months ever...if it hadn't been for gaining the tools to have an online presence from the Abundant Artist I wouldn't have been able to do this."

Mary Kemp
What's Inside the Summer Intensive?
The Summer intensive includes course material from our 201 AND 301 courses. 
Websites for Artists: What to include and what to leave alone.

Your website is the key to your online sales. We will provide a checklist of items to include on your website, show you the easiest ways to include all of those things, and during the live calls provide an opportunity to do a live hot seat with our teachers.
Creating Experiences for Collectors

Beyond creating content, how can you activate your fans and collectors and turn them into super collectors or true fans? I'll teach you how to create powerful experiences for your fans, so you can transform people who know and like you into evangelists who can't wait to tell the world about you and your work. In this module, I'll share stories of artists who have activated armies of fans to rally around causes, do good deeds for people, or to have a hilarious time – and during those fan experiences, they are selling their art and bringing in consistent income.
PR Principles and Press Kits

Does the process of reaching out to journalists and bloggers mystify you, leaving you with no idea what to say? In this module, we will show you how to develop multiple pitches and stories for you art. We will also teach you how to put together a press kit, a handy tool that you can refer to over and over again when you are asked for contact info, images, and other press materials. Includes press kits from successful artists.
How to Identify and Leverage Influencers

Beyond journalists and bloggers, the Internet is full of celebrities, social media mavens, and other people who have massive influence with your ideal collector audience. We will show you how to research, identify, and reach out to your influencers to get them to share your art with their audiences so you can keep leveraging other people's people.
An Artist's Guide to Email Marketing

Learn how to successfully use email marketing to sell your art. You'll learn how to build a simple sales funnel, including how to invite people to your list, introduce them to you and your story, and invite them to purchase a piece. We'll also talk about how to create an emotional connection with your subscribers, and how you can offer them an opportunity to buy your work.
Lead Generation

In this lesson, I'll walk you through the step-by-step process of using your newly created sales funnel to automate the process of taking someone from the "I've never heard of you" stage to becoming a collector who buys from you again and again. The emphasis here is that we are automating your existing sales process, so that it repeats and scales up to a bigger business. We'll also cover how to repurpose your content for your blog, email messages, and social media updates, so you don't have to re-invent the wheel every time you need to publish a message online. You'll discover how to create a marketing concept, then use that idea in different ways on various online channels.
How to Get Started with Media Outreach

Begin reaching out to journalists, bloggers, and other media organizations to pitch your stories. We will teach you how to understand media editorial calendars, submission processes, and the difference between pitching magazines, blogs, and tv shows. This module will include example pitches used by artists to pitch media organizations.
How to Get More Shares on Social Media

We will walk you through how to ask for social media shares, how to turn your website into a social media sharing machine using viral marketing tools, and how to make your images more shareable so you can turn your fan base into an evangelizing army bringing you more website traffic and sales.
Dates & Times
All TAA courses focus on pre-recorded course materials including video, audio, transcripts and worksheets. The course is self-guided so you can complete it at your own pace.
That said, we know many students benefit from coaching calls or open office hours, so we also make those available. Our coaching calls are on Mondays at 1 PM Pacific Time / 4 PM Eastern. For this cohort, the live video chats begin: 
August 2, 9, 16, 23, 30
September 6, 13, 20, 27
Your teachers: Sarah & Cory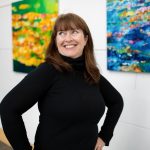 Sarah C.B. Guthrie, MFA, MA, who runs our accountability groups, is a Seattle-based, professional artist with over 20 years of experience in communications, including facilitation, coaching, storytelling, marketing, performance management, public speaking, social media, and design. She is a Certified Innovation Facilitator by The Creative Problem Solving Group; a certified Development Dimension International (DDI) customer service trainer; and completed Training Resources Groups' facilitator training. She specializes in creativity, accountability, and business coaching for artists.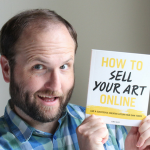 Cory Huff is the founder of TAA, and has been helping artists sell art online since 2009. He has helped hundreds of artists just like you figure out how to navigate the hidden path of the fine art career.
Harper Collins published his book, How to Sell Art Online: Live a Creative Life on Your Own Terms, in the Summer of 2016. His writing has appeared in Professional Artist Magazine, multiple newspapers, and dozens of radio shows and podcasts. He has guest lectured on marketing at schools like Southern Methodist University, Pacific Northwest College of Art, and the Fashion Institute of Technology and given workshops in multiple countries.
Which option works best for you?
Pay Monthly
4 payments of $100
Lifetime access to Summer Intensive course materials
Access to all other course materials for one year
Weekly coaching calls
Access to our members-only community, The Association, for one year
Email & pitch templates
Website & Marketing Checklists
Pay Upfront
One Payment of $400
Lifetime access to Summer Intensive course materials
Access to all other course materials for one year
Weekly coaching calls
Access to our members-only community, The Association, for one year
Email & pitch templates
Website & Marketing Checklists
More Feedback From Students
In 2015 my sales increased by about 50 % versus 2014. 2016 sales are on their way to double 2015.

Frederic Lecut
"I sold $100 worth of art before the class was over. I really enjoyed the step by step instruction on how to actually DO the THINGS! Plus we had the added benefit of getting help from the group which was awesome. I learned so much! I'm still working through the course, it's just packed with information. I will recommend this to others, its awesome."

AnneMarie Talon
TAA Guarantee: Start Making Consistent Art Sales, or Your Money Back.
We are confident the How to Sell Your Art Online Summer Intensive will help you reach your art marketing goals. If you're not happy with the course, or you're not making real progress toward making consistent art sales, I will personally get on the phone with you and help you figure out your next steps.
If you've done the work from the course and you're not satisfied with the program after that call, just let me know, and I'll happily refund your full purchase price.
Bonuses
Join our Summer Intensive today and get the following bonuses. 
Coaching Calls

Weekly live video chats with Sarah Guthrie and your fellow students. You'll get professional coaching, responses to your questions, and hear how your fellow students are running their art businesses.

Membership in TAA Association

A $400 value, a one-year membership in our private community for professional artists is included in the Summer Intensive. Connect with professional artists at all skill and experience levels from all over the globe, and access members-only content.

Email marketing templates

We have a swipe file full of email marketing templates from successful artists of all genres. It's yours if you join the course.

Pitch templates

Example emails and press releases from real artists who have landed newspaper, magazine, and television profiles.
Art Marketing Checklist

Wondering what else you should be doing with your marketing? Our checklist will help you figure out what to do next.

Artist website checklist

Everything you need for your website, with links to where & how to get it.

Successful artist interviews

We have a treasure trove of interviews with successful artists from all over the world. They're included in your membership in the course. Learn from the best at your own pace.
Pay Monthly
4 payments of $100
Lifetime access to Summer Intensive course materials
Access to all other course materials for one year
Weekly coaching calls
Access to our members-only community, The Association, for one year
Email & pitch templates
Website & Marketing Checklists
Pay Upfront
One Payment of $400
Lifetime access to Summer Intensive course materials
Access to all other course materials for one year
Weekly coaching calls
Access to our members-only community, The Association, for one year
Email & pitch templates
Website & Marketing Checklists
Frequently Asked Questions
Why are we doing this? 
2021 has a particular set of unique challenges, including the Covid-19 pandemic and slow rebuilding of art sales infrastructure. It's a good time to focus on online sales while keeping opportunities open for fairs and galleries. We are combining these programs to create an affordable way to dive deep into growing your art business. 
Who is this for? 
You will get the most out of this intensive if you have sold at least a few pieces of art, or have completed our How to Sell Your Art Online 101 program. If you have never sold a piece of art before, we recommend you check out our 101 course or one of our free challenges. 
What is the difference between this course and How to Sell Your Art Online 101?
Our 101 program is for artists who have never sold anything and don't know how to talk about their art. This intensive is for artists who have a style, vision, and desire to generate enough money to live off of their sales.
Will this course work for my style of art?
We've had artists from many different styles and mediums succeed with our programs. Digital art, sculpture, jewelry, fiber art, encaustic, and of course oils, watercolors, acrylics, and other styles of painting. Styles have also ranged the gamut from realism to abstract to tribal.
There are a few things that tend to not work well for this class. If you make the kind of art that requires huge sums of public funding, or art that is overtly political around a specific contemporary event, then this course may not be a good fit. Otherwise, this class will definitely work for your style of art.
What do I need, in terms of my website and online presence, to take this course?
You will need a website that will allow you to integrate with an email marketing service provider like ConvertKit or Mailchimp. Website services with integrated email marketing features like FASO will work, but you may be limited in what you're able to do without the ability to segment your list and/or create a series of auto-responder emails.
Marketplace services where you have a single page on someone else's website, like Etsy or Fine Art America, will not work for this course. You won't be able to integrate with an email service provider or embed things on your page. If you don't have your own website yet, please take a look at our Artist Websites That Sell course.
How much work is the course?
The intensive is two back-to-back courses. Each course takes about 10 hours of work, or about one hour a day for two weeks. If you have a day job, we totally get it – the course is completely self-paced, so you can break it down into tiny chunks and do the work a little bit at a time.
You get lifetime access to all the materials, so you can go through them at any time, and learn at your own pace.
If you can devote at least 20 hours of work to this intensive over 8 weeks, we can help you set up a basic sales funnel that starts bringing in consistent sales from buyers who love your work.
"I just had my best month ever in November making almost twelve thousand dollars in gross sales. I quit my job. The class, and the help of the Facebook group was one of the best investments I have ever made."

Adam Hall
"My work was featured in the Topeka Kansas Journal."

Michelle Leivan
"Yes! I sent a newsletter with a call to action advertising an Open House for my new studio and classes (limited to 8 students) and had a great turn out. I sold prints, filled my classes, increased my email list and had a few prospective buyers. I also sold a painting online with the shopping cart which totally surprised me! Very pleased - this would not have happened without your help turning the social media switch on - thank you."

Anne Kindl
"I sold $100 worth of art before the class was over. I really enjoyed the step by step instruction on how to actually DO the THINGS! Plus we had the added benefit of getting help from the group which was awesome. I learned so much! I'm still working through the course, it's just packed with information. I will recommend this to others, its awesome."

Anne Marie Talon
"I've made sales of originals I almost painted over because they'd sat around for sooo long. I love seeing many bucks flowing into my bank account! I'd say close to 10K from painting and sculpture sales."

Angela Treat Lyon
My first ever art calendar print run has sold out. We got it together and printed whilst I was doing the Content Marketing course. We made a few hundred euros! Think doing the course gave me a bit of a boost to get it out there.

Gill
$77.72 has been transferred to your account. I know it is a little bit, but it was a little bit that required NO effort on my part. THANKS Cory and class for the kick in the pants. I am expecting this trickle to be the beginning as I tighten up my website and supporting social media.

Gwen
"The biggest thing I took away from the class and I guess the most useful was the research methods and tools for figuring out where to look to promote my art."

Aron Johnston