Last year I saw an artist post a video of her ceremonially burning all of her work. She believed that since she couldn't find enough people to buy her work, she must not be all that talented. She was quitting the field and giving up in defeat. It made me incredibly sad.
Angela is just like you - an artist who has a mix of interests. From painting to sculpture to mixed media and more, Angela has built up skills in a variety of areas. Angela has tried to sell her art-making skills in a variety of ways.
She's approached art galleries about showing her work, but the galleries don't seem to have any interest. They're either already full or her work wasn't a good fit. The few galleries who were interested wanted more than half of the money from her hard work.
She's paid huge fees to show her work at some glitzy art fairs - and that's not counting the travel and shipping costs that these shows incur. Some of the shows worked out, but most of them were a bust.
She has a website that wasn't doing very much. All of her work is there in her portfolio, but nobody is looking at it and her inventory was quickly piling up in her garage.
When Angela went to art school it wasn't supposed to be like this. She was supposed to graduate, be discovered by a great gallery, and be lauded for her genius for the rest of her life. But now the fantasy is over and she's considering giving up. The occasional rave she gets from a fan just doesn't pay the bills.
Meet another artist named John. John's situation is a little better - at least on the surface. John is selling art pretty regularly. In fact, he's right on the cusp of making a living selling his work. But between delivering commissions on time AND packaging and shipping his prints AND traveling for installations AND corresponding with collectors AND gallery owners… John is getting pretty tired.
John is looking for a way to sell his art that would generate consistent income. He was also looking for a way to cut out more middlemen. John misses the days of talking with collectors who'd just discovered his work and were really excited about it. He also missed being able to spend more time just being creative in his studio, instead of pushing to complete commissions.
Angela and John are two artists whose stories I've heard over and over again. They are problems that I have helped hundreds of artists solve.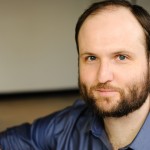 I'm Cory Huff. Actor, storyteller, photographer, online marketing guide for artists – and I want to help artists get the most out of their sales and marketing efforts.
I started in online marketing back in 2007, and I've been teaching artists about online marketing for almost as long. I started TAA as an exploration of how artists make money, and it has now grown into a company that has helped thousands of artists achieve their goals. 
What if you could have a system that showed you how to sell art in an efficient manner, direct to collectors? A system that was proven, that had helped dozens of artists go from never sold anything online to getting their first sale in less than two months?
I have that system and I'll teach it to you in this course. I've been teaching and tweaking it for more than six years. Let me tell you a bit about it.
Introducing How to Sell Your Art Online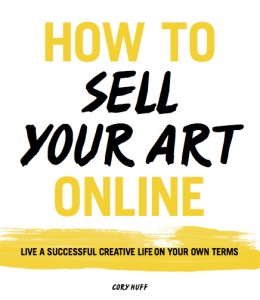 I wrote a book, published in 2016 by Harper Collins, called How to Sell Your Art Online: Living a Creative Life On Your Own Terms. The book is great and I'm excited that I did it - but this course has way more detail, depth, and current material than any single book ever could cover. So think of this course as the living, evolving version of my book. Also as a special bonus, you'll get a copy of my book if you sign up for the live calls or the mastermind coaching sessions!
By the end of this course, you will:
Sell your first piece of art online OR double your revenue

with our proven online marketing structure and personalized guidance
learn to build relationships with collectors directly

so you can have a mailing list of people who are EXCITED to buy your new work when it comes out
learn to integrate online marketing with your offline galleries and shows

so you can have a well-rounded marketing plan that consistently generates revenue
How are we going to do this?
19 Video Modules

19 succinct videos that show you what you absolutely need to know about online marketing
Transcripts

Text transcripts of all audio
1:1 Phone Coaching

Limited spots for one on one coaching time with Cory
Worksheets for Each Lesson

Downloadable PDF & Word documents that will help you form your marketing framework
Membership in our incredible Facebook community

Our Facebook group is the core of our community. Get to know other artists who are making it happen, get peer feedback, and build lifelong friendships.
Weekly Group Calls

So you can get your questions answered and get the help you need.
What Previous Students Are Saying
"I quit my job. The class, and the help of the Facebook group was one of the best investments I have ever made."

Adam Hall
"I sold $500 worth of art from what I learned in the class, BEFORE the class was over.

Kathleen Eaton
Ready to learn to sell your art online?
First live session starts October 10 at 11 AM Pacific / 2 PM Eastern. All live calls are recorded and you can ask questions in advance. 
Take the self-study version now.
Get 1 Year's Access to the Course
$297
1 year access to the course + Weekly Calls
$397
All calls are recorded, you can ask questions in advance
Mastermind Group 1:1 coaching
$750
90 minutes of coaching time to be used within 4 months of the course ending. Divide up how you see fit, and get the help you need.
Enrollment closed
Get 1 year's access to course materials, the group calls, and 90 minutes of 1:1 coaching time.
More Feedback From Students
In 2015 my sales increased by about 50 % versus 2014. 2016 sales are on their way to double 2015.

Frederic Lecut
"I did earn a commission from a local dance studio that I belong to…I contacted the owner, she looked at a few of my pieces and liked them and my ideas. So now I am doing 2, 12 x 12 paintings for her. If she likes them, she will comission 10 more for a total 12. The only reason I did this was because of the course."

Theresa La Londe
"I sold $100 worth of art before the class was over. I really enjoyed the step by step instruction on how to actually DO the THINGS! Plus we had the added benefit of getting help from the group which was awesome. I learned so much! I'm still working through the course, it's just packed with information. I will recommend this to others, its awesome."

Anne Marie Talon
Got my first order from FineArtAmerica and another from ArtofWhere. feeling encouraged!

Robin
Being with other artists in a live setting used to make me almost sick to my stomach, but now I can do it and have a good time. And talking about my work to non-artists is now – tadaaaa – exciting!

Angela Treat Lyon
$77.72 has been transferred to your account. I know it is a little bit, but it was a little bit that required NO effort on my part. THANKS Cory and class for the kick in the pants. I am expecting this trickle to be the beginning as I tighten up my website and supporting social media.

Gwen
"My work was featured in the Topeka Kansas Journal."

Michelle
My first ever art calendar print run has sold out. We got it together and printed whilst I was doing the Content Marketing course. We made a few hundred euros! Think doing the course gave me a bit of a boost to get it out there.

Gill
What's Covered in the Course + FAQ
Who is this class right for? 
This is an email from a prospective student. If this sounds like you, you're a perfect fit for this course: 
"I showed my first work about a year and a half ago and have sold 12 pieces in that time and just completed my first commissioned piece.
I [also] sold calendars this year and cards all through shows and personal promotions. Recently a friend made a documentary about me and my business and I was able to make my 2014 calendar through a successful Kickstarter.
I have a not good web page/store, a defunct blog and a disorganized facebook page. I am not in touch with any galleries and have done a few public shows at a hair salon, dance studio and a coffee shop." - L
She's nearly exactly the kind of artist that this course was designed for - the artist who:
- is full of hustle
- has made a few sales
- clearly knows that people value her art
- is willing to try things, just needs to know what to do
- is looking for a community to collaborate with
If you have a website, aren't afraid of email and social media, and you have sold more than a couple of pieces of art, this is the course for you.
Will my style of art work for this course?
We've had artists from many different styles & mediums succeed with this class. Digital art, sculpture, fiber art, encaustic and of course oils, watercolors and other styles of painting.
Styles have also ranged the gamut from realism to abstract to tribal.
There are a few things that tend to not work well for this class. If you make the kind of art that requires huge sums of public funding or art that is overtly political around a specific contemporary event, then this course may not be a good fit.
What are the lessons?
Each lesson contains a 15 – 20 minute video posted on the site, along with some worksheets for download. These videos will contain instruction with specific homework.
Module 1 – Welcome & walk through of the course outline. What you actually need in order to sell art online.
Module 2 – An overview of how artists document their process when creating their art – images, video and journaling. This forms the foundation for creating marketing materials about your work. We're not going to turn you into a teacher, just show you how to create context for the potential collector of your work. 
Module 3 – discovering what makes you unique. Through a journaling process, we will help you define what makes you different from other artists, and how you can leverage that uniquity to stand out in the art market. 
Module 4 – How to tell good stories about your art. Once you know what makes you unique, and you have the stories and context for your art, we will challenge you to write some stories about your art. 
Module 5 – More on good story telling. We continue the story telling work from module 4, with a challenge for expanding your concept of what stories about your art can be. 
Module 6 – How to ensure that your website will support your sales. We will go through TAA's checklist for artist websites and make sure yours is up to snuff. 
Module 7 – How to research the right influencers for your work. We will show you some specific tools that will help you do more research to figure out where your ideal collectors and fans hang out online, and how to get them engaged with your art. 
Module 8 – How to build buzz and get people to share your work online. Similarly to influencers, journalists have the power to put your art in front of a lot of people. In this lesson we will cover how to research and approach the right media organizations for your art. 
Module 9 – Blogging for art collectors instead of other artists. This lesson shows you how to write about your art in a way that gets non-artists excited, with specific writing exercises. 
Module 10 – Creating immersive experiences online for your collectors. Case studies from artists. This lesson shows you what other artists have done to create exciting things for their collectors to do, beyond just buying the art. 
Module 11 – Effective Email Marketing Part 1 - we will teach you what goes into effective email marketing campaigns. 
Module 12 – Effective Email Marketing Part 2. We will help you write your first email autoresponder series. 
Module 13 – Email conditioning sequences for your collectors. More writing on that first email autoresponder series, to get collectors on your mailing list buying. 
Module 14 – Search Engine Optimization for Artists. An overview of SEO, what to do on your site, and what to ignore. 
Module 15 - Website Analytics. We will cover the basics: how to measure your traffic, what stats you should pay attention to, and what you can leave alone. We will also show you how to create a business dashboard so you can assess business performance. 
Module 16 – Promotion principles & building press/high value relationships. Circling back to press relations, we will take the research you've done and start pitching media organizations. 
Module 17 – Social Media Principles. What works in social media, and what doesn't. 
Module 18 – Social Media – Facebook. We will teach you how to create your Facebook page for your art business, and how to create your first Facebook ad. 
Module 19 – Social Media – Instagram. A case study with Ashley Longshore, a well known artist who successfully sells her art on Instagram. We will show you what's working on Instagram, and what you should watch for over the next year. 
If the course isn't working for you, let me know. If you show us the homework you've done and you're still not getting results, I will personally jump on the phone with you to make sure that you're getting the most value possible from the course. If its still not a good fit, we will offer you a refund. 
Bonuses!
All of these bonuses are included when you sign up for How to Sell Your Art Online!
Get a copy of How to Sell Your Art Online ($14 value)

Sign up for the live calls or coaching options, and get a free copy of my book, an Amazon best-seller!
Email & Social Media Swipe Files

Get the exact email sequences that we've used with other artists to sell tens of thousands of dollars worth of art, as well as some of the best social media posts we've seen artists use
10 Hours of Recorded Interviews ($100 value)

Audio of successful artists, writers, and other creatives who are making a living from their work, talking about how they do it. Includes Chris Guillebeau, Owen Garratt, Kelly Rae Roberts, and more.
Organize your studio with the Great Clutterbust ($30 value)

Melissa Dinwiddie will show you, through an awesome audio recording, how to bring order to your chaos
10% off of a Fine Art Photography Session ($100+ value)

The fine folks at ArtSquare.com have a network of experienced fine art photographers who can help you get your images ready for printing & the web. This discount is available for anyone who joins the weekly calls or the mastermind group.
TAA's Art Marketing Checklist

Download and print out our marketing checklist you can use for each piece of art, with references to specific lessons in the course