There's a lot of great stuff on Instagram. It's become my own social network of choice over the last six months. As a visual-first social network, it's perfect for artists. I've written about how artists can score quick wins by opening an Instagram account.
Below is a list of some of my personal favorite artists on Instagram. I follow a bunch more, but these are a few accounts that I think really stand out.
If you have an Instagram account, leave a link in the comments so I can follow you!
@alexpardee – right now he's sharing some really scary and fun Halloween-themed art, but Alex has been one of my favorites for months.
The Spirit of The Great Pumpkin has answered my prayers!!! My favorite sculptor in all of the land @gregaronowitz not only created this incredible sculpted/molded/painted version of my "Cinderella Man" piece, but made a really cool video documenting the whole process. It's so inspiring. The full video is up on @barnyardfx 's YouTube page (YouTube.com/users/barnyardfx). I've watched it 80 times it's so rad. Thank you Greg!!!!!
@ashleylongshoreart.com – Ashley is a feisty, talented pop artist who generates massive sales from her Instagram account
  @enivo – I have more than a mild obsession with street art, so @Enivo makes me curious all of the time
@joeyfeldman23 – I've had a couple of conversations with Joey and thoroughly enjoy talking to him and watching his daily sketches.
Self portrait #art #artist #abstract #contemporaryart #collage #paint #ink #draw #drawing #sketch #sketching #instaart #instagramart #instagramartist #artoninstagram #la #losangelesartist #losangelesillustrator View on Instagram
  @joliekg – regular readers will recognize Jolie Guillebeau from her guest spot on the Creative Insurgents podcast – and yes, I'm still a big fan
Someone complained to me last week that I only show unfinished pieces of pottery here. I save most of the finished pieces for my newsletter, but here's a shiny one that came out of the kiln last week. Love this glaze and that I can see myself in the reflection. #jkgpottery View on Instagram
@jorgecolombo – his dramatic black and white photography is a great contrast to the bright colors of the rest of my Instagram feed
  @mrstash – one of the most popular photographers on Instagram, his daily #visualmaintenance photographs have inspired me to try all kinds of stuff
@richard_haines – I discovered Richard recently via a Vogue magazine article about artists on Instagram
Trinity Cocteau/Piaf/Bérard #trinity #cocteau #piaf #berard #paris   View on Instagram
  @samagram12 – coloring with Cheetos and generally being a rapscallion, I love this guy.
Ginger #spicey naturally applied artificial coloring her hair. #hotcheetos&takis #samflores #red25 View on Instagram
  @klausbiesenbach – Director of MoMA, Klaus is one of the most influential people in the art world. Watch what he shares.
thinking of the amazing #kerryjamesmarshall exhibition at @davidzwirner during @friezeartfair View on Instagram
@TheAbundantArtist – then there's me. If you want to follow my posts about art marketing, my obsession with street and food, then feel free!
Want to Learn to Sell Art on Instagram?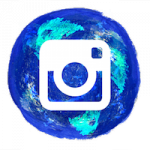 We interviewed a bunch of artists and asked them to share their stories about how they sell their art on Instagram, and then wrote a blog post about it. Check it out.