When we originally published this blog post in 2014, Vogue magazine had just called Instagram the "World's Most Talked-About New Art Dealer." It's easy to see why. With previously obscure artists like Ashley Longshore and Donald Robertson rocketing to fame, and sales, because of Instagram, Vogue outlines how big-time art dealers and auction houses are using Instagram to sell art.
Since then, most artists have learned that it is indeed very difficult to ignore Instagram when it comes to selling art online. We've interviewed artists who are doing exceptionally well on Instagram, and tested tactics from various other sources. Many of our tips come from the artists in our mastermind groups, so they're field-tested.
Every year we come back to this blog post and update it with the latest and greatest to understand what's working in selling art. We also offer courses with even more details on what's working for artists who are actively selling right now.
While Instagram is no longer a green field opportunity like it was in early days, artists who are diligent and hardworking can find their collectors there.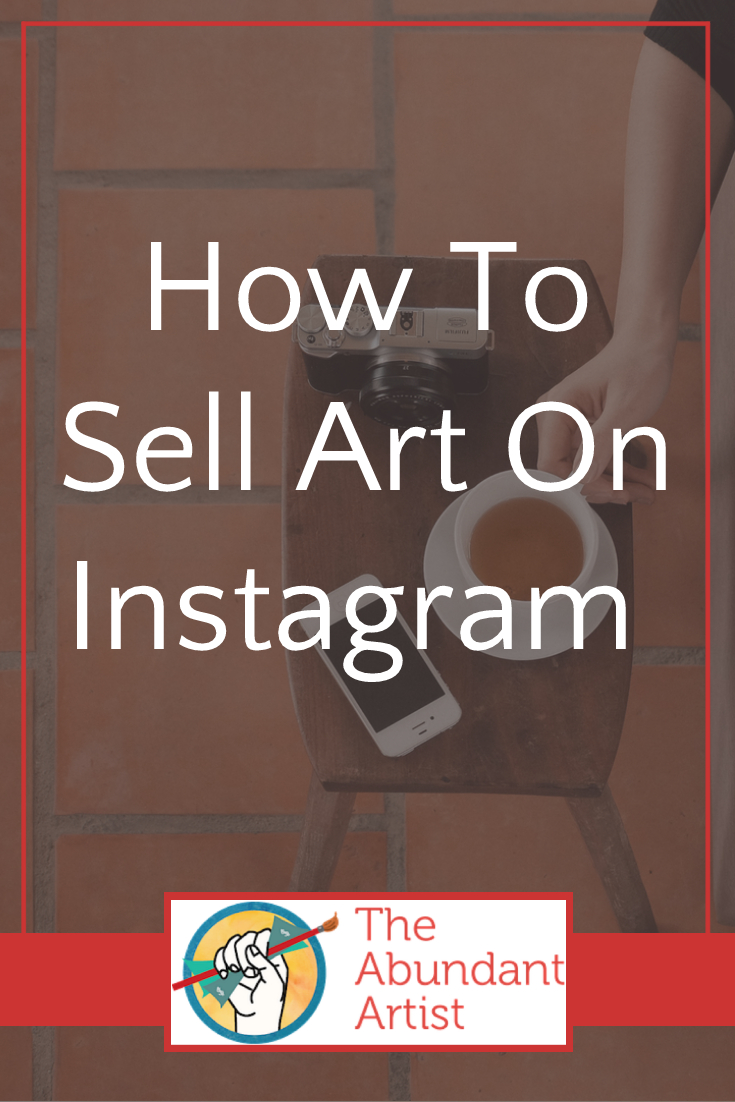 How To Sell Art on Instagram
Make the best art you can make and be consistent. This should be self-evident, but it needs to be said. You need to be making art with skill and you should be expressing something. You also need to be consistent and make art in a series.
Set up a great profile. Learn to photograph and use the editing tools. These first two points are the absolute minimum barrier to entry. If you can't do these, you won't get noticed. Far too many artists have Instagram profiles with no pictures, no description in the profile, and poorly composed, poorly lit pictures of their art. You can take serviceable photos with even cheap smartphones, and late-model iPhones are better than most point and shoot cameras.
Here's a link on How to Photograph and Edit Your Art for Your Site.
The Instagram editing tools are pretty useful, especially for a smartphone app. You can edit colors, exposure, and cropping. The filters alone are usually enough to correct small issues you might have with low light or similar problems. Take good pictures, then use the editing tools to adjust your images to make your art look like it does in real life.
Embrace the Instagram culture and build your following. The very first thing you should familiarize yourself with are hashtags. You'll often see people add words like #artistsofinstagram or #yourstylehere in the description of the images that they upload. These hashtags become clickable links, and you can also search them with the IG search tool. This is how people discover new artists.
The ideal number of hashtags is flexible, but it's probably somewhere in the 3-8 range. You can put hashtags on nearly anything, but I would consider adding tags to your medium, subject matter, and the location your image was created. This last one helps people find local artists.
There are numerous tools you can use to monitor hashtags, find out which ones are popular, and which ones are performing best for you. These tools tend to go in and out of use, but these are the ones that our artists like to use.
Here's a great example of good use of hashtags.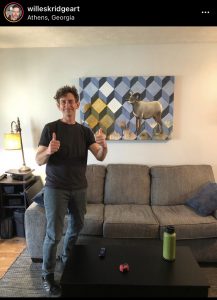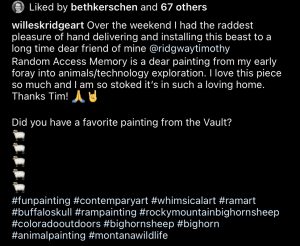 Remember that Instagram is a social network where you make friends and interact with people, instead of just another place to post your art. Instagram has a culture of being open to awesome stuff. While it's normal to ask for sales or pitch your art, you'll have the most long-term success if you build relationships.
Identify the influencers. Just like in every social group, there are a handful of people on Instagram who are going to be very influential. In How to Research Your Online Art Market, we detail how to figure out where your ideal clients are hanging out, and who they listen to when they're online. Instagram has these people too.
They might be art dealers or curators with big followings. They might be celebrities who are really into the kind of art you make. They might be bloggers or YouTube stars with huge followings. Whoever they are, be sure to follow them and interact with them on a regular basis. Comment on their work and share it with your friends by tagging them in the comments.
Be sure to shoot your shot. Sara Guthrie followed one of her favorite authors, Elizabeth C McLaughlin, and when she was looking for ideas for a cover for her book, Sarah took a shot and submitted one of her own paintings. She was selected, and Becoming Heroines ended up featuring her art on the cover. The book is now a best-seller, picked by Amazon's editorial staff as one of their top 10 business books for 2021.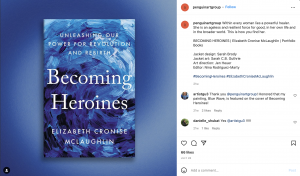 Track your progress. It's easy to get lost in the never-ending stream of new stuff. If you're intentionally going about building up a new audience, then it makes sense to write down how many followers you have on a given day and set a goal of adding 10% more followers in a month, or something similar. Track what you do that gets more followers, then do the stuff that's successful and skip the stuff that's not.
Try some fan-generated fun. Instagram can be really great for contests, giveaways, and fan-generated fun. Examples include:
Ask fans to post pictures and tag you or use a particular hashtag to challenge you to draw what they posted
Ask your fans to title your work
Try a Flash Sale. A flash sale can be a great way to unload some inventory, and Instagram is uniquely suited to art flash sales. Check out our short guide on how to run an Instagram flash sale here: How to Run an Instagram Flash Sale.
Stories, Live Video, Reels, IGTV and more. Instagram consistently puts out new features. Expiring content, video content, and little variations can be overwhelming and confusing. If you follow the Insta algorithms you'll notice that when Instagram introduces new features they'll give heavy favor to showing content that uses those features in the feed.
The thing to do when new features are released is to experiment with them. Do what you would normally do on IG, but do it with the new feature and tweak as necessary. Don't worry too much about any one feature, just focus on building relationships and making things that are interesting, and you'll be fine until you get comfortable enough to go deeper.
The How to Sell Art on Instagram Course
There is a lot of advice out there for how to use Instagram to grow your business. In this workshop, we are pulling the best of what's out there to show you tips and techniques to use Instagram to find your ideal collectors and sell more art.
Come to the workshop and Sarah Guthrie will show you how to:
Stop stressing about follower count and hashtags.
How to use the latest Instagram features to find your ideal collectors.
Grow your email list.
The workshop is recorded and you can access it on demand
Register here: https://www.crowdcast.io/e/TAAIG/register