Something happened last week that I was a little surprised about. I spoke to two separate artists that were really struggling to get their art businesses off of the ground.
One artist was struggling because he has a very demanding day job and can't seem to find the time to work on his art business.
The other artist is struggling because even though she has a large amount of time freedom, she can only seem to spend time painting, not working on the business.
Both of these artists were struggling to spend more than 4 – 8 hours per week on the business side of their art career.
That's an unbelievably difficult situation.
Just like you need time to make your art, you need time to make your business.
When I was building up The Abundant Artist, I had a day job. When I knew that I wanted to leave that day job, I cut my day job hours down to 40 hours per week, and set a schedule for myself.
I got up at 6 AM every day and did some writing for about 90 minutes before showering and getting ready for work.
Every Tuesday night, I would work from 6 PM – midnight, and on Saturdays I would work from 7:30 – 10:30. That's 13.5 hours per week, and it still took me 2 years to grow the business to the point where I replaced my income. Toward the end of my time at my day job, my hours were more like 40 at the day job, and 30 on this business.
It was hard, and it was painful, but it worked, and now I have freedom.
I've written before about how to build a side business while working a day job, so I'm not going to cover that today.
The 50/50 Rule
Earlier in the year, when we interviewed Matt Leblanc, we talked about the 50/50 rule: 50% of your art business time should be spent on marketing & growing the business, and the other 50% on making your art.
Obviously, if you're working a day job, then that's 50/50 on the time you actually have for the business.
We've got a number of free resources for artists and even a free email course (over on the right hand side there) that will help you get your fledgling art business off of the ground. Here's what happens at the beginning: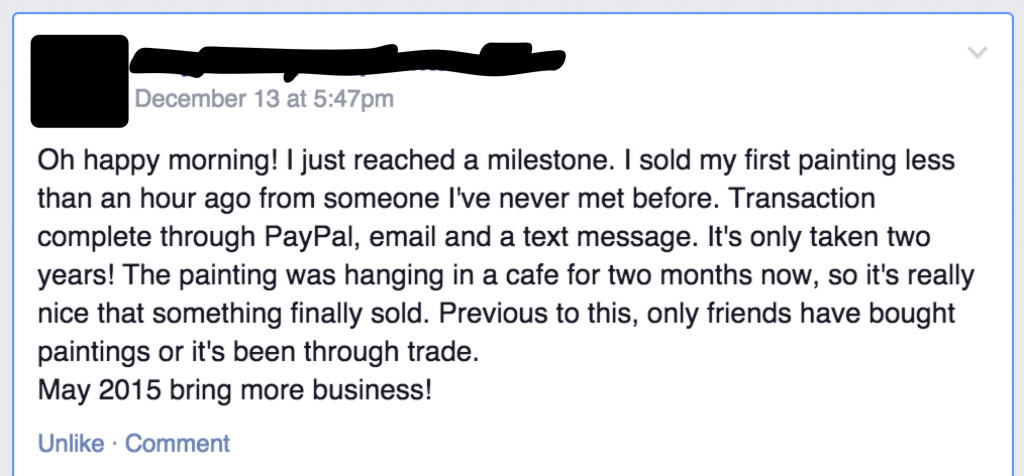 Dedicating some time for your art business is essential. Obviously it's not always going to be a full 50/50. Sometimes you  have to get some paintings done for a show, and sometimes you've got a ton of inventory and you need to make some sales.