Anita is a painter whose primary subjects are gardens and flowers. We've written about Anita and her impressive work ethic before: A Case Study in Hard Work. She has been making a living from her art for the past 12-15 years, but it wasn't until she took the How to Sell Your Art Online courses that her career kicked into high gear. We sat down with Anita to hear how she's been creating momentum in her career by taking advantage of Instagram influencers.
Anita: "I've been making a living from my art for the past 12-15 years while juggling being a single mother, and doing other things. So the art wasn't my main focus, I wasn't spending enough time on it. But I was just getting by on the odd commission and the odd sale here and there. And when my little boy was old enough to be a bit more independent I decided to step it up, which is when I found your courses. I found the How to Sell Your Art Online course, and I really dived in to that the summer before last with a vengeance. I found that because of my timing, I had to do things slowly. I had to do them a little bit at a time, not during the few weeks of the program, but over a period of months. But I literally followed everything to the letter. "
"I dived in to How to Sell Your Art Online with a vengeance… I literally followed everything to the letter." – Anita Nowinska
Anita kicked it into high gear as she learned more about how to market her art effectively. She worked harder and harder, and began to see momentum in increased sales and interest in her art on social media. This momentum motivated her to work even harder.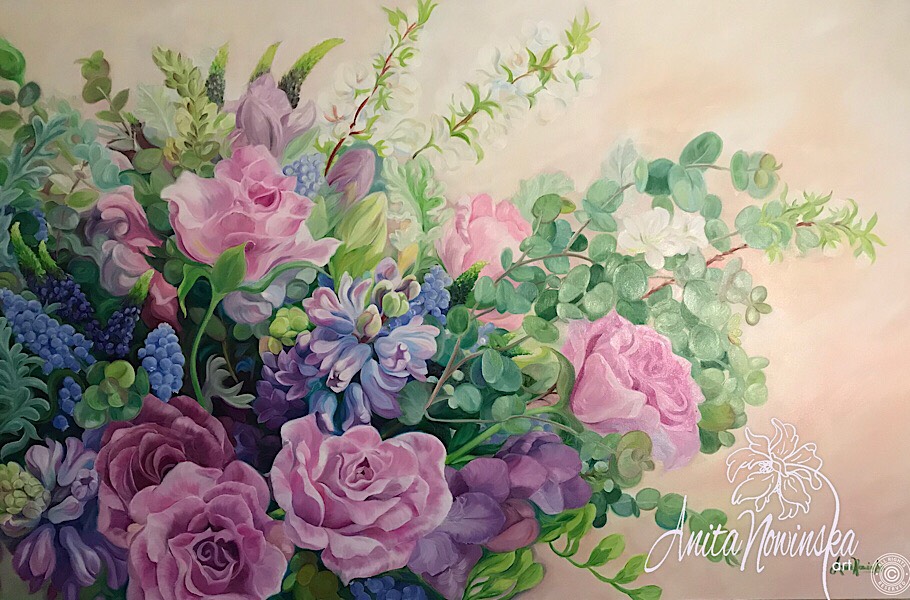 "Serendipity", Anita Nowinska
Anita: "And that's where it all went wrong."
Anita shared with us that though she was working as hard as she possible could and then harder still, her focus was scattered.
Anita: "I'm an ideas person. I've constantly got stuff firing out of my face like brain farts. I'm trying to do this and trying to do that. I was wondering why nothing that I was doing was working anymore after September when things had been going so well. And you (Cory) put me straight very very quickly. Literally within ten minutes of chatting to you, you said "You're burnt out." And when you said that it really hit home, how tired and exhausted I was, and that I couldn't do everything for everyone all the time. I would say that  if you've got backup and support and you've got someone bringing in another income, it's much easier to do that. But if you are a little bit older and trying to do absolutely everything, there is only so much you can do. I started thinking, what went wrong? So I looked at my whole great big list of all the ideas I had. And I thought, my mailing list at the moment is 500 people. They have now had monthly emails, they know about me, a lot of them have bought, some have bought more than one. But there's only so much I'm going to get out of that 500 people."
After this realization, Anita realized that she needed to leverage someone with a much larger audience.
"I realized that I couldn't cover Instagram, Facebook, LinkedIn, Tumblr, and Pinterest every single day and make a comment on everybody's post. I had to get other people to do the work for me." – Anita Nowinska
Anita: "My first realization was 'I have to hit much much bigger numbers of people who are interested in my work.' I did the 301 course that covers collaborations and influencers, and I suddenly thought 'Right- how do I get other people doing the work for me so that I don't burn out again, so that I'm not the one doing all the work?'
I realized that I couldn't cover Instagram, Facebook, LinkedIn, Tumblr, and Pinterest every single day and make a comment on everybody's post. I had to get other people to do the work for me. So I just said 'Right, I'm gonna focus on Instagram.' Just on Instagram. I liked what it looked like, I liked what was going on there, and it was easy to use."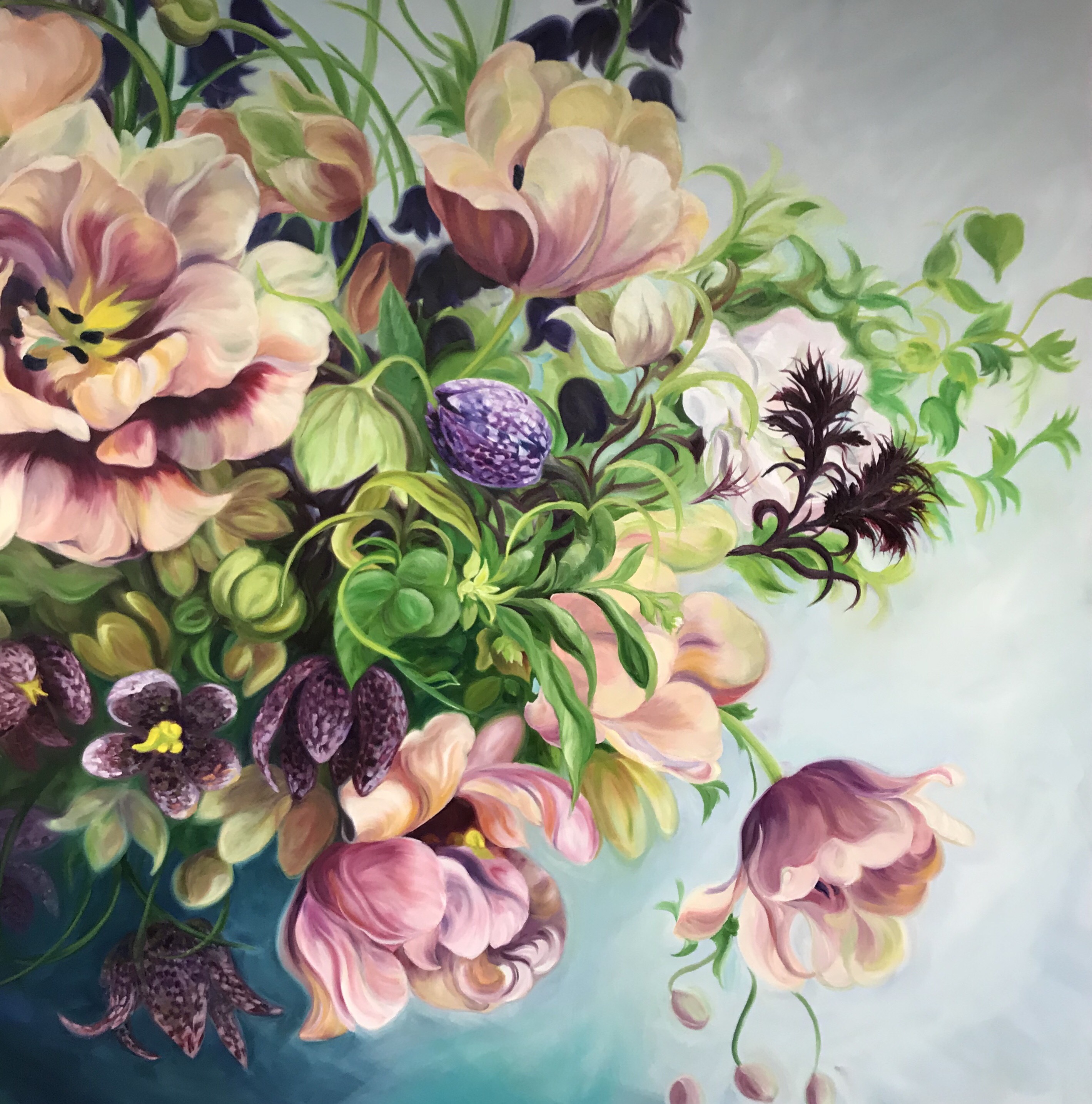 "Sensibility", Anita Nowinska
Rather than approaching her customers directly, Anita decided to target influencers with large followings who shared a target audience with her. She pursued only those who had 15,000 or more followers on Instagram, and began cultivating relationships.
Anita: "I started approaching influencers. I realized that when you're working with influencers and you want them to do stuff with you, you've really got to be on the ball. You've got to offer them something, and perhaps have something in common with them. So I went for the obvious, interior designers. And the way it worked for me is that I spent about three or four weeks on each one that I targeted. Every single post they put up, I'd make a good comment, a proper comment. Not just "beautiful," or "wow," but an actual pertinent comment in regards to their post. So I'd make a comment that looked as if I had read their whole post, that I'd bothered.
After a while, they started responding back. Once I had a couple of comments back from them, I then private messaged them, but not before. I worked out that if you messaged them before you've got that back-and-forth going, there's no point, because you're just another person knocking on their door. And it actually felt like there were relationships developing. I sometimes offered them a print if they would share my work or if they would write a blog post about me."
"When you're working with influencers and you want them to do stuff with you, you've really got to be on the ball." – Anita Nowinska
As Anita worked slowly to develop these relationships with prominent interior design influencers (some of which took as many as five months before actually sharing her work), she began to reach out to forge some real-life partnerships as well. With the initiation of Brexit, Anita searched for shades of positivity… and she found them in the shades of locally-grown British flowers.
Anita: "I decided to target UK British flower growers and to help promote awareness that in the UK we have our own flower growers, that we don't need to import them. I started talking to them about this idea, saying 'I'll tell you what- I'll paint one of your arrangements, you put me on your feed.' And that started it all off.
Then I started thinking, how do I get an exhibition going? I said, 'How about I do an exhibition of all these paintings of your flowers to promote Britain's flowers?' They started suddenly getting really excited. The next thing I knew, I've got big influencers phoning me saying 'I've heard about this project that you're doing, would you consider painting one of mine?'
Then I took out my old bucket list of the places I've always wanted to exhibit before I drop dead. I thought 'forget that- I'm doing it now.' So I phoned up a place called RHS Garden Wisley, which is one of the biggest and most amazing gardens in the UK. I told them about the project, and they said I could have their entire very very famous glass house. Then she said 'This is so amazing, we've got our flower festival in September,' which would cost me $15,000 pounds normally to have a stand there, she said 'Why don't we give you the whole glass house during the flower show when we have a hundred thousand visitors coming through the door?'"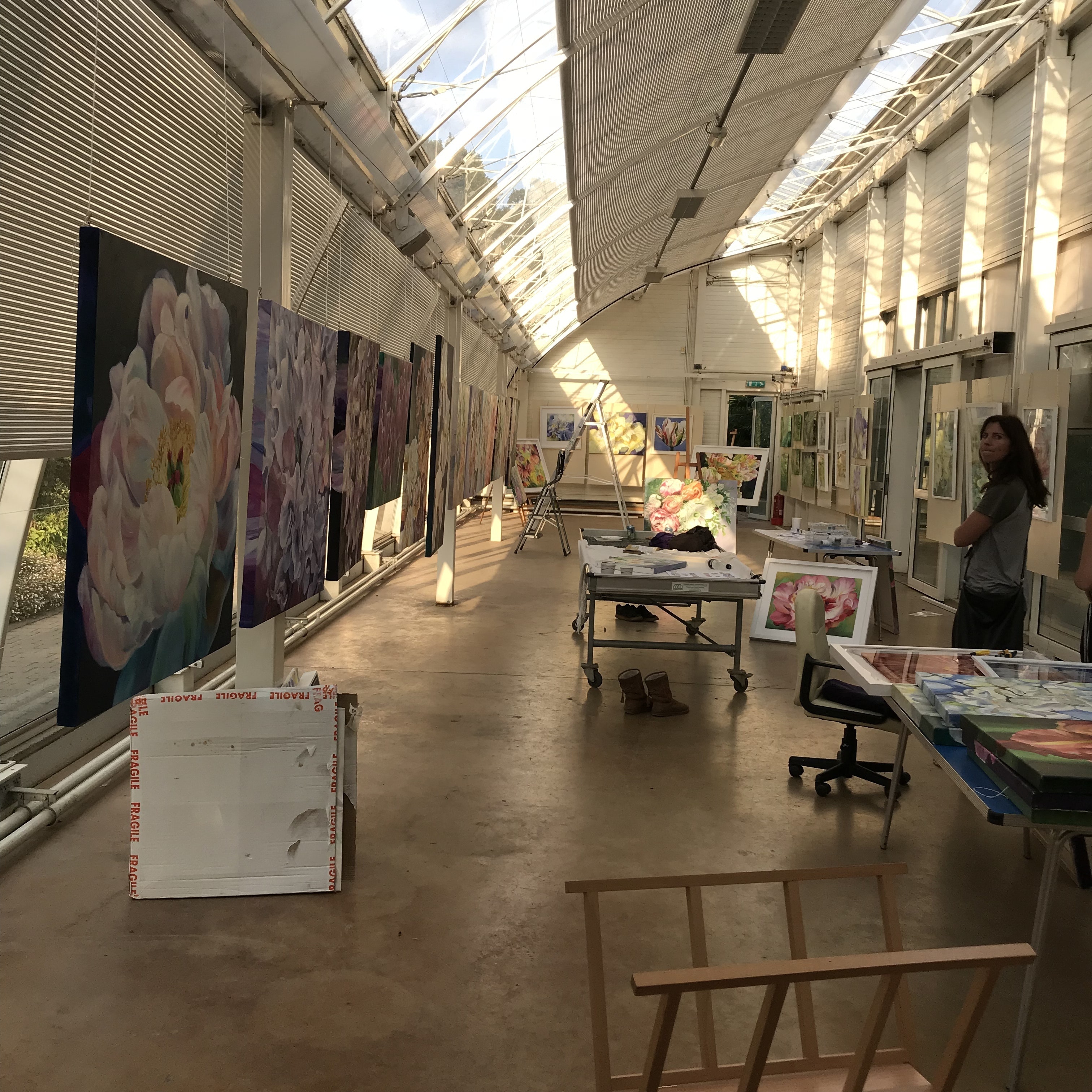 Anita's exhibition at RHS Wisley
Filled with new confidence, Anita managed to soon after book a summer show for next year with the Eden Project in their new exhibition hall.
"I'm painting like a lunatic… I tripled the price of my work." – Anita Nowinska
Anita: "I'm painting like a lunatic. I'm painting all day in the studio, then coming home putting the sketches on the canvases to take to the studio to paint. I decided that last year I burnt myself out trying to sell lots and lots of paintings for £500, £1,500, and only the odd one that went for £3,000 or £4,000. But it was a lot of small sales, a lot of prints. So I decided to take a really massive risk. I had 65 prints available on my website. I've taken them all down apart from 10. Bizarrely enough, now everybody wants one of the prints.
The other thing that I did was triple the price of my work, and the price hike doesn't seem to have had any detriment. If anything, clients are now even saving up for one, or I'm simply getting into a new market."
Anita has seen tremendous success in 2018 that came as a result of hard, consistent work beginning with implementing all the strategies taught in How to Sell Your Art Online. She outlined for us how she has been so successful forming partnerships with very high-profile influencers:
Search relevant tags on Instagram, take note of the core group of influencers using those tags.
Find out where else they spend their time, such as professional organizations, and find the member lists.
Offer them something in return.
Let your passion shine through when you contact influencers.
Make a high quality press pack for contacting publications. Spend the money on a graphic designer to make sure it's very professional looking.
Track your exchanges with influencers to learn what works: save your conversations and take note of changes in your sales, followers, engagement, etc. as a result of working with them.
The final word from Anita is to keep at it.
"Just keep at it. Keep at it and it does work eventually, it really really does." – Anita Nowinska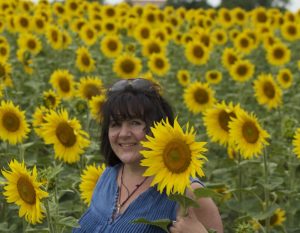 Anita Nowinska is best known for her sensuous  flower paintings , landscapes & images from nature, which have received much acclaim. Original works are widely exhibited and sold worldwide through solo exhibitions, commissions and galleries as well as larger projects through designers & architects, hotels, hospitals & commercial spaces. She produces paintings & commissions and a range of quality limited edition prints and unique products featuring her paintings. See more at http://nowinska.co.uk. You can follow her on instagram at @anitanowinskaart
Download:
Influencer Outreach Tracking Sheet
(Click File, Download As to save a copy to your computer for personal use)
If you are interested in learning more about how to leverage influencers and PR to grow your business, check out How to Sell Your Art Online 301.