From online classes to livestreams to virtual studio tours, artists are using technology to thrive during lockdown.
When states and countries across the globe entered into various states of lockdown in response to the COVID-19 pandemic earlier this spring, no one could anticipate the outcome. And while the end is still far off, enough time has passed that we can begin to see, and celebrate, the ingenuity and flexibility of artists around the world as they continue to create in a strange new type of "normal".
We recently asked artists on social media about what they're doing right now to connect with others and stay active in their art practice and business. We've rounded up their replies here to give you some insight, hope, and inspiration.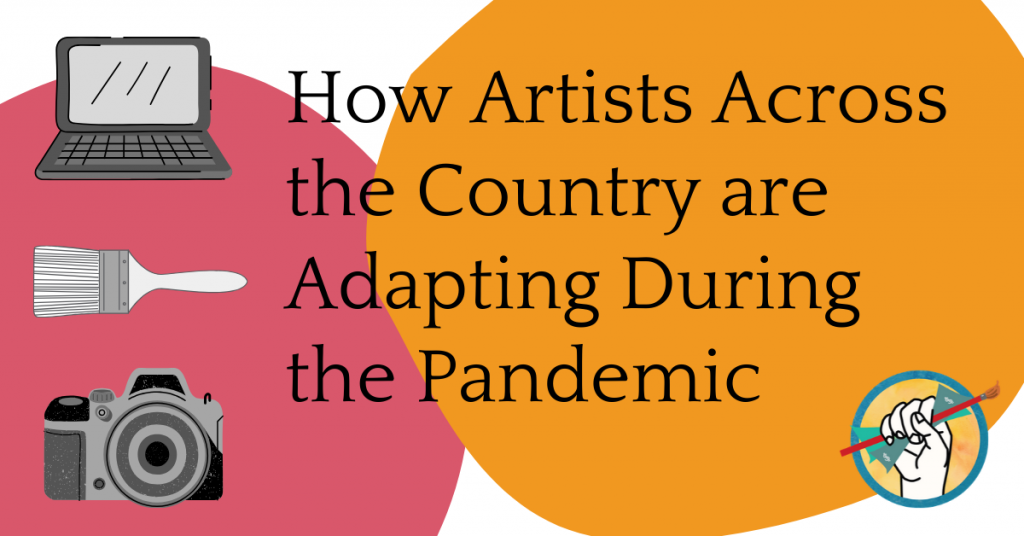 How Artists Are Using Social Media During COVID
Amanda Rackowe: "I have been making small paintings and selling them via the #artistsupportpledge. It has hooked me up with all sorts of other artists and I have sold really well and ready to buy my first work."
The #ArtistSupportPledge was started by artist Matthew Burrows to encourage fellow artists to support one another by buying one another's work. See more on Instagram: https://www.instagram.com/artistsupportpledge/
Kika Pierides: "I am doing a 100 day project on Instagram. The project I have created entails making a 30 minute abstract collage per day." www.instagram.com/kikapierides
Tricia Chitwood: "I just downloaded tik tok, and started doing video streams there. It's hella inspiring, and has pushed me so far out of my comfort zone I'm on the verge of breaking down!! Which is good."
How Artists Are Running Online Classes and Workshops
Katana Leigh shared that she is running online paint-along classes on YouTube and individual and group classes via Zoom: http://ArtistinHawaii.com 
Jamie Norton Poole: "I am doing an online art class every week! Having a great time connecting all my adult art classes and learning a lot myself too." https://www.jamie-poole.com/online-lesson.html
Meghan Oona Clifford: "I usually only run my online creativity workshop once a year, but now I opened it up to run all year because of Covid!" https://www.meghanoonaclifford.com/pages/the-creative-path
Jessica Singerman: "I am running an online watercolor class." https://www.jessicasingerman.com/course/little-watercolor-square
Rod Moore: "Online courses at https://www.learntopaint.academy. We live streamed every day in April and our students all painted along. They loved it. Exploring the idea of making them more interactive using Google Meet."
Nikki Coffelt: "I'm curating a live painting gig online next month! https://mailchi.mp/a3e168f2015d/liveart?fbclid=IwAR0_kJhTPaGes7yA0G8SXhgnJBC-zxTiqhhiYz1jIpSy9WiyvXY-U8wawfw"
Sonia Iwasiuk: "Zoom live classes and online e-lessons plus a shop on our brand new website!" www.theartway.ca
Other Ways Artists Are Connecting 
Bart Levy: "I'm planning a virtual studio tour/sale to take the place of the studio tour I've been trying to schedule since last fall. Will publicize via social media and email."
Sarah C. B. Guthrie: "I am facilitating TAA Mastermind Groups every week."
Roberto Aceves Diaz: "Working behind the scenes on new infrastructure (website, online shop, digital content) and trying to engage in my current platforms by generating the habit of commenting giving value."
Karen Payton: "I am working on an online art show and possibly a drive through neighborhood art show."
Marie de Longcamp: "I have reached out to journalists. I got two press mentions. One is a video for the online version of a magazine. Shooting this week. "
Chelsea Lang: "I've been live streaming over at youtube.com/c/chelsealang and chatting with my subscribers there. I've even had a couple request one-on-one consultations and support me on Patreon, totally unprompted after getting to know me on YouTube."
Are you an artist doing cool things during lockdown? We want to hear about it. Drop a link in the comments to whatever online classes, virtual studio tours or social media challenges you're doing right now!