November is productivity month here at The Abundant Artist! We're excited to be offering a free webinar on Productivity for Artists webinar with productivity expert Charlie Gilkey on November 29- replay here!
We're kicking off the new month on the very last day of October with something a little spooky: time blocking! Okay, time blocking isn't spooky. In fact, it's an incredibly easy way to structure your time more effectively. If you're a busy artist who may or may not be working a day job and are certainly struggling to balance other life commitments and still give your art practice and business the attention it needs, time blocking is a productivity method worth trying. In fact, Cory swears by it!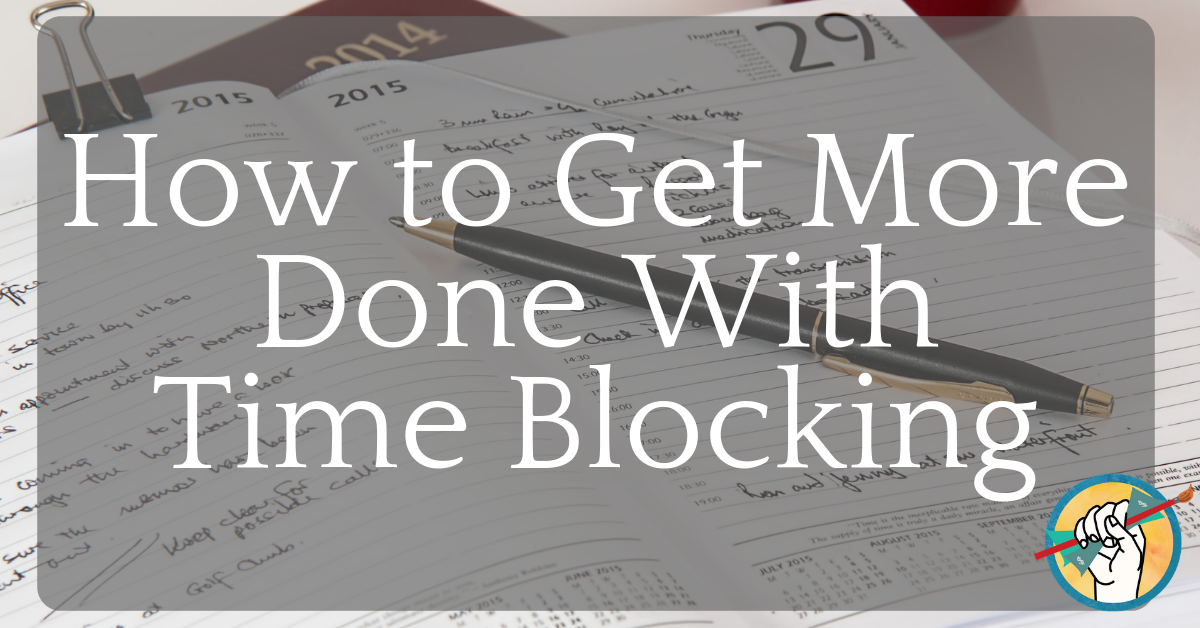 What is Time Blocking?
Time blocking is simply another way of organizing your to-do list. Instead of moving down a checklist every day, you place everything that you need to do into a time slot on your calendar, with a few constraints. The big idea behind time blocking is to eliminate multitasking and interruptions so that you can focus deeply and truly get stuff done.
It's a fairly simple translation from a list of to-dos to time blocks on a calendar.
From this:
TO DO:
Work on commissioned painting
Answer emails
Work on email marketing campaign
Organize new paints
Call 5 galleries
To this: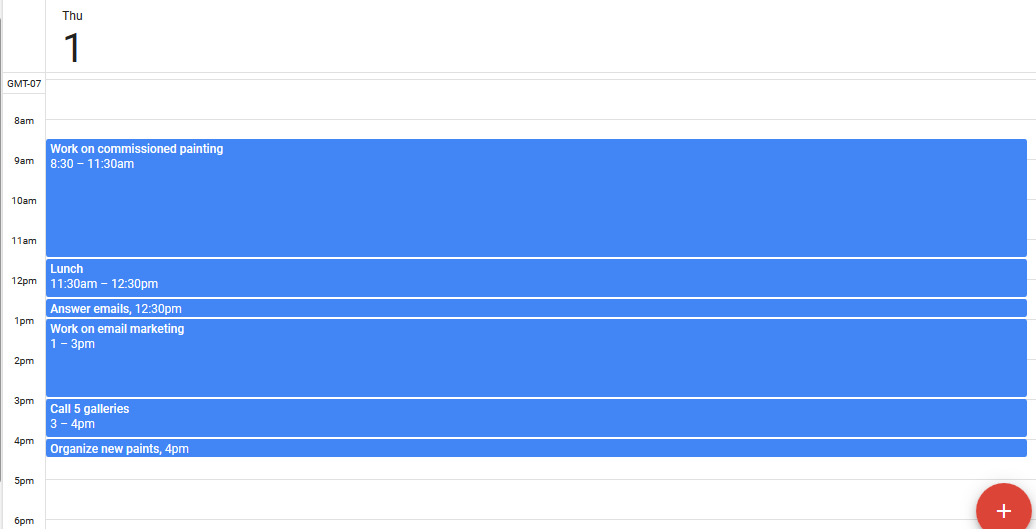 (This is just to illustrate the point. Most experts would advise against scheduling every block back to back without a buffer in between, so keep that in mind when creating your own calendar.)
What Problems Does Time Blocking Solve?
Interruptions
Whether those interruptions are phone calls, coworkers or family members who want something from you, or the allure of email or social media, time blocking serves as a barrier between your work and the non-emergency interruptions of everyday life. In response to little requests (or demands) for your time, it's easy to point to the blocks on your calendar and say "I'm all booked up until 4:30, can we talk then?"
Multitasking
Multitasking can be a real enemy to productivity. Trying to do multiple things at once feels ultra-productive, but the truth is that you get less done on each project than if you had focused deeply for a few hours on just one thing. When you block out your time, dedicate that time to just one action item per time block. If you know there are smaller pressing tasks that need to be done, schedule them into your day. This gives you the peace of mind to know that later in the day you've set aside time to call the insurance company, mail the card to Grandma, and write the checks for your kid's soccer uniform. You can then focus deeply on spending three hours doing nothing but painting or working on your marketing.
Time Vampires
These can be looped in with interruptions and multitasking, but it's important to recognize them for what they are. Pointless meetings, social media, checking and re-checking your email outside of a dedicated time. They suck away your time little by little until you're wondering where the day has gone and why you haven't gotten anything done. Time blocking is like a necklace of garlic to protect you from the vampires.
How to Get Started With Time Blocking
Choose your calendar
If you're using a digital calendar, it's ideal to use one that can sync with your phone and your email. An example of this is Google Calendar- it's free, and you can accept emailed invites that will automatically be input into your calendar and send you alerts. It's a pretty intuitive interface to use, and you can even color code your various projects if you're into that. There are dozens of free calendar apps out there, so you can easily find one that works for you.
If you don't need the extra connectivity between your devices or would prefer to have a hard copy, you can just as easily use Excel or a regular paper or whiteboard planner. You need something that can be broken down by hour, so a monthly calendar won't cut it.
Get ready for a little trial and error
Time blocking requires you to estimate how much time a task will take you. It's possible that you might not block enough time, or you might overestimate and block out too much time. Allow yourself some grace to make mistakes and figure out what works for you. The great thing about a digital calendar is the ability to rearrange on the fly. Finish your task in 2 hours instead of three? Shift everything else up by an hour and enjoy the free time at the end of your day.
Time blocking helps you prioritize what's important
A visualization of the most important tasks you need to accomplish in a day makes it easier for you to drop everything for an emergency and come back to your tasks later with clarity on what still needs to be done. Unexpected events come up, but they don't have to completely derail your momentum. Time blocking allows you to see at a glance what pressing tasks need to be done and how much time (approximately) they're going to take, so if you need to shift everything to make room for a surprise visit to urgent care, or even just a surprise lunch with a friend, your calendar is organized enough that you can pick up where you left off with relative ease.
Start small
The idea of scheduling out your whole day can be really overwhelming, especially for those of us who are more accustomed to flying by the seat of our pants. An easy way to get started with time blocking is to begin with just one scheduled block of focused work each day, and work your way up as you get into the swing of things and realize how effective time blocking can be.
Read more on time blocking
Computer science professor Cal Newport's blog post on time blocking, believed to be where the term was coined: http://calnewport.com/blog/2013/12/21/deep-habits-the-importance-of-planning-every-minute-of-your-work-day/
Try The Twelve Week Year by Brian Moran*, which makes use of time blocking in conjunction with disciplined short term goal-setting.
If you're fighting the black hole of social media, try a time-management app. We've got a helpful list of some of the best here: https://theabundantartist.com/best-time-management-apps/
Looking for more productivity tips? Check out 13 Ways to Be a More Productive Artist
*Denotes affiliate link
Have you ever tried time blocking? Did it work for you? Let us know in the comments!