(From Cory: This is a guest post review of ArtworkArchive.com, by our reviewer Caitlin Van Orden. Full disclosure: ArtworkArchive.com has sponsored events for us before. That was not told to our reviewer before she wrote this review.)
The story of how ArtworkArchive.com (click to get 20% off your membership via our affiliate link) came about is an endearing one and goes to show that mothers truly do rule the world. Read the full story here.
Essentially, John Feustel's mother became a successful oil painter and she needed help keeping track of her work as it was created, displayed and sold. He realized that her methods and tools were outdated and it was time for some upgrades. So he partnered with his friend and artist, Justin Anthony, to create what is now one of the most useful career management tools for artists.
Artwork Archive is an inventory software with quite a few perks in addition to its basic uses. The software allows you to keep track of your completed artwork, where you've shown it, who you sold it to and for how much. And this is just the start.
No doubt about it, if you want to have a successful career you have to be on top of record keeping and tracking your work. Artwork Archive makes it easy & fun. At least I find it fun given my penchant for organization and keeping things neat and tidy. Too nerdy? Okay, moving on…
There's something called the Insights tab which shows you how many pieces you have, how much combined worth they've sold for, and even where the various pieces are currently located on a map. Contacts can be kept track of, as well as competitions or other events you'd like to be apart of. Is it becoming apparent how handy a tool like this is?
Let's evaluate further the various features and functionality of Artwork Archive.
How easy is getting set-up?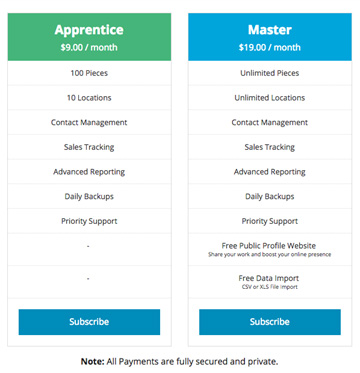 If you're a beginner artist, signing up for the free plan will probably suffice until you reach over 10 pieces to track. Have no fear! The upgrade options are very reasonable.
For a seasoned artist I would still recommend trying out the initial free plan (you can always upgrade). This way you can play around with the software and make sure it fits your needs and that it's something you would use consistently.
It's important to note that the "free public profile website" is available with all plans but in order to get the page fully supported you'll have to upgrade to the master plan. John explained the free version is only there for us to see what it looks like and how it works. Also, they're going to be launching a new feature (for master subscribers) called "Discovery Portal" where Artwork Archive actively helps artists get noticed and attract more potential buyers.
Once sign-up info is submitted, the site leads you through a step-by-step tutorial.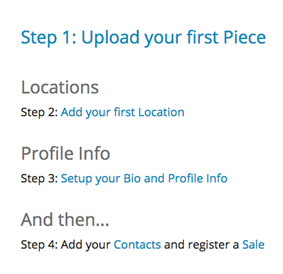 Step one is pretty straight forward, upload your first piece and fill in the attached form to input the details.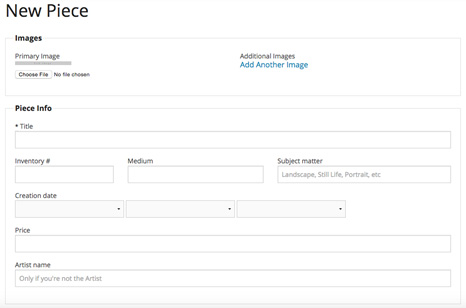 In the notes section, you can also track when the piece was started, which image files on your computer were used as reference, how many hours it took to make, etc. It all depends on how detailed you want to keep your records.
In the second step you add a location, such as your studio or gallery you frequently show your work. Keep in mind the free option only allows for two, so use locations that house the majority of your artwork.
Then you get the option to assign inventory to that location.
Setting up your profile page and bio information is the third step, which you can choose to be public or private. If you choose the public option you can select which pieces you want to be public as well. Neat!
Then make sure to include links for all your social media profiles.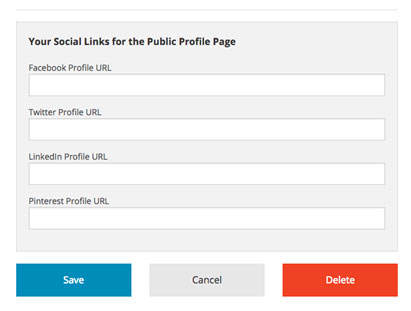 The last step is to create a contact, and register a sale. My favorite part about this last step was learning about making a contact group. I decided it would be neat and fun to make a group of "Artist Friends!" What a great resource with endless possibilities! You could make a group called "Artists I Want to Have as Friends" too and add artists whose work you admire and who you'd like to potentially network with.
To register a sale you need to go into Artwork -> Pieces at the top of the screen, find the artwork you sold, and on the right there's a link for "sell." Easy Peasy.
How's the Customer Support?
Back when I began the first step of uploading a new piece, I was greeted by creator John Feustel, and it was really sweet. He made me feel welcome in the community they are working to cultivate.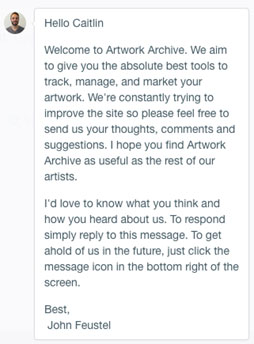 There's also a few links at the bottom of the page directing you to a variety of other resources. The "contact" link sends you to a form that allows you to ask a question, make a comment or suggestion, and report a problem. The "help" link sends you to a page with general tips, how to make forms & reports, as well as how to make limited edition runs!
If you click on "blog" you are taken to "the Savvy Artist"; a blog by Artwork Archive with lots of neat posts to help artists manage their careers.
Of course they also have a FAQ's page available for perusal.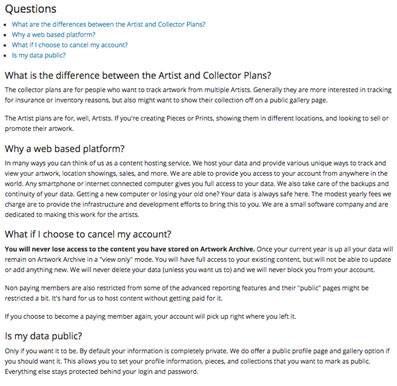 How does it function on my phone or tablet?
On a smaller screen the menu's do collapse and expand nicely, but there are some pages where you would need to pinch the page to make it smaller, scroll side to side, or turn the screen landscape style to use it more efficiently. It's a minimal hindrance, but nevertheless it does exist. The button below is a link for 20% off your membership, and is an affiliate link.


What are some comparable options?
Arawak – offers a software called Tessera which is an art management system that you download to your computer. The price is $249 for the current version. Out of all the similar desktop softwares available this one had the best looking user interface. It isn't too overwhelming and includes (?) icons next to most of the functions to help you learn how to use the software. I still like Artwork Archive better, mostly because it is a web-based software. That means that my data gets automatically backed up, and Artwork Archive does this every night. Also I can access it on any device that has an internet connection. What also sets Artwork Archive apart is that they offer analytics and a free public profile to share your art.
galleryManager – is a web-based software very similar to Artwork Archive with some features they don't have such as an art loan feature. They also lack some features that Artwork Archive does provide such as analytics and the ability to create limited edition runs. galleryManager is geared more toward a gallery owner versus Artwork Archive who has designed a software specifically for an artist's needs. galleryManager is also quite expensive at $99/month for just the basic plan.
Here are some more options, which I found thoroughly disappointing. Most of them have clunky interfaces and are not very intuitive. Some of them also have badly designed websites and overwhelmingly high price points. Take a look if you really want to explore more options, but I must say that Artwork Archive has done their work and I have been thoroughly impressed.
Overall Artwork Archive has been a delight to use and explore. Nothing else available really compares. They're also very affordable and walk the user through the process of getting set up in four easy steps. Set-up itself takes less than 15 minutes, and getting familiar with all the features takes at most an additional 15 minutes. It's definitely worth the time and energy to sign up for Artwork Archive and give their software a whirl. I'm sure you'll be pleasantly surprised and keeping track of your art like a pro in no time.