By Katie Kapro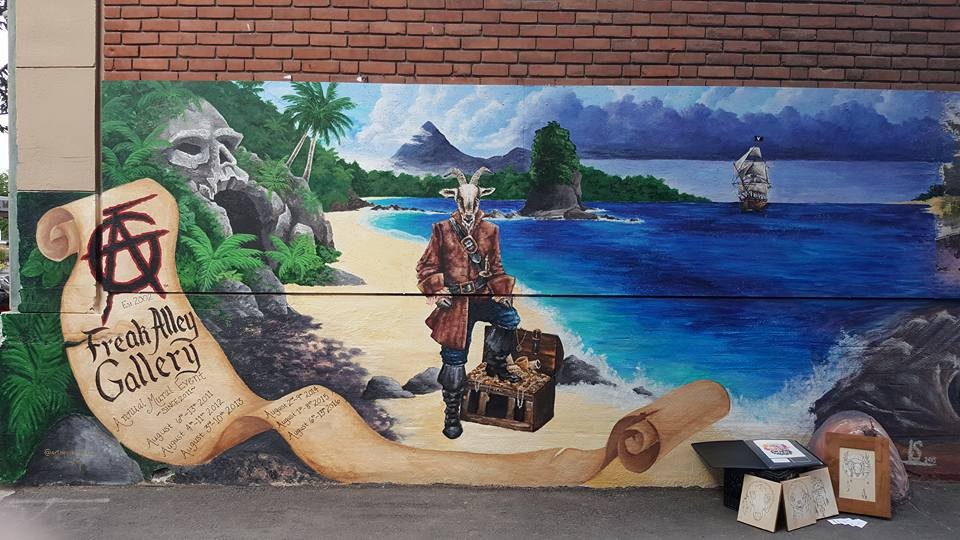 Making the transition from a free-time artist to a full-time commission artist is not an endeavor for the weak of spirit. It takes a lot of creative energy and at least one day-job to pay the bills. It also requires some seriously honed social skills — yes, even the most socially awkward of artists find a way to make their awkwardness work to their benefit.
Here is a treasure trove of lived advice from two of my favorite local artists who have found a way to bring art into their daily lives, and even make a little money while they're at it.
Be in the World
While you're toiling away in your studio with oil paints and Photoshop, don't forget to emerge every once in awhile to participate in the wider art community. Being immersed in the creative process is, of course, the most important part of creating art, but the only way to get your art out there, and someday get paid for it, is to jump into the pond with all the other artists in your community.
Taking part in local art initiatives is a fun way to make friends, aka "networking connections," and gain exposure in the art scene.
In my town, one of the most popular places for new and seasoned artists to share their work is an outdoor gallery called Freak Alley. Once a year, artists pitch the gallery owners with their mural ideas and around 40 artists are selected to repaint the walls of the alleyway.
Not only do artists get to share their work with the public, but it has also proven to be an entry point for paid design gigs with local businesses.
Be a Pillar
Once you've figured out the vibe of the art community in your city, town, or neighborhood, try stepping into it in a big way. Attend creative gatherings and gallery openings. Make yourself known.
If the local vibe you find doesn't fit your aesthetic, find a niche and build up your own community of artists. Keep in mind that it's usually a good idea to have a positive relationship with the wider artistic community no matter what differences may present themselves. The more avenues you have for referrals, the better your chances of making it as a working artist.
Building up one's own creative community can take all sorts of forms.
Extroverted artistic types might consider organizing a public event like an art show or artist discussion series as a way to share the work of emerging artists, support community, and build up their experience in the art world. As a bonus, organizational skills are a major plus to any prospective client.
As you're creating the promotional materials for your event, remember that all materials you create are an opportunity to showcase your artistic skills. This, of course, works to an artist's strengths; event promotion experts even suggest relying on images to do most of the talking. Easy peasy.
Hosting and organizing an event is good practice for any artist who wants to strengthen the connective tissue between the creative and analytical parts of their brain. Being masterful at balancing these aspects of the creative process is what makes for a really successful working artist.
For people who aren't interested in taking on a public event, even hosting a weekly artist get-together in your home or studio is a great way to bring friends and colleagues into a regular rhythm of creativity. It's networking, inspiration, and growing your artist community all in one. And let's be honest, if you've got people coming to your space for artistic motivation, it's a lot harder to procrastinate your own work.
Mind the Card
Business cards are an invaluable tool for any emerging creative freelancer. Some artists and designers feel uncomfortable handing out business cards, but remember, you're not peddling anything. You're handing someone a reminder that you're available to help them out when the need arises. It doesn't have to feel sleazy.
Having a business card you're proud of is another aspect of natural and fruitful networking. Design a business card that speaks to who you are as an artist.
Appropriate timing and confidence also go a long way in the business card game. The time to offer a business card is not right when you meet someone; rather, talk for a while and get a feel for what kind of design they're looking for. You'll annihilate that awkward self-promotional feeling simply by having the confidence that your work really would be of benefit.
Equip Yourself
Another matter of business. When you're out there displaying your work in public art spaces, make sure you're equipped to handle the possibility that someone will want to give you money for your work. Whoa, I know. The door to a paid artistic opportunity can come in all shapes and sizes.
To be on par with the professionals, get a portable card reader so you can swipe a credit card right on your smartphone. It beats that awkward conversation about how you can take cash but you probably shouldn't take a check because of all the fraud that's been going around, and then you lose the sale because you basically called your potential buyer an identity thief. (True story.)
Or you can just plug a cute little reader into your mobile, get your art out there in the world, and get paid.
In addition to in-person sales, read-up on selling your work online. While it lacks the personal interaction that can so benefit an up-and-coming artist, it's an unparalleled way to get your work out there.
Live Creatively
Most artists have this one covered but it's worth mentioning nonetheless.
Make sure that your home or studio space — wherever you work and meet with prospective clients — sets the stage for your creativity. Even the most utilitarian elements of a studio space can be fodder for inspired design. The idea is to let your visual creativity spill over into your workspace.
Not even the bookshelves will be safe from your artistic awesomeness.
In addition to all that, just because you might be hosting potential clients doesn't mean your studio or workspace needs to be office-like. The professional presentation of one's creative space is given a little more freeform in this modern era of freelancing. Just be sure that your workspace looks intentional (i.e. not a pig sty) for visitors.
From designing a workspace to carving out a place in the greater artist community, the work of a burgeoning commission artist is expansive. Being in a supportive community and having the right tools with help any new designer set off on the right foot.
What are your favorite community art endeavors? And how have they influenced your creative career?
Author Bio: Katie Kapro holds an MFA in nonfiction writing. She covers design, education, and culture. When not writing, she can likely be found running in a herd of pygmy goats, giggling like a little girl. Follow her on Facebook and Twitter @kapro101