Yesterday I received an email from an artist named Deb, asking me why she should buy my book. What's in it, and how is it different from TAA's courses & blog posts?
Fair question! So, yesterday I did a short chat on Facebook on why you should buy my book How to Sell Your Art Online. Here's the video, and below the video, I've outlined some of the highlights on why you should buy the book. If you want to see the table of contents, skip ahead to 14:00. Mobile users click here to watch the video on FB.
Why You Should Buy How to Sell Your Art Online
How to live a successful, creative life on your own terms. That sentence is the subtitle to the book. Most of the time, when people talk about fine art careers, they are talking about relying on someone else to sell your work for you, and often doing that in a way that undermines the artist's long-term prospects. This book is about building art careers that will last long-term, rather than depending on a flash in the pan of promotional success from galleries that aren't invested in your long-term growth as an artist.
Stories from artists in the trenches. If you've been following TAA for more than a few months, you know that we've highlighted hundreds of artists from around the world. This book is built around those stories. We went deeper with a handful of those artists like Gwenn Seemel, Kelly Rae Roberts and Matt Leblanc. The book contains an in-depth look at what they're doing and what lessons you can take away from their business activities.
Learn to tell your story to the right people at the right time. In 7 years of helping other artists sell their art, I have discovered that every piece of art has a story. Artists who think their work doesn't have a story are usually wrong. 9 months ago, an artist told me that her work didn't have a story. When I told her she was wrong, she got offended. Just last week, she emailed me to tell me that I was right, and that she had embraced telling her story and that she was now on a roll, selling 1 – 2 new pieces every day for two weeks. This book focuses on helping you understand your own story and tell it in an effective way.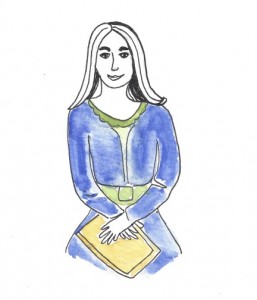 Its Illustrated! I'm looking forward to sharing the story of how I ended up picking Cynthia Morris to illustrate my book. She did an amazing job, and I'm so excited that she did it. We had to fight to find a publisher that would pay for a full color book. I'm glad that we did it. Harper Design, an imprint of the big publisher Harper Collins, is our publisher. Yes, this book is legit.
Its not just a rehash of the blog & courses. A lot of bloggers will take their blog and just repurpose them as content in the book. I did that a little bit. But the book is mostly original thought and in-depth research. The fine art market is in a huge state of flux right now. While researching the book, I interviewed some of the folks at the big online players like Artsy, FineArtAmerica, and others. There's some good stuff in there about the future of the industry and how software is going to change the way that art is made and sold.
Now, you should also know that our flagship course, How to Sell Your Art Online, is much bigger than this book. But it's $300+. The course contains videos, worksheets, and more. The book is a simple 194-page book that you can use as a reference, and it's only $10.99 (as of this writing).
Some other FAQs
How big is the book? 
194 pages, paperback.
If I buy the paperback, can I get an electronic copy? 
Yes! Amazon has a bonus program that lets you get an electronic copy for only $2.99.
The book doesn't have art on the cover! How can you have a book for artists without art on the cover? Did you think that wouldn't be important?
The book is full-color illustrated by Cynthia Morris. We actually fought for a publishing deal that would be illustrated because we agree – shouldn't art books have art in them?
If you care, here's some more detail about the cover: Harper Collins' design team went through several dozen iterations internally. Book covers are tricky things because what intrigues one person might turn off another person, even if they're both professional artists. We did extensive research to see, among art-related business books, which books have sold best. It turns out that over the past few years, simple covers like HTSYAO's cover have done significantly better than more intricate covers. That follows a broader trend in the book market, as well as the art market.