Sara O'Connor is a former lawyer who has been working with admirable determination to grow her art business and cultivate her brand for the past two and a half years. She creates heavy-textured pointillism art inspired by geology, the water, light, and color.
We sat down with Sara to learn a bit more about how she started out and where she's headed.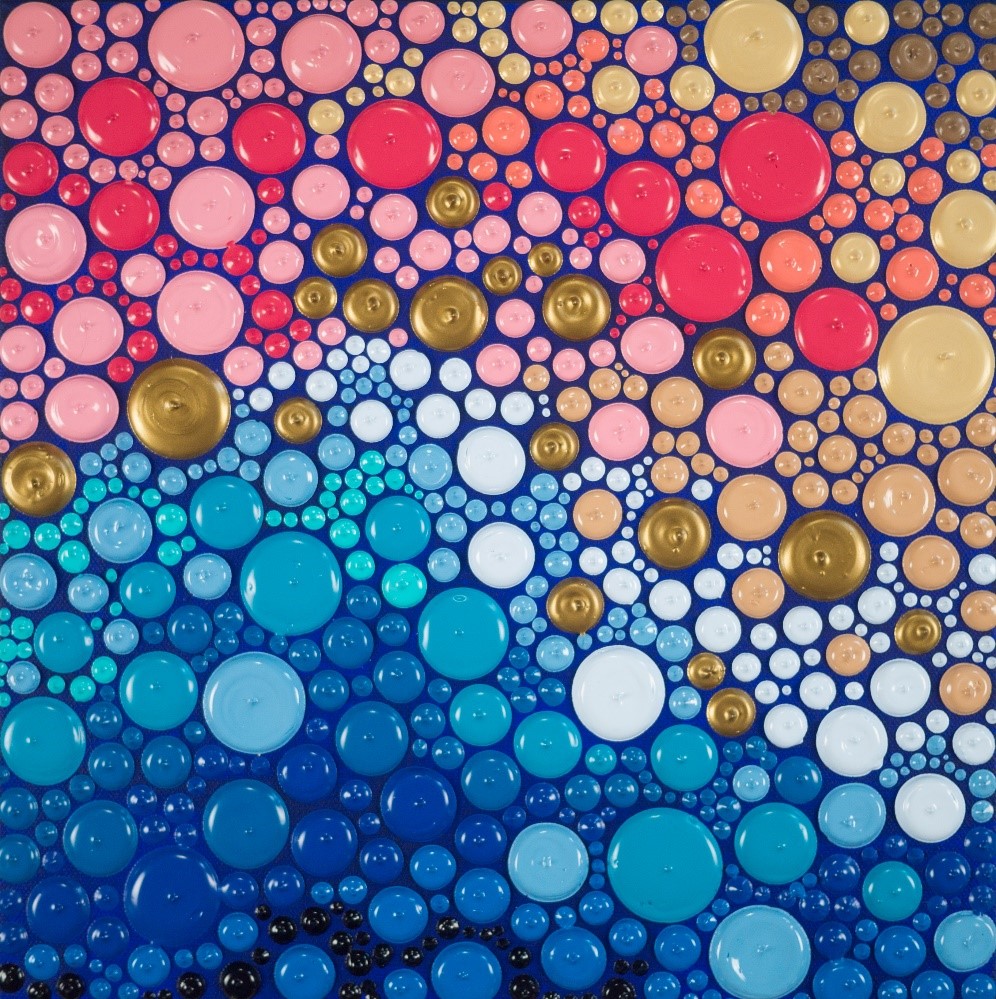 "Pink Sand Shore", Sara O'Connor
Sara shared with us how she got started painting:
Sara: "In September 2015, I went on medical leave from my job as an attorney. During that time, I self-prescribed myself painting. I began using some of my husband's left-over paint to dabble and have fun. After a few weeks, I was growing addicted and needed more paint. So, he and I decided to go to this tiny garage sale at a church in New Brighton, PA, which was coincidentally only a few blocks from where I argued one of my first cases as an attorney. The sale had cute knickknacks, like painted wooden snowmen. It was kitschy and adorable, and it was at that show I had my first sale. I sold a small Bitty Bite and booked one small commission. That was a big day for me. That was exciting."
"You can't become an overnight success without ten years of preparation." – Sara O'Connor
In creating her art and attending that first show, Sara found so much purpose and enjoyment that she began to attend more art shows. The first shows were small, held in high school gymnasiums or craft fairs, but slowly and steadily Sara began to sell her work and gain a following. As she gained momentum, she realized that she had bigger aspirations:
Sara: "I am a perfectionist, and I knew that what I truly wanted out of my art was to begin selling on a national level with nationally-ranked shows. I started purchasing bare-minimum art supplies and investing in what would become my business. I left the practice of law in December 2016 and was finally ready to exhibit outside of Pennsylvania. During 2017, I exhibited in Washington, D.C., Virginia, Maryland, and Michigan, and, during 2018, I have added several more states to that list.
Now that I was exhibiting nationally and my art was selling at a steady pace, I was finally ready to purchase even more professional displays and have the business sustain itself. If you visit me at a show, you can see the quality display walls, brilliant lighting, and a welcoming covered setup. Frankly, I never realized as a patron of art fairs that the artists bring all that with them! But now, it's all just part of the experience. Before, I was simply a passionate artist enjoying a hobby and occasionally selling my work. Now, I'm a professional artist, which requires a business-driven mindset."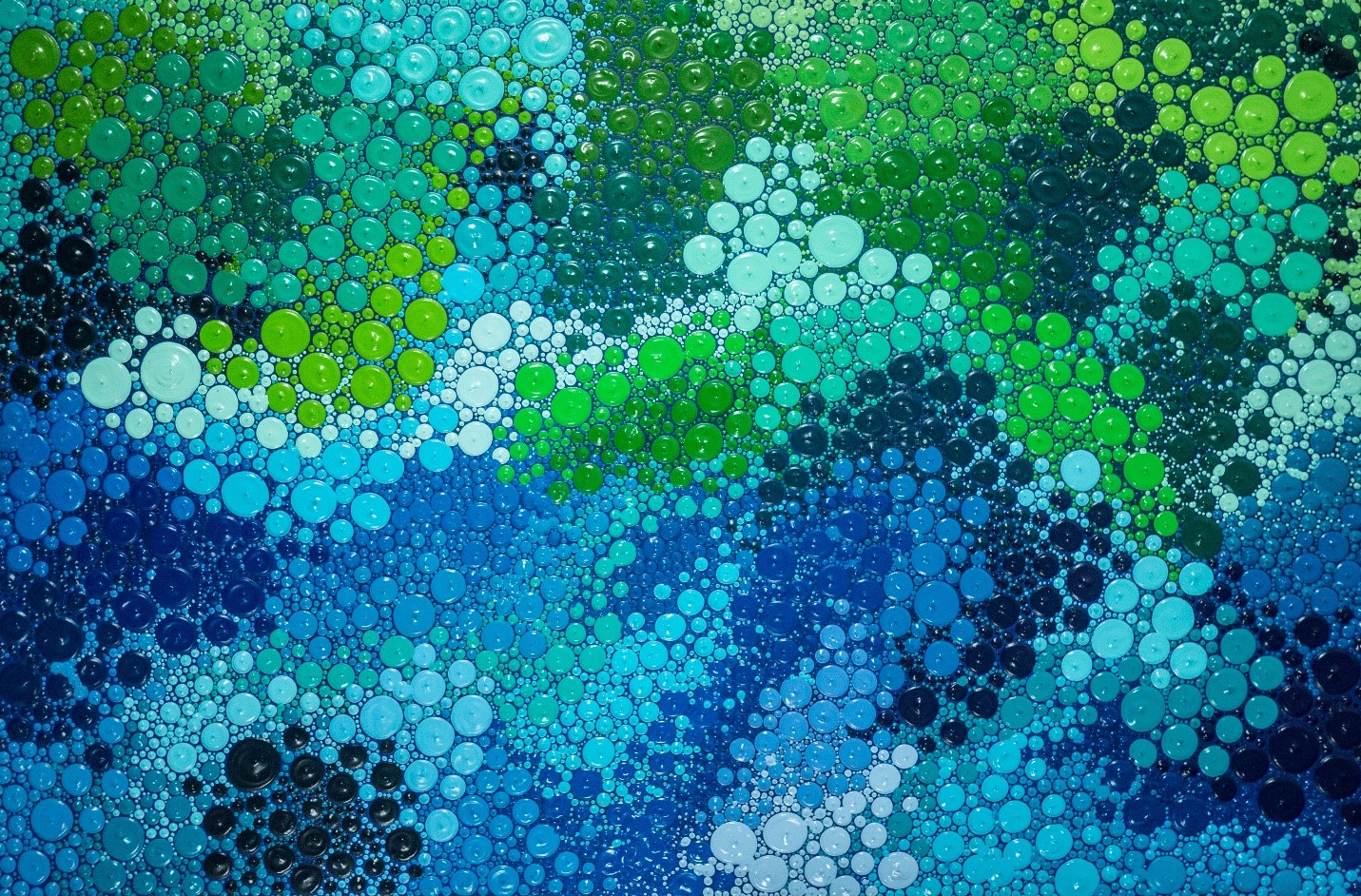 "Fillory and Further", Sara O'Connor
After about a year of painting, Sara and her husband made the decision that Sara would stop practicing law and start painting full time:
Sara: "Since that switch, a lot of the art proceeds go straight back to the business because I want this to be sharp and sustainable for the long haul. You know, you can't be an overnight success without ten years of preparation. And I'm in year 2 and a half. This is my new graduate program, and I'll never stop studying.
This past year has really been about elevating my brand and locking in that consistent message. I've had to increase my prices four or five times since I began a mere two years ago. With higher prices, I gained increased sales and the ability to create larger, richer works that align with where I am heading. By 2020, I would like to present an installation exhibition that will give me the leverage to later design an interactive installation exhibition that is educational and gorgeous in its use of color and light."
Sara is cultivating a particular high-end brand, and working to communicate to her collectors that her prices are rising rapidly and they'd be wise to invest now:
Sara: "I'm cultivating a client-base of excellence. Someone who truly is committing to a piece may not come to me for an impulse buy, although those are sexy too. When someone who confesses almost co-conspiratorially that he or she "never buys art before" but then invests four figures in what I do and can't stop smiling with pride and contentment, well… the English language doesn't quite have the word for that level of bliss. Frankly, I don't need to tell prospective clients that the worth of my work has increased multiple times since I began; they need to look at the work, see how I present it, and instinctually know this is something special. One piece of advice I have for aspiring and professional artists is to not buy into the myth of a starving artist. Stand up for yourself and be abundant."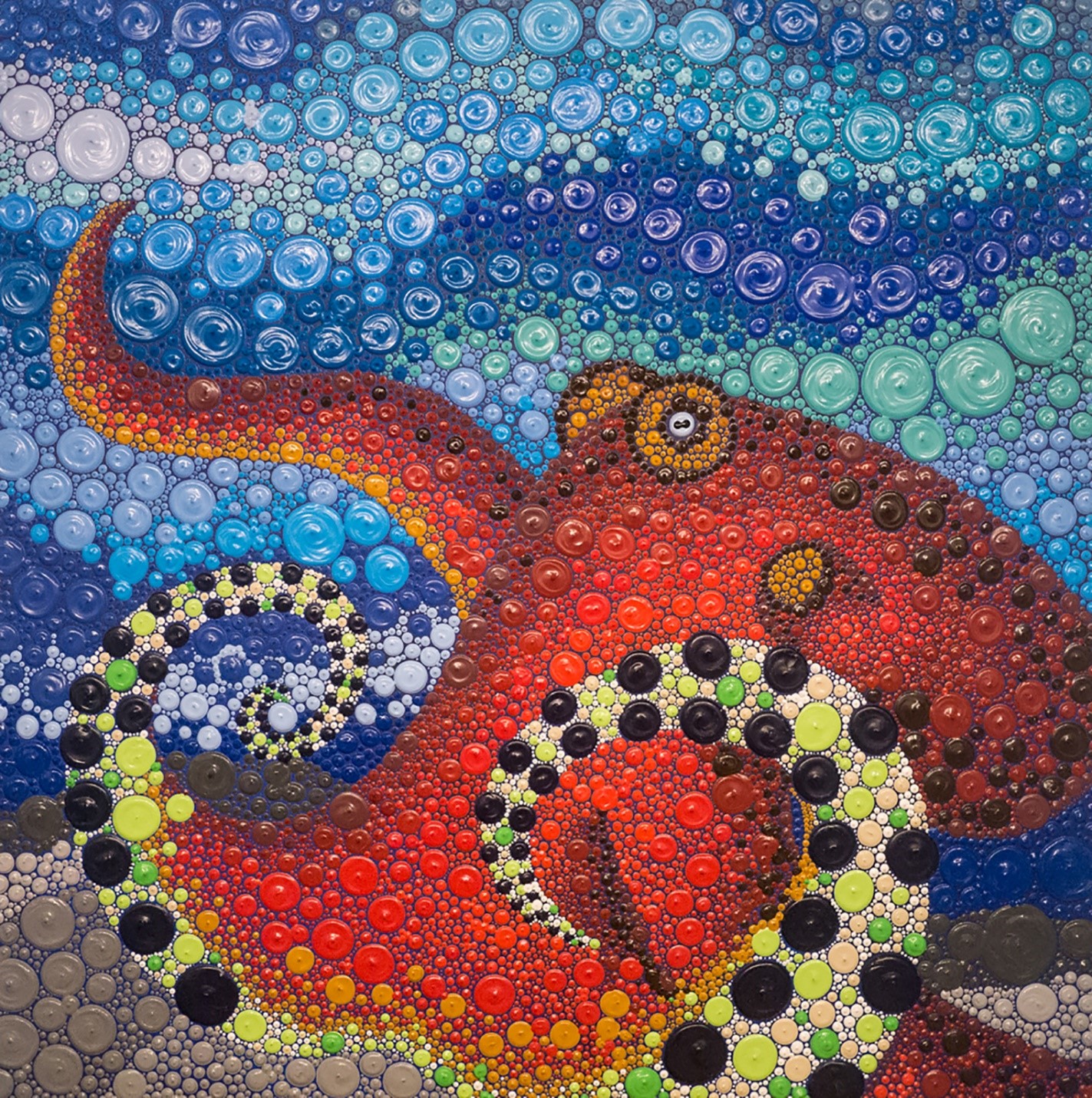 "Hank", Sara O'Connor
Last December, Sara participated in Spectrum Miami at Miami Art Week, and she found that the desire to elevate her brand and attach that high-end price tag required her to "flex her artistic muscles." She feels that her art unequivocally improved as a result of the intensive preparation required to exhibit during Miami Art Week.
"I hate trying to be patient. I'm really too hungry for my own good, and know what I have planned requires so much more than what I can accomplish on my own. Success takes time, branding takes content development, and the art I am creating should evolve and elevate as my experience and fanbase grows. Remember, just like someone else has to prove themselves to you before you buy into what they're selling, you have to prove yourself to someone else." – Sara O' Connor
We asked Sara what she learned from The Abundant Artist and how she has applied that to her growing business:
Sara: "First and foremost, you need to figure out what your brand is, and it is something I work on weekly with new PR campaigns, etc. It's okay if you're still figuring that out. In fact, I'm going to put a capitalized letter on Your and a capitalized letter on Brand. I still do what I call "Kooky Kritters," they're very whimsical lighthearted creatures that people of all ages adore. Almost weekly, I still tug and pull with myself on whether or not to put them on the website because some clients truly adore them. It's been hard for me to put a pin in a project that generates sales as a sub-brand, but it can confuse the message for my target collector."
Sara has also learned from The Abundant Artist how important it is to stand by your value.
Sara: "That means if my work is (currently) $3.50 per square inch, there are inevitably going to be some people who, when they email me to commission a piece, I have to say no to because their budget doesn't match the supply-and-demand of my time and my work. So, I'll offer to make them a piece (if possible) based on their budget, but, as any professional in any industry must do, you must stand up for yourself.
And, to dovetail with that, there seems to be a big movement by charities who misunderstand the rules pertaining to charitable deductions. As the law currently stands as I understand it, an artist cannot take a tax deduction for the fair market value of the piece they donate, and many charities misinform artists of this fact. Additionally, many charities don't know how to run a proper art auction, because they're busy fulfilling their missions! Ultimately, I have heard of instances where artists have had their work undervalued.
Let's be clear, though. I love charities. I have benefited from and donated personal money to them and I will continue to volunteer. I would suggest to anyone who works with a charity to consider asking corporate sponsors to use some of their donation to purchase artwork (ideally from local artists) to be auctioned at the event. Perhaps the piece can be designed for or in honor of that corporate sponsor by listing the piece as "sponsored by [this awesome company who cares about this cause and the local artistic community.]" This has many benefits, such as simulating the local economy by supporting local artists, increasing networking opportunities for everyone involved, and helping us realize that the starving artist idea is, and must remain, an unacceptable myth.
Stand by your value. Boundaries are one of the best things you can give yourself to cultivate a climate for success."
"Stand by your value." – Sara O'Connor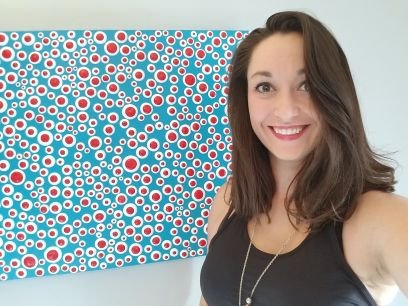 Self-labeled a "heavy-texture pointillism artist," Sara's work boldly modernizes classical pointillism through her innovative use of want-to-touch and want-to-taste texture.  Sara applies each color with precision and care to create flowing movement. Sara's obsession to detail and quest to captivate has swiftly earned her new collectors across the United States and abroad.  She currently lives in Richmond, Virginia, where her studio is located.  Her prior career as a Biglaw attorney instilled in her the drive to create high-quality work that makes an immediate impact.  Her travels to and experiences in Israel, Thailand, Italy, Canada, and Mexico heavily influence her use and expression of color.
See more at http://saraoconnorfineart.com or visit her on Instagram at @saraoconnorfineart.