Of the feedback from the artists who took the Content Marketing for Artists course, perhaps my favorite quote is from Debra Bucci.
"I'm like a whole new person."
When I started TAA four years ago, it was a lark – a way of exploring what was possible with artists and the Internet. When I started teaching online marketing classes, I thought I would help a few artists make some more money.
Six of the students from the class that ended in March have already made sales, a few of them pretty significant. This video explains how they feel about it.
Our motto here – The Starving Artist is a Myth – has a lot of power. Showing an artist how they can make a living from the thing that they really love doing unlocks a power and a ferocity in an artist's work. They can live big and bold – and don't have to fear sharing who they really are.
A bunch of people have asked me when the next Content Marketing for Artists course will be. I'm not doing another live course for a while – probably not this year – because I have some other big events happening in my life (more on that in the near future, I promise).
So, I'm releasing the recordings of this year's course.
Content Marketing for Artists 2014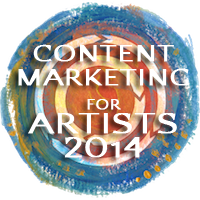 Wondering what all of the fuss is about? Did you miss it the first time around? Sign up here and get ready to transform your art business and your life.