Corrinne Robinson is a dancer with Scorpius Dance Theatre and Brand Manager for Mcfarlane Toys – from the creator of one of my all time favorite comic books – Spawn. She is one creative lady.  Just look at those awesome pics!
Tell us about your dance work.

I am a dancer beginning my seventh season with Scorpius Dance Theatre, a contemporary dance company in Phoenix. Founded in 1999 as a non-profit organization, Scorpius combines the motifs of humor, drama, and both organic and technical movement to form a very distinct style of dance. Scorpius is directed by Lisa Starry, and I am one of 15 dancers in the company. In addition to repertory works, Scorpius presents an annual fall production, A Vampire Tale. This show has a full storyline and individual characters all portrayed without words. I really enjoy how Scorpius fuses different types of modern dance and theater elements to make it appealing and crowd friendly.
Where did you study or get your training?
I have been studying dance since the age of five. Growing up I studied at the Dance Center of Colorado Springs. I started with Ballet and Tap, and as I got older I added Jazz, Lyrical, Modern, Pom, Acro and Hip-Hop. I moved to Arizona to attend college at Arizona State University (ASU). I began college as a Business major, but I switched to Fine Arts when I received a full dance scholarship. I ended up leaving ASU to perform in a show, Legends in Concert. It is the original and largest live celebrity tribute show in the world, with an always-evolving cast of legendary superstars. Not many people can say they've worked with three different Elvis impersonators! Now that I am older and don't have the luxury of dance classes every day, I try to keep up my technique by taking adult modern classes at Metropolitan Arts Institute (the home of Scorpius) and the occasional ballet class at Ballet Arizona.
What is your 'day job?'

My day job is Brand Manager for McFarlane Toys. The company was established in 1994 to manufacture and sell action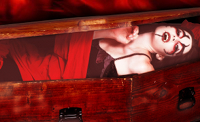 figures based on founder Todd McFarlane's comic book character Spawn. We have since expanded into licensed products to become one of the premiere action figure producers. We have produced toys for properties such as Spawn, Halo, The Simpsons, Shrek, The Matrix, NFL, MLB, NBA, and many more. As Brand Manager, I get to interact daily with nearly every department in the company to make sure each project stays on track. I work specifically with our licensed product, managing the communication and approvals from concept through to the retail shelf. We have a new product called Odd Pods that is just hitting stores. Odd Pods are cute little pod shaped toys that pop apart and have interchangeable pieces. This product took quite awhile to develop, so I am excited to see how the public reacts!
How does this job compliment your art and other creative endeavors?
Although I have a "business" position at McFarlane Toys, I really enjoy working in the creative environment the company promotes. I get to work with comic artists, concept artists, sculptors and painters who are all very talented. Seeing the different artists pour their hearts into each project motivates me to push myself to improve my art in my off time.
What is one thing about your current career that you didn't anticipate when you were younger? How did your career evolve in ways you didn't expect?
I thought I would make my living at dance, not in an office, but it ended up being the other way around. I definitely never dreamed I'd make my living playing with toys! I started at McFarlane Toys as the receptionist and worked my way up through many different positions. Actually, working in the different fields (PR, Sales, Marketing, Customer Service) gave me a very different perspective than just picking a major in college. Getting to know each department also helped me advance within the company. I work closely with the executives, and I know who to go to for each project; this saves the company time and resources.
If you could give other artists advice about money or getting started in their career, what would you say?
You don't have to make a living strictly with your art. If you have a passion for something, you will find a way to fit it into your life in a way that it will continue to evolve. Be willing to try different avenues. Think of ways to combine art into your daily life: working in an art-related field, volunteering for local non-profits or teaching others. And most of all – work hard. You won't get far in art or business without a strong work ethic!