When people praise your work, do you get all awkward and quickly change the subject?
Artists Fear Self Promotion
Jala Smith-Huys, the owner of Embark Creative, is a graphic design artist and former Creative Director for New Seasons market.  Jala has all the goods, but she is still uncomfortable with letting people know about the attention that she gets.
On August 4, a client of hers, @Mindglo, praised Jala (@embarkcreative) and @sasquatcha for their social media help and expertise by sending out a shout out on Twitter.  Jala was feeling a little shy.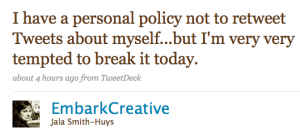 She needed a nudge, so I gave her one.

But she was still so resistant.  @Sasquatcha, @nahbois, and @Foundrydesign all encouraged her to share the praise.  When she still wouldn't do it – I did it for her.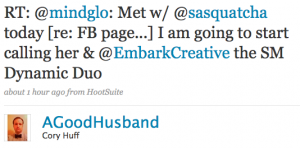 It was just a simple retweet, no big deal.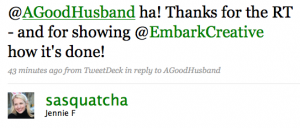 All of this took place over about 30 minutes.  A microcosm of community building, marketing, and friendship.
Artists Shouldn't Fear Self Promotion
It's not a bad thing to self promote a little bit.  Not everyone is going to think that you're so great that they need to toot your horn for you.  How many times have you passed on the opportunity to let your prospective clients know the great things others are saying about you?
Do me a favor – in the comments below, let us know one nice thing that a client or customer has said about you that you've never told anyone, and why you haven't shared it.
Don't be shy.  Consider this your nudge.