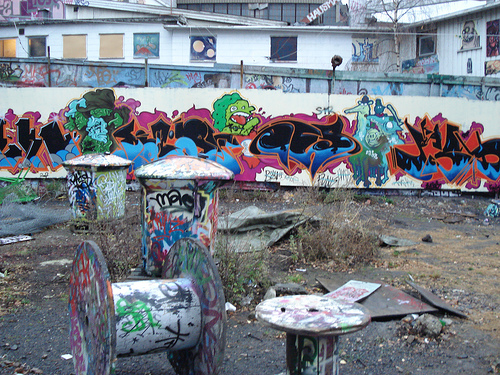 Image by jamtea
Life is chaos. Art is plucked from chaos. As artists we peer into the swirling mess that is life and grab onto this or that piece of inspiration.
I may have mentioned a time or two that I have interviewed a lot of successful artists. I'll be posting recordings of some of those interviews soon. One of the things that has stuck out to me is that so many successful artists find their luck by grabbing a fleeting idea or a random fan request and just hanging on.
Some examples of things artists have done: after Lee Holmes created some chocolate art for a child's school activity a parent asks "is this what you do?" and the artist replied, "Yes." It was the first time she'd ever done it, but two years later it's a full time business supporting her and her family.
Another artist I know, David Hoang, was conversing online with several fans when they asked him to create several different drawings mashing together classic images with things that were a little irreverent. He did it and it turned into a huge opportunity for him.
We can do a lot to make our own luck. We can improve our technique, network with other artists and influencers, and learn how to sell – yet sometimes the truly random things are blessings from Heaven that just rain down on us – but we have to be prepared for them!
Yesterday I was reading Tara Hunt's blog post about luck. In it she mentioned a scientific study that evaluated the differences between lucky & unlucky people. Miss Rogue's takeaway from the article was that lucky people are observant and open to new opportunities.
In other words, if you are so focused on selling to a gallery, perfecting that statue (you know the David's hands are dis-proportionate, right?), or re-recording that track again, will you be open to random opportunities as they come up?
As Tara quotes from the article:
"And so it is with luck – unlucky people miss chance opportunities because they are too focused on looking for something else. They go to parties intent on finding their perfect partner and so miss opportunities to make good friends. They look through newspapers determined to find certain types of job advertisements and as a result miss other types of jobs. Lucky people are more relaxed and open, and therefore see what is there rather than just what they are looking for."
Art is all about the chaos. Sometimes we try to make sense of it. Other times, we just embrace it.
I'd love to hear about your embracing chaos stories. How have you benefited from unplanned events?