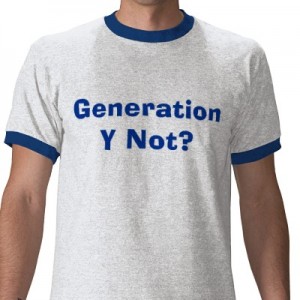 Last night I was talking with a friend about the state of the business world and internet marketing.  We were talking business politics.  He told me about how in business school he learned about negotiating with older people in the work force and how they are often uncomfortable with the Gen Y mindset.  I didn't go to business school, but I work for a business, so it was an interesting conversation (I'll get to how this relates to art in a minute, I promise).
Generation Y Artists Are Gen Y People
Let's talk about the Gen Y mindset for a moment.  What is Gen Y?  Who are the Millenials?
They're the people who have grown up their whole lives with the Internet.  They don't remember having to go to a library to look something up, and they are intimately familiar with Snopes.com.  They do their homework with Google and they have little patience for getting information slowly because information is readily available if you simply turn on a computer.
The portals to the information superhighway were built by people under 30 and the vanguards of the current generation of businesses have yet to hit their midlife crisis.  Mark Zuckerberg, the founder of Facebook (the company most likely to challenge Google for Internet supremacy) is 25.  The founders of Google were 25 when they started.
This environment that they (read: I) grew up in has fostered certain attitudes.  Foremost among those is that you don't have to slog through 'paying your dues' simply because you are young.  If you know what you are doing, and you know how to find and implement the information you have, then we think, "Go do it!"
This attitude scares a lot of old school thinkers, so they act out of fear.  The problem with acting out of fear is that most of these Baby Boomers and Gen X-ers are currently the ones in positions of power.  When you are in a position of power and you act out of fear it adversely affects those around you and under you.  People get hurt.  The Gen Y people get hurt.  When people get hurt, they last out.
There's a big tranfer of power and wealth coming in America.  The Baby Boomers are sliding into retirement.  What wil Gen X do when Gen Y starts moving into power and they have to listen to our ideas?
"I love learning, I love helping people and I have found that I MUST lead a balanced life in all aspects.  I can't be social all the time, I can't stay cooped up in the house all the time, I can't work 60-70 hour weeks, and I must incorporate being active and a healthy lifestyle into how I live.  My next goal in life is to take what I am passionate about find a way to make it my livelyhood, but until then I will be passionate at night and work during the day so I can pay the bills.  So how Gen Y is that?" – ybalanced.wordpress.com
Another conversation that I had last night comes to mind.  I told someone that I teach artists how to make money using the internet and she said, effectively, that all artists are starving so they could never afford to pay me for my services.  I called her bluff and told her that I knew, and worked with, several artists who are financially successful and that I think the Starving Artist is a myth.  Those artists who know how to use the internet have a huge opportunity in front of them to grow their work and their business.
She was an artist.  She could have asked me about how I teach artists to make money.  Instead she made an awkward comment that made everyone in the conversation go dead quiet.  It was obvious, to me, that she was angry and/or afraid.
Generation Y Artists Reject Starving Artist Syndrome
To bring this full circle: Just because an idea is traditional and has been in place for a long time (the starving artist myth), that doesn't mean it's true or worthwhile.  Just because the Baby Boomers and Gen X are in power and have built up institutions to that power doesn't mean that Gen Y can't do it better, faster, stronger, and more balanced.
If you are an artist know this:  Just because generations of artists before you have romanticized the starving artist, you don't have to follow in their foot steps.  You'll probably make a few of them angry, but you know what?
Y not?