Over the past year, artists, galleries, and art fairs have merged their online and physical efforts. As shows return to the in-person format, it's becoming clear that a hybrid (digital and offline) strategy is what's working best for sales right now.
New, innovative opportunities have materialized such as online viewing rooms, 3D interactive shows, and Augmented Reality apps that allow collectors to see a piece in their home right on the spot. But, do these kinds of tools actually sell any art for artists?
We believe that 3D virtual exhibitions are making their way as an exciting tool to promote art online, engaging customers in an experience that they can re-visit several times while relaxing at home. The direct purchase options and the international reach online shows provide are allowing artists to expand their businesses.
Have you explored gallery apps that create online shows, but never really understood how to make the most out of them? Here you'll learn how.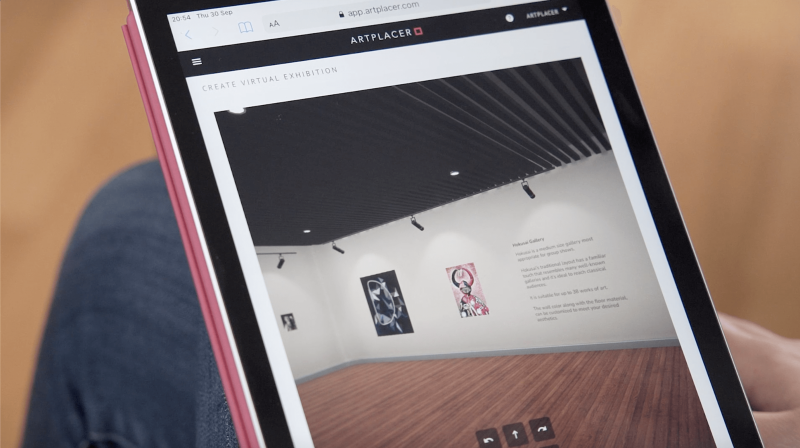 Make your website the center stage
Your virtual event can be shared via link or hosted on your website, luring recurrent and new collectors to your online space. This kind of invitation into your virtual environment can be quite promising for people that follow your journey. It's like a sneak peek into your studio life.
An online show will increase your website visits, creating new sales opportunities. Make sure to have high-quality images of your pieces, thorough descriptions, and additional elements that will catch your visitor's attention like a short statement about the curation or about your new pieces. As Arty's "Art collecting 2021" report states, collectors see their online activities as inseparable from and essential to their experience of the art market.
Artist Tim Muddiman from the UK told us about his solo show 'The Ones Who Slept There' (July 24 – August 31, 2021). The exhibition took center stage on his homepage, and he was able to add screenshots with relevant links to guide people to navigate and experience the show in full.
He had also been working on a playlist for about a year, so he encouraged visitors to play that music as they viewed and explored the work. "It was a true, real experience transferred to the virtual world."
His first solo show in summer 2021 was canceled at the last minute due to gallery staff getting COVID, so he was left high and dry for a body of work he'd been working on for the previous six months. He had seen the online exhibitions on the ArtPlacer socials, so quickly moved his curated show there.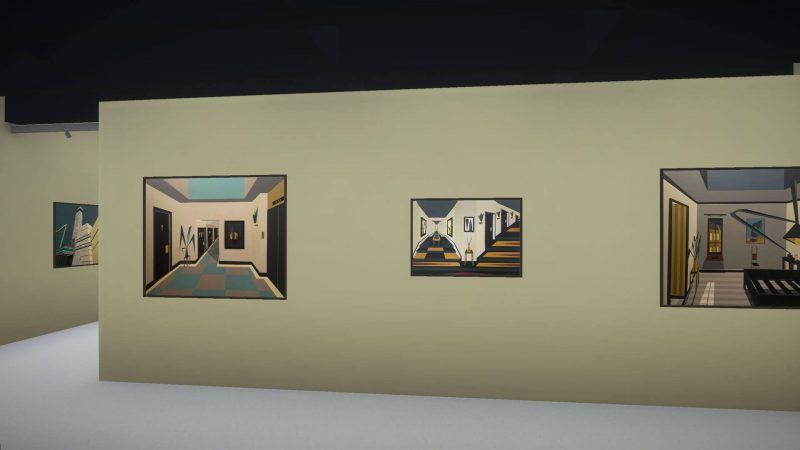 Gain international reach
Long distances are no longer a barrier to promote your body of work. If you already have an international following, people that weren't able to visit your shows before, can now appreciate your work online. If you are just beginning to explore international sales, virtual events will help you widen your audience and have a new revenue stream.
Exhibitions can be showcased to a global audience rather than only national, and for many artists this has proven to be incredibly powerful and successful.
What are the benefits of hosting a hybrid show?
Virtual replicas of IRL shows work wonders for people wanting to take another look at the pieces. And this repeated viewing of the display, helps collectors develop an appreciation and a better understanding of the artists' work.
Visitors can talk about the in-person show by describing the experience, but also complementing it with visuals. They can invite their partner and friends to enter the online show, at any time.
Most gallery software allow artists to add "more info" buttons that link to a specific part of their website, and video links inside the show to captivate collectors. In addition, ArtPlacer supports different formats like sculptures or 3D-like objects, GIFs, and NFTs, as well as a downloadable PDF brochure and Augmented Reality interaction with the piece.
By re-visiting the pieces and interacting with them online, collectors are more prone to inquiring or buying. And in the long term, this builds up recognition and more sales.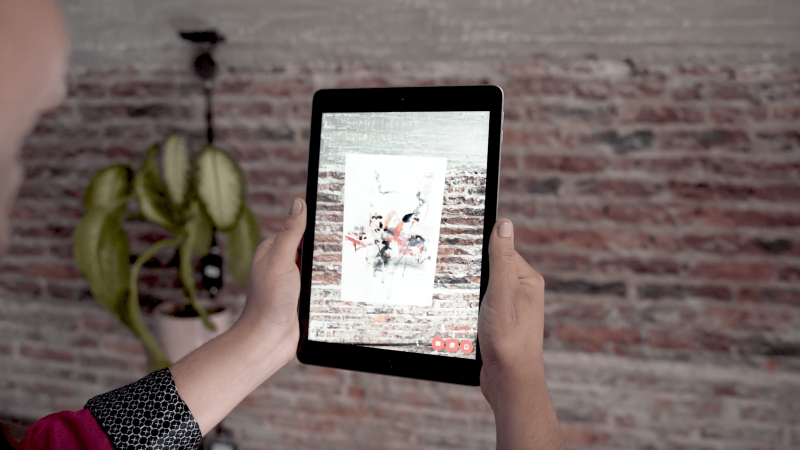 Online shows can act as a channel for people to meet new artists. A collector may see the virtual exhibition first, and afterward decide to visit the physical show. After hosting his two online shows, artist Tim Muddiman mentions, "Some collectors got in touch and came to my studio to view the work in person after seeing it digitally. Having virtual exhibitions is a fantastic tool to further showcase new collections or bodies of work to new and old online communities."
Get direct purchases
Nowadays, collectors expect visible prices on artworks. For next-generation collectors (people that started buying art over the past four years), not having a visible price becomes a roadblock to purchasing art online. They want the buying process to be frictionless and secure.
This segment of collectors also prefers to find new artists on their phones and are more likely to purchase art from their mobile devices. This leads us to say that one-click "buy" buttons are a requirement in order to grow sales, and will soon be the standard of the industry.
The artworks inside your online shows must have "buy" buttons with direct links to purchase. They are ideal for the new generation of consumers and for old collectors that have increasingly adopted the online world. Be certain to have your e-commerce up and running for visitors to seamlessly purchase your art using a credit card.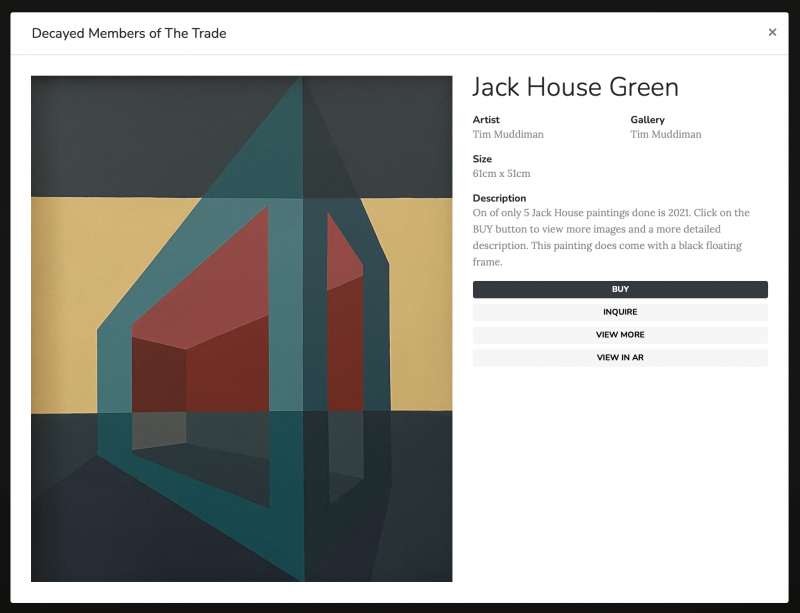 Build momentum to maximize exposure
So, you start using a virtual gallery software and thoroughly curate your first show. What should you do next? Invest time in building an online strategy.
Start with a pre-launch campaign using social media. You can create a Facebook event, and announce that a new show is coming. Build up your audience with day-by-day insights until the launch.
Another highly effective way to reach your contacts is through email marketing. Send one or two emails weeks before the show to arouse curiosity. Send another one on the morning of the opening to share the big news.
A good piece of advice is to create a visual piece that strikes your audience's attention. Additionally, you can make a video or go live on Instagram. Give information about you and the process that led you to create this show. Storytelling is a big plus to engage your audience.
Once the show opens, share the news in every possible channel: Facebook, Instagram, YouTube, WhatsApp, Telegram, you name it. Publish high-quality images of your work, send a press outreach, and invite everyone to access your new project. Online shows can be accessed from any device, 24/7; so as long as your collectors have an internet connection, they will be able to enjoy your show.
If you start thinking about digital as an integral component of your strategy and start building a strong online presence all-year long, your recognition and business will grow.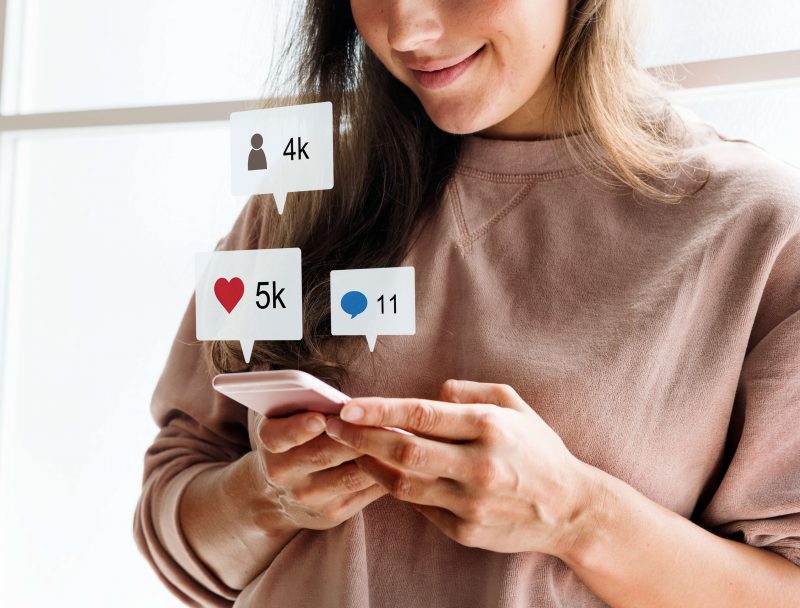 New tools, new strategies
Hybrid thinking can only enrich an artist's career and offer more chances of promotion.
Artist Muddiman mentions the importance of talking and bonding over a nice chat with collectors. "I like to meet and speak with people interested in my art, and in-person exhibitions or art fairs are a valuable way to do this. I think for the modern artist doing both online and offline shows, at a manageable time, is very important, expressive and thoroughly enjoyable."
Virtual exhibitions diversify the access to the art world: independent artists now have a tool where they can showcase themselves in a professional manner.
They can connect with their collectors via a rich experience, offering them the chance to interact and re-visit their work. They can expand their business by meeting new collectors, and gaining (or growing) their international following. In addition, direct purchase links and on-platform transactions accelerate artist's sales.
It's time to reflect on everything affecting artist success and start throwing new ideas into the mix. Online shows are here to stay and you should make the most out of them.
---
ArtPlacer has generously offered a discount for TAA readers. Go to https://www.artplacer.com/signup to start a free trial and enter THEABUNDANTARTIST promo code for up to 30% at checkout.