Jessica Marie has been an artist and animal lover all her life and especially enamored with Pop Art, but it wasn't until 2014 when she adopted a whippet, Finn, that her passions suddenly clicked together.
Jessica: "One day I was outside with Finn talking to my neighbor, who is a talented artist. We were talking about art and dogs, and in this moment I was overcome with the desire to paint Finn's portrait. Prior to this I'd been painting a little bit since high school and going through uni, but at that time it was just a hobby for me. I never really knew what to paint and used to paint all sorts of random things. But after this conversation I painted Finn's portrait, and it turned out like this: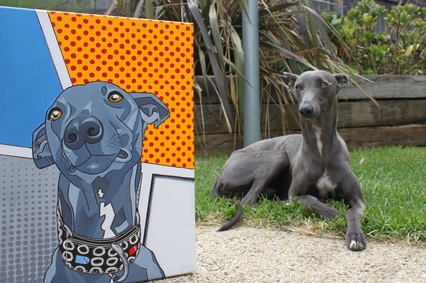 So I shared that on Facebook. I got a lot of likes from friends and family. I had a family member reach out to me and I ended up doing another one of their greyhound. And then that one went on some greyhound pages, groups around Facebook, and then all of a sudden I got another inquiry. So I did another painting. And it just really organically grew from there!"
Jessica shares this story beautifully and concisely on her website:
I realised that everything I learned in advertising could be applied to my dog portraits and I could spread the word to give others the opportunity to celebrate their own furry family members in art.

​The missing piece of me had four paws and a wagging tail.

​Pop Art Puppy Dogs was born.
Jessica shared with us that her website did not always communicate her story and her passion so clearly.
Jessica: "Pop Art Puppy Dogs grew slowly in the beginning just by word of mouth and social media and then I discovered your course. I have a marketing background, but specifically marketing art was something that I had a bit of a gap in my knowledge about. So it was really good to find specific information on marketing art in How to Sell Your Art Online. And applying these learnings to my Facebook and Instagram to kick that up to the next level."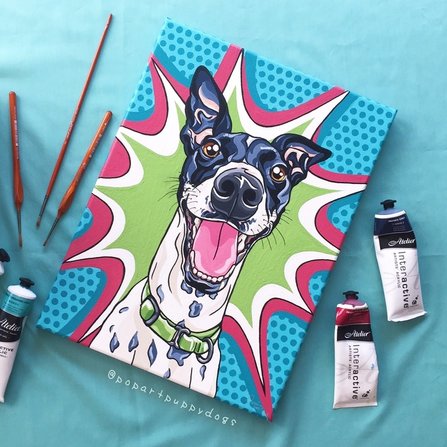 We asked Jessica for some of her biggest takeaways from How to Sell Your Art Online:
Jessica: "Most importantly, the importance of story. I pretty much rewrote my whole website after taking your course. Particularly the About page, the insights on how to tell your story and the artist's journey were very very very good. So I spent a long time writing, I think I wrote three or four pages to start off with and had to condense it down to the essence of my story. I started off not really knowing what my story was and it was really delightful to discover I had one. I actually discovered what my artistic influences were and the life experiences that they came from and why painting dogs was what I was meant to be doing. I was able to articulate all this clearer on my website due to your teaching!"
Jessica really took this new storytelling skill to the next level on her Instagram page, where she uses Instagram Stories in a very creative way to showcase her pieces and bring in new business by appealing to lovers of specific dog breeds. Pictured here they are the circles under her bio- each is its own story with several parts.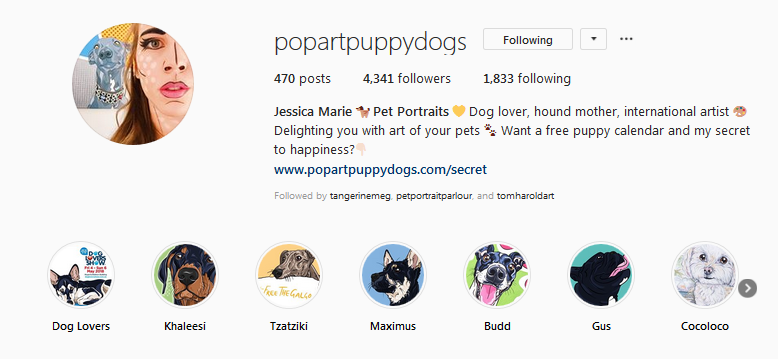 After taking How to Sell Your Art Online, Jessica attended her first real art fair. She found that because she implemented what she was taught in the course, she was very well prepared with a cohesive brand across her website and social media accounts, prepared with an email marketing system in place, and ready to share her story and start making sales. At her very first art show she booked 10 commissions, and at the time that we interviewed her in June of 2018, she was already booked out for a solid 6 months and actively booking commissions for 2019. Way to go, Jessica!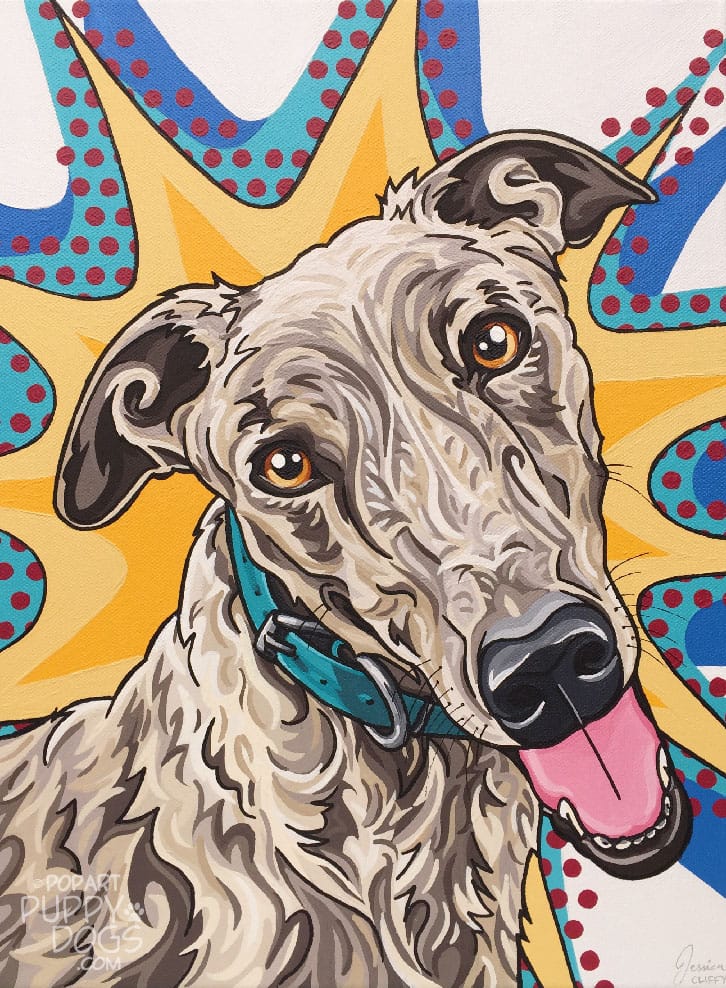 Jessica has taken her momentum and enthusiasm and is currently working to build a community for pet portrait artists- the Instagram handle is @petportaitparlour.
As a final note, we asked Jessica for any final feedback on the HTSYAO course and any recommendations she has for other artists.
Jessica: "I love the encouragement that your course gives us to step away from your easel and get to know the people who admire your art in your community. This, as well as the importance of story, you do really well. It's been a journey, I did the course back in 2016 and have been working on implementing it bit by bit ever since.
I'm an introvert at heart – I suppose many artists are as well – and I know putting yourself out there can be a challenge for us. But I think if other artists can rise to this challenge too, you'll be very surprised at the outcome. Connecting with your community, getting your story together and learning about all the different places that you can market yourself, like email list building, is an amazing asset to have. Once you can start to build your community and really just embrace the uncomfortable to be brave – the amount of opportunity that comes your way is glorious. You'll be blown away."
To find out if How to Sell Your Art Online is the right course for you, learn more here.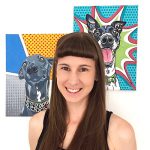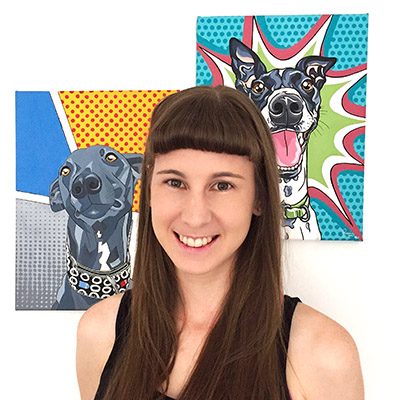 Jessica Marie paints pop pet portraits out of Melbourne, Australia. You can see more of her work at popartpuppydogs.com.