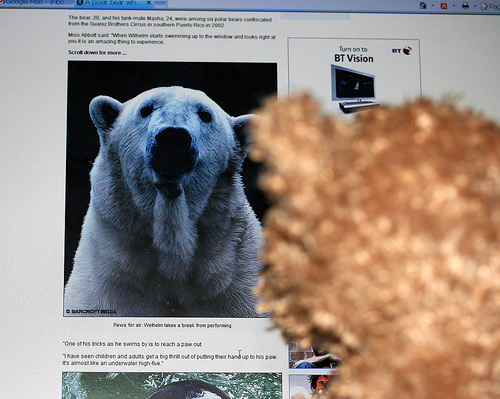 Before you go jumping into a relationship, do you do a little pre-screening to make sure that the person you're getting involved with is someone you want to be with? I would imagine so. Your website needs to do some of that pre-screening too.
Right now you're thinking, "What the heck is Cory talking about?"
Let me explain.
When setting up a dating profile, you put in filters to attract the people that you want. You might say something like, "Looking for guy in his mid-20's – mid 30's with a good job who wants to treat me well." When you do this, you're also saying what you DON'T want – old men, women, broke posers, and perpetrators of violence.
Your website can do the same thing. If you're a painter, and you paint Impressionist paintings, you don't want people looking for cute paintings of kittens, abstract photos, or sculpture. You should make sure your site filters these people out.
You set up these filters by talking about what you do on your site. Maybe you have a tagline that says, "I paint people's dreams." Maybe you are an artist that specializes in "Bronze Statues from the American West." Whatever. I don't care. Whatever you do, whatever you want people to know about you, that's what they should see right when they land on your web page.
Make your statement interesting.
It's all well and good to set up your statements, but your statement should also be something that people are looking for – and the more specific the better.
Example:
"Watercolor Artist" vs. "I do drybrush paintings of Inspirational Folk Heroes."
Which is more interesting to you?
We spend a lot of time agonizing over what to write in our online dating profiles (well, maybe you do – I'm married). We carefully craft each sentence to make ourselves look attractive, and to hopefully ward off the weirdos.
Make your statement search engine friendly
Yes, Clint, I know. You're going to say that artists shouldn't worry about SEO. Okay, but they should at least worry about their Title tags. Generally speaking, your Title tags are the titles you give each page on your site. The search engines (like Google) like to read those titles to decide how relevant your site is to someone's search query.
There's a very simple way to decide what to title your Title tags (heh). Google's advertising program, Adwords, offers a free tool that shows you what people are typing in when they are looking for a particular item (I'm probably not going to go looking for watercolor art – but I might go looking for watercolors depicting folk heroes).
Don't spend too much time on this, especially if you are new to marketing your art online. It's just one step on your Web site that you can go back and improve later.
It's better to know now than find out later
Do you see how this filters out the people who visit your site? The ones who are interested in what you have to offer are further drawn in. Those who don't like what you do will know right away. Statements like these, coupled with quality pictures of your art, draw those who are interested into furthering their relationship with you.
Share your website statements below in the comments. How do you present yourself online?