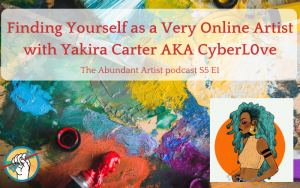 Welcome to season five, episode one of The Abundant Artist, the show that dispels the myth of the starving artist and shares how you can live an abundant life as an artist and make a living from your talent one interview at a time.
In this episode, Cory speaks with Yakira Carter AKA CyberL0ve. Yakira is an Atlanta, GA-based artist (that's soon to move to NYC) with influences from Kazuto Nakazawa, Akira, and Studio Ghibli films. Yakira's ethereal art comes to life both through digital and traditional mediums and mainly captures the beauty of women of color.
Yakira shares how she brings her art to life, how she has found success online, her goals and plans for the future, her process for creating art, and the influences that inform the decisions she makes as an artist.
In this episode:
[:36] Yakira's influences and the formative experiences that shaped her overall style and artistic aesthetic.
[3:22] How Yakira creates her work on a typical day.
[4:39] Does Yakira wait for inspiration to strike before painting?
[6:07] Is Yakira self-taught?
[6:55] Yakira's insights into why there is such a strong artistic presence and incredible booming black artist community in Atlanta, GA.
[9:02] Why did Yakira make the decision to leave Atlanta?
[11:37] The business side of Yakira's art: how she makes her money, markets herself, and receives projects and commissions.
[14:23] How Yakira has grown her instagram to 36k+ followers.
[18:57] What 'failing towards success' means to Yakira.
[20:05] What being an online artist means to Yakira, and how understanding internet culture plays into how Yakira presents herself as an artist and informs her art.
[26:09] How Yakira emulates a traditional style using digital mediums.
[28:47] Yakira reflects on her progress and shares what she is excited about regarding her career going forward.
[30:15] Why Yakira wants to move to NYC.
[31:10] A future goal of Yakira's: getting into galleries.
Mentioned in This Episode:
Yakira Carter AKA CyberL0ve
CyberL0ve Instagram
Spirited Away
Akira
Inuyasha
Ghost in the Shell
Kazuto Nakazawa
Studio Ghibli
Copic
Pigma Micron