Unfortunately for the thousands of hard-working artists hustling to make an income from their work, the art world is rife with scams. The good news is that the most prevalent scammers follow one of a few particular scripts or formulas, which you can easily protect yourself from once you learn how to recognize the signs.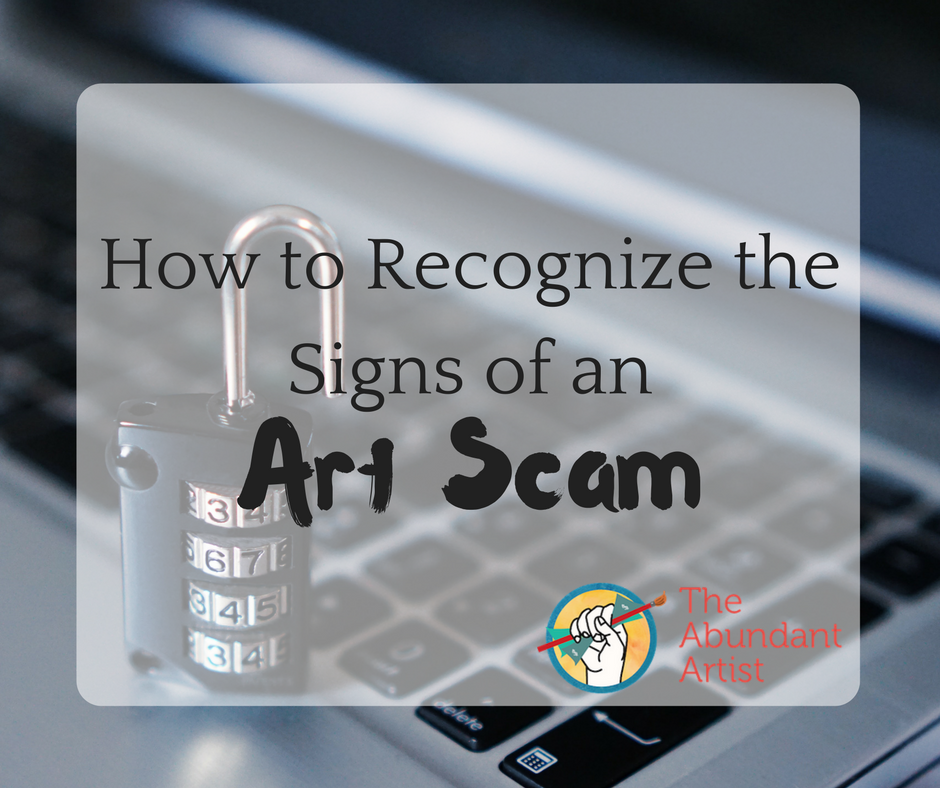 Red Flag #1: Non-Traditional Forms of Payment
One of the most common forms of scam is the cashier's check/money order overpayment scam. Hundreds of variants exist and are easy to find with a quick Google search. Essentially, the scammer will express interest in a piece of your art, and then offer to pay for it with a money order or cashier's check. The really good ones will provide you with a convincing excuse for why they can't pay with a more traditional method at the moment (i.e. I'm currently out of the country for work, I'm currently moving to a different country, I'm on a boat in international waters). They'll then ask you send a chunk of that money on to a 3rd party (see below) such as their personal "shipping agent". You'll then get notified that the money sent to you was in fact stolen funds… and you're now responsible for all of it.
In 2017 there are very few reasons why a legitimate collector cannot pay over the internet with a conventional credit card or with Paypal. If they seem to be legitimate but insist on using a non-traditional payment form, you can always offer to use an escrow service for everyone's peace of mind.
The easiest way to avoid this one is to perform all transactions through a shopping cart interface on your website. If someone emails you asking to purchase a piece, kindly direct them to your online shop.
Red Flag #2: Asking You to Send Some Money to a 3rd Party
In conjunction with the offer to pay via cashier's check or money order, a scammer will ask you to deposit the entirety of the check and then use a portion to pay their 3rd party shipping agent directly. Do not do this.
An easy way to avoid any confusion or potential for scamming is to state your shipping policies very clearly on your website. For example, you always ship via FedEx Ground, and the shipping cost is already clearly stated on the piece in question.
Red Flag #3: Suspicious Phrasing
Many email scams will read strangely, with odd and generic phrasing. Punctuation may show up in strange places.  The email may open with a conversational apology for not replying to a fictional email from you like "Hi there, sorry for not getting back to you sooner. I am very interested in the piece." It's intriguing- perhaps you had an exchange with a potential collector a while back and forgot about it?- and so you open the email.
The phrasing will often be very vague and generalized, i.e. "I think your artworks are very amazing." This is a pretty good indicator that they haven't even seen your work and are not actually interested in it.
Scammers will sometimes ask you to send them images of your work and then tell them a price. This is all information that should be displayed clearly on your website, so the solution is simply to direct them to your online shop or gallery.
Red Flag #4: Asking for Personal Information
Goes without saying, always bears repeating. A request for personal information is always, always a giant red flag. Do not give away social security numbers, bank account information, or your personal address. It can be tempting to jump through whatever hoops requested of you in order to get a sale, especially if it's an expensive piece. But once again- this is 2017. It is very, very easy to execute a secure transaction online without you ever having to provide your personal information to a potential collector.
What Can You Do About It?
Your best defense against scams is to use a solid shopping cart interface for all Internet transactions, refuse to accept non-traditional payment methods, and never, ever give away personal information on the Internet. Being scammed or even an unsuccessful attempt can feel incredibly frustrating and insulting, and it's normal to want to somehow "get back" at the scammer. Some people satisfy this urge by engaging with the scammer in order to "waste their time", but honestly  this is just a waste of your own valuable time. Your best response is to ignore it and move on, or possibly submit a complaint to the FTC using the link below.
Resources
Stop Art Scams– a blog by artist Kathleen McMahon that catalogues common art scams.
FTC Complaint Assistant– submit a scam complaint to the FTC.
Better Business Bureau– tips on avoiding art scams
Do you find yourself a frequent recipient of art scam attempts? Do you notice common tactics? Please share your experiences in the comments.