"We run OtherPeoplesPixels to make artists' lives easier, more connected, and to share the power of art online, because we believe deeply in the important of art and artists." Jenny Kendler, Artist & Co-Founder of OtherPeoplesPixels
In a world where technology is advancing at a dizzying pace every day, lapping even those of us who consider ourselves savvy, it's easy to feel overwhelmed by all of the options and information out there. To create a successful art business these days, you have to be online. We generally recommend building your own website versus relying on a third-party art sales site. Why? You get more control over your content and aren't at the mercy of an unfavorable commissions structure or a site shutting down. Creating your own website is the way to go, but this is often easier said than done. If you're a novice and only now getting up and running online, there's a helping hand reaching out to help simplify the process for you. Meet OtherPeoplesPixels (OPP).
An Overview of OPP
Fun Facts:
They're Early Adopters: OPP is one of the original artist-centric website service. They've been making websites happen for artists since 2005.
They're Artists: The OPP team is made up of artists so they're intimately acquainted with the concerns and frustrations that face creative folks who want to get online.
They Have a Heart of Gold: OPP employees work from home so they can be with their kids; the company pays for their health insurance 100-percent; they run a paperless office and save energy wherever they can; and donate a significant chunk of their income back to the arts community that supports them.
When OPP co-founder and artist Jenny Kendler graduated from art school a decade ago, there were no affordable or practical ways for artists to get their portfolios online. "I had a good sense of exactly what an artist needed: a clean, aesthetically simple site that wasn't too tech-y and would let the artwork be the focus," Jenny says. "As artists ourselves, we're constantly thinking about what artists need to best share and show their work online." She and her husband, Brian, decided to put their computer knowledge to good use and launch OPP.
Their work is driven by a deep commitment to 1) helping artists get exposure, 2) making web design and development easy for them, and 3) delivering great customer service. According to Jenny, "We think that exposure of the work to new people is key. There's room for everyone in a vibrant, flourishing art ecosystem; you just need to get your work in front of the right people! A well-designed, easy to update and navigate website can play a huge part in this."
Admittedly, OPP isn't for everyone. It doesn't have all of the fancy bells and whistles of other, more expensive or extensive offerings. But Jenny doesn't shirk when it comes to responding to criticism of her site, something that happened in a blog post back in 2011 asking for a moratorium on all OPP sites. Her response was thoughtful and got the point across. What they offer and what they do, they do well, and their audience loves and respects them for that.
Our Experience with OPP
If you don't know if OPP is the right service for you, a free 14-day trial service will help you get your feet wet. When the trial expires, you get the option to extend it 14 more days (a one time offer) or opt for one of their two monthly subscription offerings. The only difference between the standard subscription, $16 per month, and the multimedia, $26 per month, is that the latter gives you an option to host video and sound.
Admittedly, social media and building websites comes easily to me. I'm Generation Technology. My fingers feel more comfortable on a keyboard than wrapped around a pen. However, I believe OPP's simple interface is a quick study even for someone who is just getting comfortable with setting up a Facebook page. In under thirty minutes, I created a website, uploaded my first photo, and updated fonts and colors. Here's what it looks like: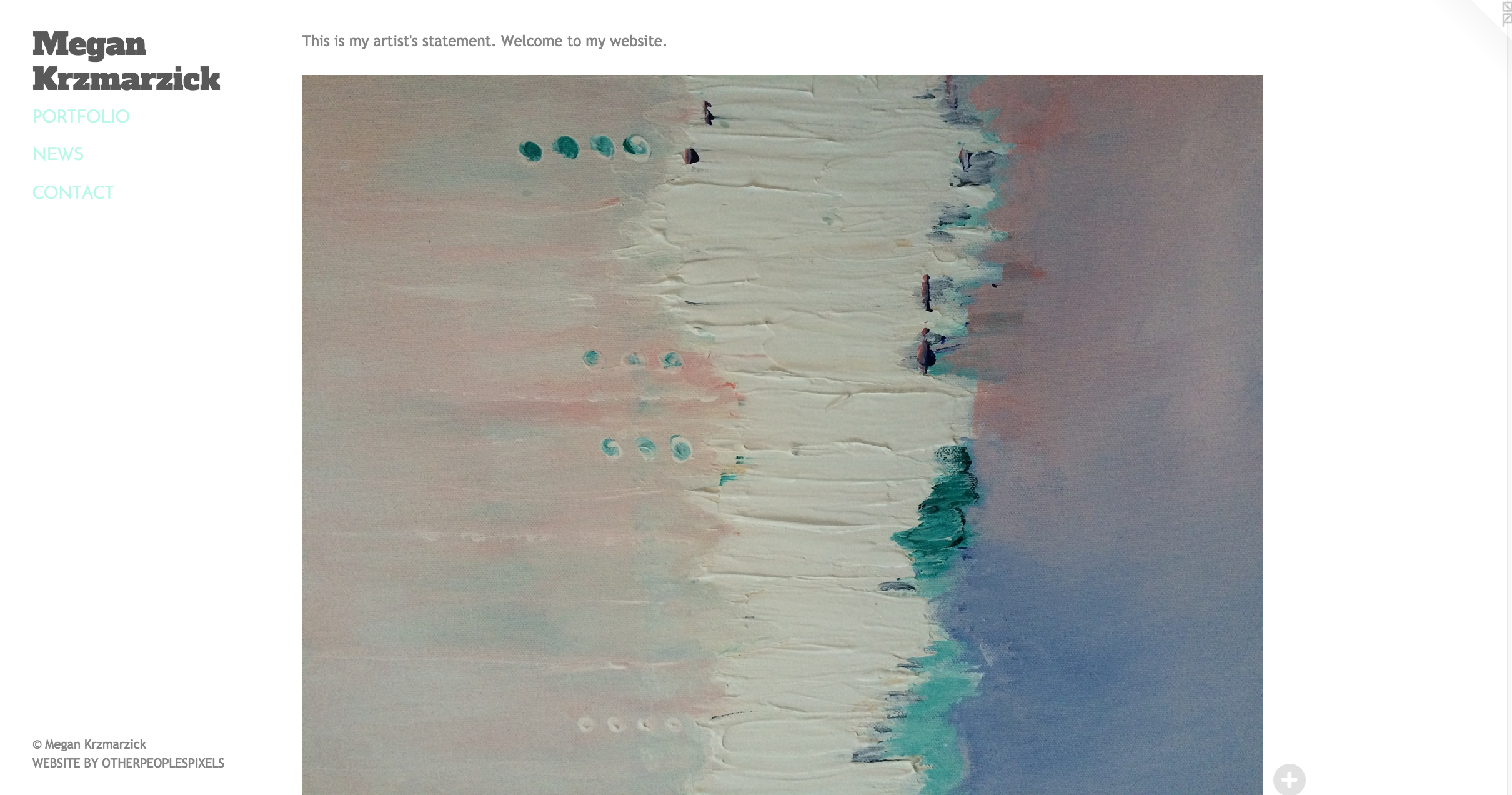 Once you've started your free trial, you'll get an email with a direct link to your "Control Center." From your "Control Center," you have complete and total control over the look and feel of your website; ability to upload a variety of multimedia showcasing your artwork and include information about each piece including prices; upload a PDF of your CSV; and add a "News" section that can feature information about an upcoming exhibit or photos showing your latest artwork-in-progress shot. According to Jenny, "We're dedicated 100-percent to artists, meaning that your Control Panel only has options completely tailored to artists such as adding an artist statement or organizing a gallery of artwork. You don't have to wade through a bunch of stuff you'll never need."
Here's what the Control Panel looks like: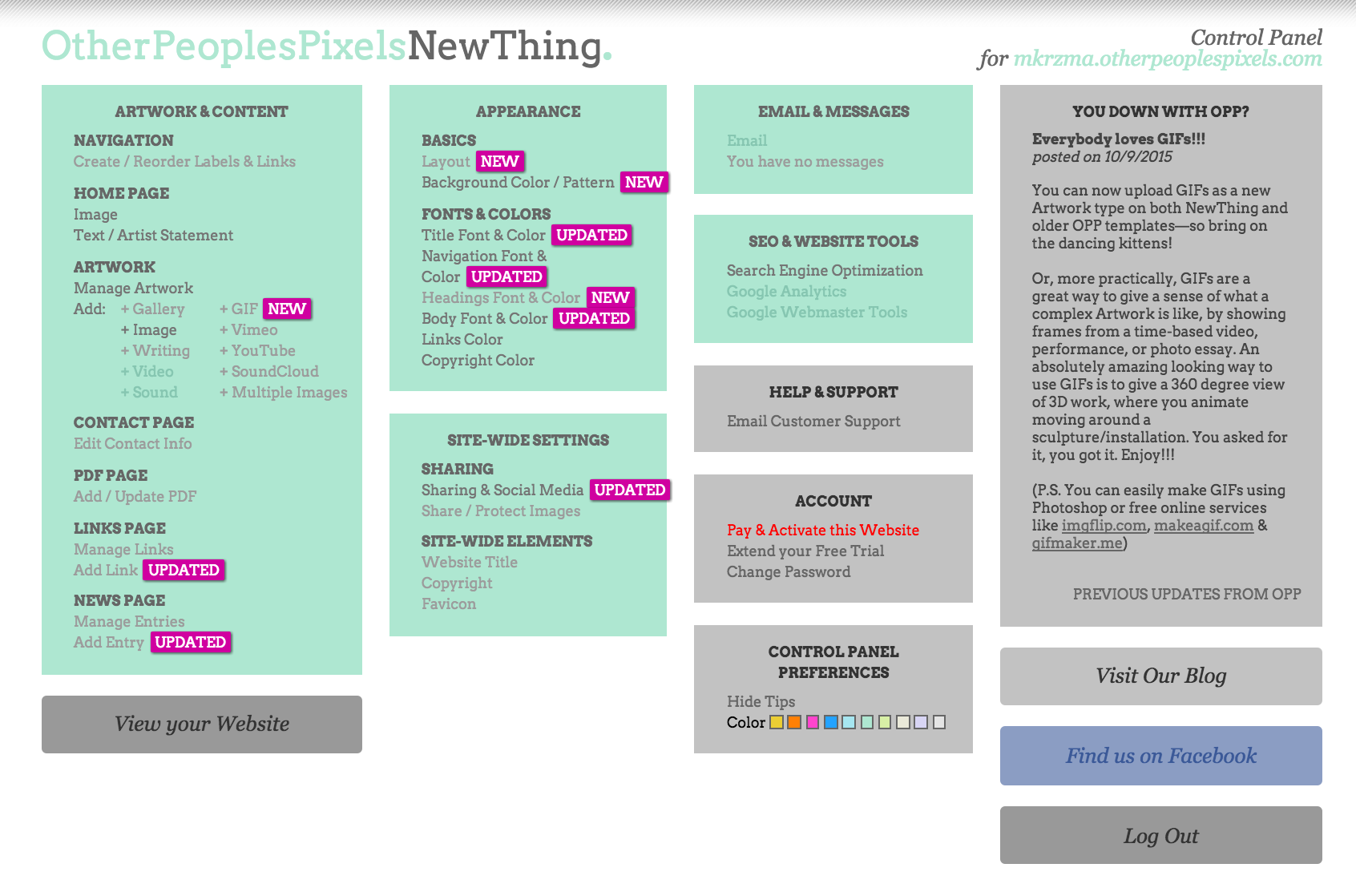 OPP gives you the option to sell your work online as well! You'll need a PayPal account to collect payment, and will be responsible for fulfillment. If you're concerned about search engine optimization, once you've activated your account you can hook it up with Google Analytics and Google Webmaster Tools. If that last bit of information scares you, forget I just said anything about it. You can jump into that game once your website's up and running.
A Few Final Thoughts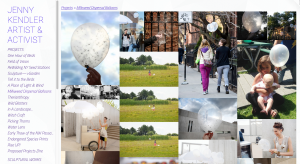 For artists with more advanced web design and development skills, there are other sites to fill your needs. OPP is for the beginner, the tech novice, or simply the artist who would rather focus more on their artwork than their website. It's a business run with heart and with a commitment not only to delivering a quality product but supporting artists and helping them tell their stories.
"It goes without saying that the Internet is an amazingly powerful way to share what you do with others. Collectors and galleries want to see where your work is online." Jenny says. "We're determined to be a model for a better way to run a business. We're grateful to have been successful with something that stated out as a small project for close friends. It feels like we're giving back to the creative community. It's just the right thing to do."
Jenny's an accomplished artist with an international presence. Her website? Built using OPP, of course. Practicing what you preach never looked so good.
Compare the Competition: OPP, FASO, & Artist Run Website
Curious how OPP stacks up to other artist run websites out there? Here's a handy chart that compares some of the key features and offerings of OPP and two other popular services like it. Keep an eye out in the coming weeks for our in-depth reviews of FASO and Artist Run Website.