UPDATE: This post is highly controversial – in fact, almost none of the reader of TAA like it, and I can certainly understand why! As an artist, you've worked hard for your training, and you have a passion to create. Certainly you hope that alone is valued at more than $5! I hope so too. I included this post because I thought it would generate good discussion, and I was right. Unfortunately, I failed to communicate that I think selling your art for $5 is not a great idea, and I don't think that any artist should do it for very long. See this post on What is the Value of Your Art?

Today's guest post is from, an artist, actress, and performer. While I don't think Fiverr is a great place to sell your masterpieces, I think beginning artists who haven't sold much yet could potentially use Fiverr to grow an audience base. I'd love to hear your thoughts on this in the comments.
By now, many people have heard about, used, or sold services on Fiverr.com. Fiverr.com is essentially a place where people can buy or sell services, products (called "gigs") online for $5. As you complete more "gigs" as a seller, and receive good feedback from buyers on your account overtime, there are ways Fiverr allows you to eventually sell your items for more than $5 as well.
I became successful as a seller on Fiverr pretty quickly. I'm an artist and a trained actor, and I happen to be very comfortable recording videos on camera, which I discovered was quite a "hot" skill to have on Fiverr. So, I created a gig where I record video testimonials and tutorials for people, businesses and products. And thus far I've received tons of orders.
As I began searching other sellers gigs, I found many other artists that were selling gigs and art on Fiverr. Of course at first I found a bunch of graphic designers, photographers, video editors…etc and others who could create digital forms of art.
However, this Christmas I discovered quite a few gigs by artists who weren't solely selling digital art.
Here's what happened: I had taken a picture on my iPhone that I wanted to print out and give as a gift to my friends, but I wanted to do something unique with the photo.
To me (even though I would NEVER claim to be a photographer), the photograph was actually quite beautiful…it almost looked like a painting. And that's when it dawned on me.
I logged in to Fiverr.com and searched for any gigs with the keyword "paint". Lo and behold, I found a few artists who could actually paint the photo, and then send me a digital scan or copy of the painting. I ordered one of the gigs immediately and sent my photograph. (see below)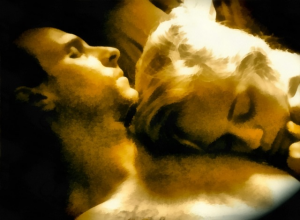 It was perfect, and my friends loved their christmas gift!
So… painters! You too can use Fiverr.com to sell YOUR art!
Example Fiverr Gigs to Inspire You
I will paint your picture of anything you want and send you an HD scan copy of it for $5
I will turn your photo to painting art, it will look like it was painted by an artist, from image to painting for $5
I will wet or dry paint your picture and send you an HD scan copy for $5
I will teach you how to start your own face painting business for $5
I will do a miniature painting of your dog from a photo you send me for $5 I will paint a watercolor portrait on watercolor paper for $5
I will put your face into a classic painting for $5
I will draw an impressionist style oil painting from your image for $5
As you can see, you can get really creative with what you offer in your gigs. They can be as broad or as specific as you want or need them to be.
Extra tips:
Do make sure that whatever you claim you will do on Fiverr doesn't take you five hours. It's just not worth it. This is where I would break the order specifications down and do only one portrait or small painting per $5. Anything over that, and the buyer would need to purchase a gig extra (once you're a higher "level" seller on Fiverr–a gig extra means you can charge more than $5) or just order multiple gigs from you.
The above tip also applies if you're wanting to sell paintings you've already created. You can set a price for them and have people buy them by ordering multiple gigs.
If someone would like a portrait painted live, perhaps you could utilize Skype in order to paint them. This would obviously mean you would need to be comfortable with this buyers and contact them ahead of time to make sure you can set up a time.
There you have it! Painters can earn money on Fiverr.com! To your success and spirit.