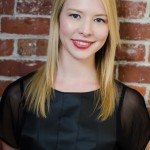 From Cory: I'm very excited to introduce you to Megan Krzmarzick, TAA's Communications Specialist. If you've been paying attention to our social media channels recently, or you've emailed our help email, you've probably seen Megan's name come up here and there. She's a total communication pro and is helping me with these things and more. Welcome Megan, and check out her first post on the blog below. 
I'm the proud owner of a master's degree in arts management and museum studies. A $60,000 piece of paper that took me two years and a lot of blood, sweat, and tears to earn that currently occupies a prominent place in my closet, stuck somewhere between my winter boots and a stack of old CDs.
When anyone asks me if I'd do it again, if I think they should go to grad school, my answer is usually an emphatic NO. It isn't because I'm not proud of what I accomplished, what I learned, and the great people I met. It's because of this: with student loan debt topping $1 trillion, and limited job prospects and low salaries in the arts field, there's a diminishing return on investment when it comes to getting a bachelor or master's degree in the arts. The average tuition (without room, board and art supplies) for a two-year program at a top fine arts school is $100,000.
And yet, in spite of that, applications to MFA programs such as creative writing have increased at a maddening rate, according to the New York Times, and thousands of students continue to graduate with a fine arts degree very year.
YOUR ADVICE 
We recently asked the TAA community on Facebook to give us the thumbs up or down on going to art school and why. Your 60+ comments were insightful and some were quite detailed. The topic obviously evoked strong emotion and opinions. Here's what I culled from the conversation:
Pros – Connections, Learning, Experience.
"…while those classes did not make me an artist, it contributed to the artist I am today. I leaned a lot thru those classes, thru my interactions with the professors and other students. It helped open my mind and bring inspiration at times where there was none. It enhanced some of the ideas and thoughts that I had." (

Pamela Sipe Tingle

)
"I took art classes in college. They helped a great deal and I learned a lot. I've also studied under other accomplished artists in art groups. Both have their place and value in the overall art experience." (

Teresa Bernard

)
"I LOVED art school, however, I think that lots of research should be done before attending. A lot depends on the goals and purposes of the potential student and the background, styles and temperaments (and ability to teach) of the faculty of the school." (

Kerry Hanks Marquis

)
Cons – Cost, Lack of Real-World Skills, Few Jobs.
"Go to business school…learn everything you can about being entrepreneurial…If you can take some art courses along the way even better, but unless you are successful at the business of selling yourself as an artist and selling your art it won't matter how great an artist you are." (

Robert Shinn

)
"I went to an art school that was part of a larger university and graduated with a BA in Fine Art. I personally could have spent my time better learning the actual business of becoming a professional artist, and become savvy with digital software packages. I learned more about my practice and the business from my own research, not a degree." (

Ashley Reid

)
"I think the idea of studying fine arts full time is a very romantic idea, but the cost is often too high for the skills you will have after." (

Jaymie Dylan

)
MY ADVICE
Okay, so you've already heard me say "No" to the idea of grad school. But to be fair, every case is really very unique and should be evaluated accordingly. Your experience is not going to be the same as mine. As you think about going to art school or pursuing an art degree, take the time to ask the right questions and do your research.
What are your goals? Why you want to go to art school? Is it for the experience, for your resume, or to help you build a portfolio? Is it to help you

legitimize your role as a professional artist

? Put your reasons down on paper and next to each, define why you think an art school or degree will help you achieve that goal.
How much? How much of a financial commitment are you looking at? Does the program you're researching offer funding and if so, what are the details? How many students do they fund each year? Look beyond tuition and factor in the total cost including room, board, books, and supplies.
How do you learn? Do you excel in busy classroom and lecture environments, or one-on-one sessions with teachers with more hands-on lessons? Do you prefer small class sizes or large? Depending on your answers, you may want to opt for a small, private art school versus a large state university.

 

Spelling this out will help you identify the best program for you.
Are there alternatives? Are there free or low-cost classes you could take at a local arts organization, or a network of artists you could join in your local area that will help you build the connections you crave? If you're good at self-study, you could also opt to pursue study through an online course as well.
Generally speaking, the merits of an arts program are founded on a rigorous learning environment, networking prospects, and helping students hone their artistic vision and develop a critical eye. If this is what you're looking for, a fine arts degree could be for you.
Have anything to add? Leave a comment or question below!