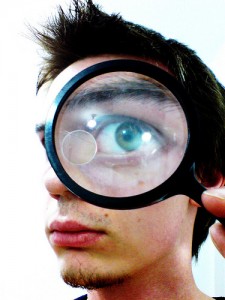 Image from Kapungo
Whatever fear is keeping you from talking to your customers and making your voice part of what's happening – Get Over It . Your customers don't care why you're afraid. All they see is that you don't want to talk to them.
That's what Lisa Barone and the rest of the team at Outspoken Media think. They are a search engine marketing company and this is what they are preaching to their business clients. Businesses are quickly finding that they are getting punk'd by social media because they aren't listening to the conversations that are going on around their brands and industries.
What about you? Do you know what people are saying about you and your work? Did you know that hundreds of people maintain blogs and public wish-lists that are full of things they want – then they share those wish lists on Facebook, Twitter, and other social media?
Set up a Google alert for your name. Set up an automated search on Twitter for whenever anyone mentions one of your pieces or your name. When people are talking about you, join in the conversation with a heart felt thank you and a "gosh, I'm flattered." Then throw in something extra to those people if they want to buy something from you (an extra card, print, or handwritten note goes a long way). Treat your online fans with the same adoration they treat you and they will take care of you.