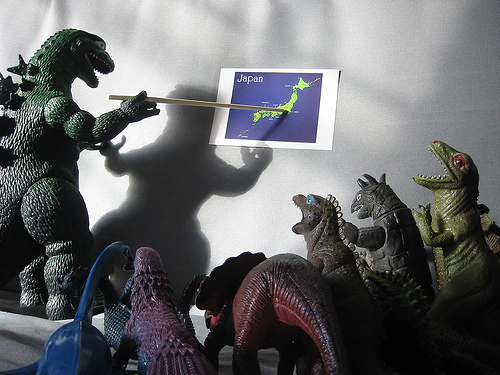 image by worldislandinfo
Some of the very best artists I have ever met were amazing teachers. They were artists who were absolutely consumed by the passion of what they do. I had a professor in college, Jerry Gardner, who was a brilliant physical actor. He had years of experience in ballet, Butoh, Commedia del'arte, mask performance, and a host of other talents. He was also a Buddhist Llama. In college we always joked about how one day we were going to walk into class and find him levitating above the floor in lotus position…but I digress.
One of the very first posts I wrote on this site was about how it's a misconception that artists who can't 'make it' go into teaching. That may be true to a certain extent, but it is just as true, from my experience, that the best teachers are often the best artists.
Why bring it up? Well, it's a pet peeve of mine, but that's not really why I'm bringing it up.
Here's the part where people start getting out their ugly-sticks (for the beatings). Teaching is a viable career – oh, I don't mean in the secondary school/university/junior college sense. I mean really teaching people, in the out-in-the-world, showing people how it's really done, give them some practical advice that will help them do something NOW kind of way.
I mean that there are artists out there who are absolutely amazing, and we can learn a ton from them – but they'll never be found in an academic setting. They're too busy creating and selling their work. They're too busy moving on to the next big project. They don't see any value in being a part of the academic system – a system that often fails its young artists.
Yesterday a friend of mine asked me how much business training artists get while they're in college. I told him none. That was my experience. Oh, sure, I got to meet some important people, and I got to learn how the system is supposed to work (do good work, meet an agent, get gigs, etc). I had to go outside of my college experience to learn the rest, though, and that's where the stuff that was actually commercially viable came. That's how I make a living.
To be sure, the value of the technique I learned was crucial – I wouldn't be where I'm at today without that technique. I needed more training though, especially on how artists who are actually making a living today, in our time. Harold Phillips should be teaching college – but he never will because he's too busy hustling. Natasha Westcoat should be teaching college – but she's too busy selling her work to all of her fans and driving free cars that Ford gives her.
So what do you think? Where should we be looking for teachers?