image by moufflets
In a blog post titled Art Malls, I called artists out for building other companies' businesses instead of their own. Too many artists are trying to sell art on rented property instead of owning their own store fronts.
If you're doing this, you look like an amateur. Period.
Now, in many instances, that's ok. If you're just getting started, you have to start somewhere.
But it doesn't take much to get your own website up and running.
The WordPress software is free, open source, and there are lots of tutorials around the Web to learn how to use WordPress effectively.
Quick note: WordPress.com vs. WordPress.org. WordPress is a software that is free to use. WordPress.com is run by Automattic and allows you to easily set up a free blog with Automattic's own stripped-down version of WordPress. What I'm talking about in this article is using the free WordPress software that can be downloaded at WordPress.org, or (more commonly) installed with a one-click tool at most common web hosting providers.
Why You Should Use WordPress
There are lots of software tools out there, but WordPress is the most common and (arguably) the best. Here's why you should use it for your artist website.
It's free. WordPress is open source software. That means that the people who made it did it because they believe in making awesome tools that do great things. Note: even though the software itself is free, you still have to pay for hosting. We talk about this in this webinar that explains hosting and this page that explains how to set up a basic artist website in 10 minutes with WordPress.
You have all the control. Since you're essentially building the website from scratch, you can make it look like anything you want. Below are some examples of great artist websites that are built with WordPress.
There's a lot of free help available. Because WordPress makes up about 20% of all websites, there are literally thousands of themes, templates, plugins and other tools that will make WordPress do just about anything you can imagine. We blog about it a lot here. You can Google just about any kind of WordPress problem and come up with an answer.
Artist Websites Built on WordPress
Below are some examples of Artist websites built on WordPress. They're really quite good, and took just a couple of hours to put together.
SarahStone.com – Sarah is an artist, set designer, and all around creative powerhouse. Her website was built by The Abundant Artist's Done for You Artist Website service, and created with the Divi theme (see our Divi tutorial & review).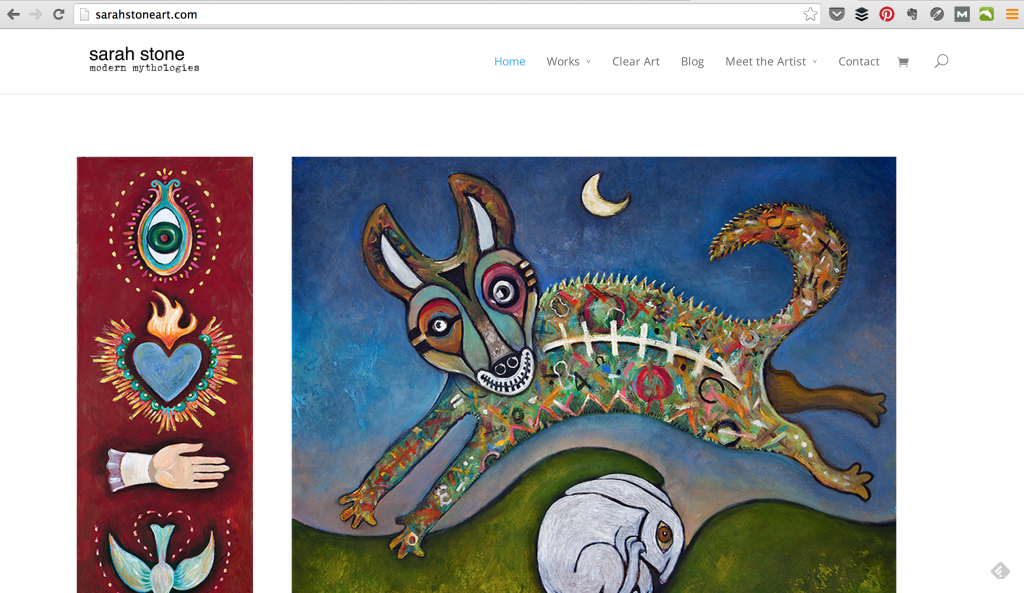 Jolie Guillebeau's website is fun, unique, and full of her daily stories.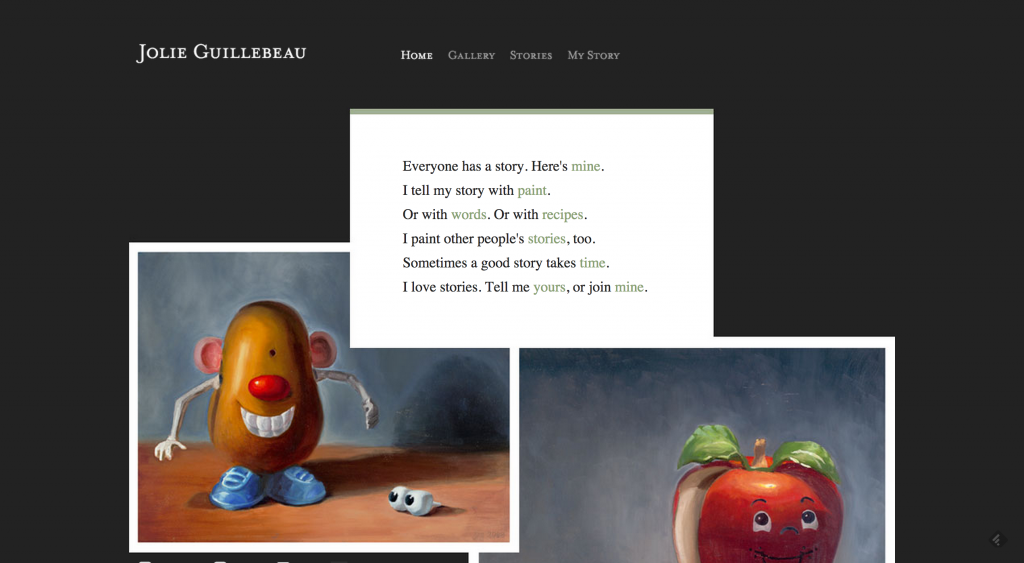 Kelly Rae Roberts is a very successful artist with hundreds of thousands of fans. Her website is built on WordPress with a custom theme built by a professional web developer. Kelly sells art, licensed products, ecourses,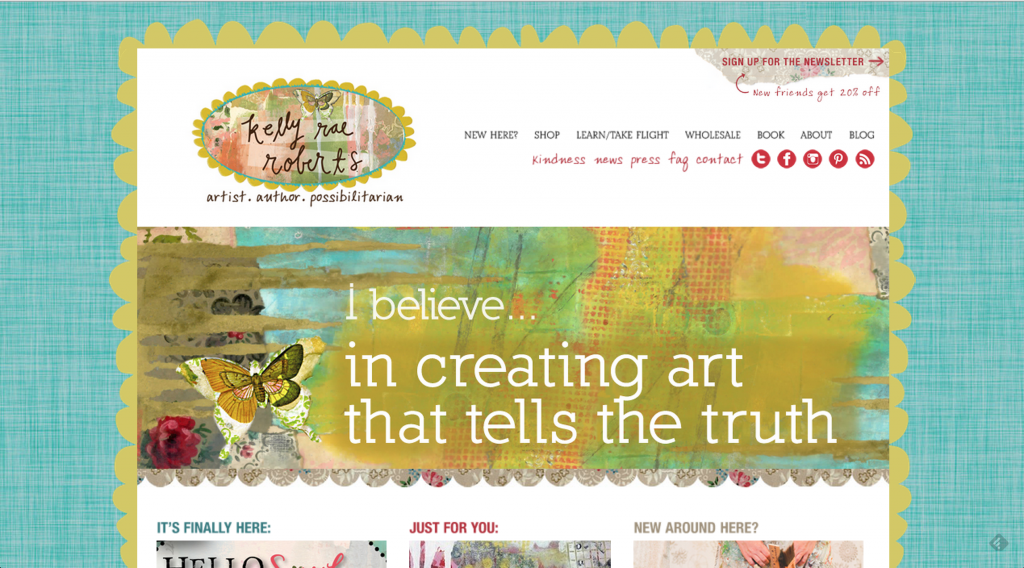 Why Don't More Artists Use WordPress?
As far as I can tell, the reasons artists have not widely adopted WordPress are the following:
They're not aware of it. Most artists don't spend a ton of time in the online world – well, probably not as much as me, at least, and may not have heard of WordPress. The thing is, hundreds of organizations from the very small to large companies like Wired, eBay, and CNN use WordPress.
They think it's too complicated. WordPress is easy to use. In this video, I show you how to get your artist website up and running in 10 minutes. It might take you as long as an hour.
Displaying images. Personally, I'm a big fan of using ecommerce plugins to display your images because you can add Buy Now buttons right along with your images. Woocommerce is a free plugin you can use to set up your ecommerce. There's also the popular NexGen Gallery which will create a gallery for your images.
No time/Laziness. Some artists are legitimately busy with making and selling their art and don't have time to learn how to build a site. If you need someone to build the site for you, check out the Done for You Artist Website special that I'm offering. I have a waiting list for new clients, but I'm happy to talk to you about your project.
The major challenges with WordPress are load times and security. WordPress has notoriously slow load times if you don't optimize your site and pay for good web hosting. Many artists opt to pay for cheap hosting through Bluehost, which is great for getting started, but not so great for a high-performing website that lots of customers use regularly.
Regarding WordPress' notorious security challenges: it's not that WordPress itself is inherently less secure than other websites. It's not. But it's a popular target because WordPress makes up about 20% of all websites. WordPress can be secured if you simply take advantage of security plugins like Sucuri or use a web host that manages security like WebSynthesis (which is what TAA uses).
So, if you aren't using WordPress for your artist website, why not?