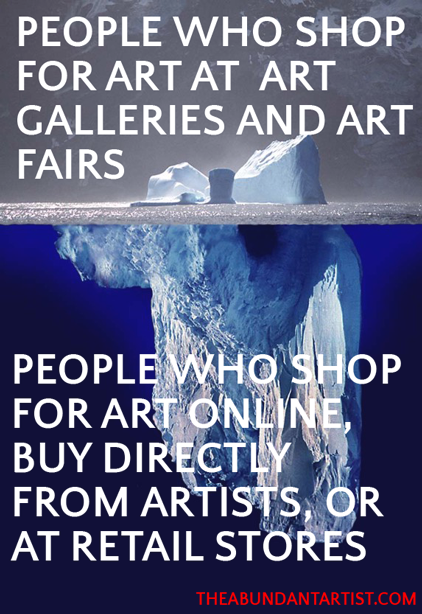 Over the last two weeks, I've been emphasizing that successful artists from big names like Picasso to more modestly successful artists have a community around them.
Let's talk about how certain people take advantage of this need for outside help, and why artists need to stick together to tip the balance of power back in favor of the artist. 
The art world has almost exclusively paid attention to the artists in the Blue Chip galleries, and they work together to make sure that the artists who get attention are only the artists in their galleries. They sponsor shows at the major museums where they are also donors. They develop relationships with the press that ensure that their artists are the ones that get written up by the major reviewers. Of the major art magazines, only a handful write about any artist outside the 10 largest metro areas.
But those artists in the blue chip galleries represent just a tiny fraction of all of the artists out there. The art industry calls those outsiders the "lower art market" because they don't sell art for hundreds of thousands of dollars. But the lower art market is enormous. In 2016, over $45 billion of art was sold worldwide , and just $25 billion of that was the big galleries and auction houses. Everything else was the lower art market. That's $20 billion that the art world is pretty much ignoring. Those sales don't end up in the press, and when they do, its usually just a local newspaper or small magazine.
But where are those sales coming from? They are coming from the artist entrepreneurs. The individual artists who have decided that they would take control of their own destinies and learn how to run a business. They are artists who are making a living from their art on their own terms, without being told what to do by rich dealers who demand obeisance.
The point is that the numbers actually look really good for a new movement in the fine art world. The Internet has enabled once-ignored groups to band together and create change. People WANT to connect with artists who are making beautiful, creative, interesting, or challenging art. With so much mass commercialization happening, people WANT to have something original and handmade in their home.
And here's the really devastating thing. Despite the fact that since 2007, over 25% of all art galleries have gone out of business, they're not adapting. In 2016, a quarter of all galleries had no plans to adapt to the Internet. They're either willfully blind, or they're not paying attention. In 2016, more retail businesses went out of business than in the 2008 financial crisis, but at the same time, ecommerce grew by $40 billion.
The art world is not working to help artists. They're working to make money for themselves. 
ONE SOLUTION TO THIS PROBLEM
One of the reasons that the art market is the way that it is right now is that the art galleries have a strong incentive to keep it that way. They're making a lot of money doing it this way. They de-emphasize other ways of selling, even to the point of threatening artists who want to do it on their own.
Another reason is that artists aren't doing a good job of pushing back against this structure. There are a handful of artists who refuse to operate inside the gallery system. Hazel Dooney and Shirley Williams both left the gallery world, and their personal profits went up while their stress level and expenses went down. Gwenn Seemel and Owen Garratt never entered the gallery world in the first place.
There are actually lots of artists like this out there. We've interviewed and highlighted many of them.
But very few art magazines or art writers want to talk about this because it breaks the narrative.
TAA's proposed solution to this problem is to join independent artists together to create a unified voice in the art world. One that supports artists who fully intend to make a living from their art. That's what The Abundant Artist Association is all about.
We've created an organization that provides:
business training for artists in a way that is relevant powerful

a community that is exclusive to professional artists

discounts on group health insurance and legal help

advocacy with large organizations and governments on behalf of artists
Early enrollment bonuses end August 8 (that's tomorrow). We would love to see you in there. Click the arrow or here to learn more.