One of the most common questions artists ask is how in the world to price their art. The good news is that it doesn't have to be complicated. You'll need to do some initial research to establish where your art sits in the market- what are other artists of similar experience and skill selling their work for? Once you've got an idea of what other artists with comparable art are doing, remember these five art pricing rules to ensure that your collectors aren't confused, and that you're actually making a good profit on your work and being paid what you deserve.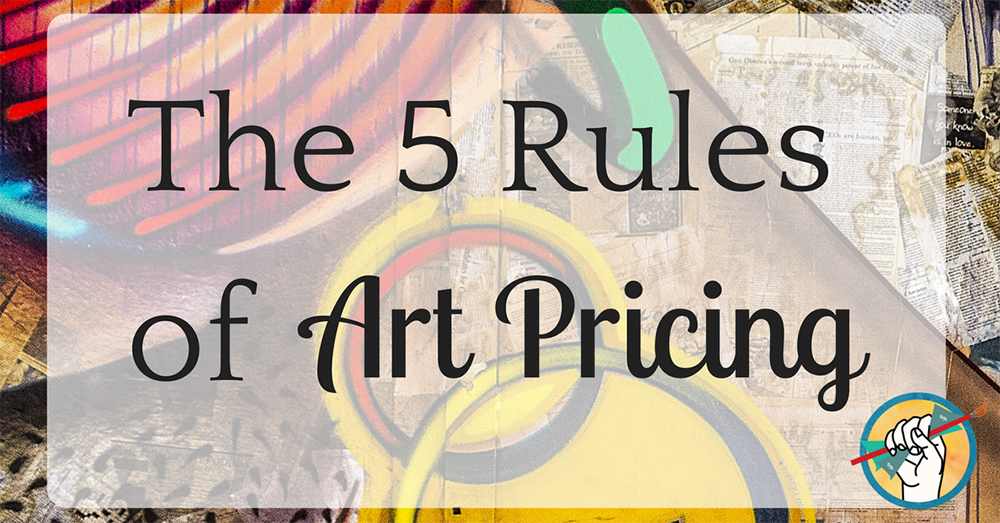 Choose a formula that works and stick to it.
Among the most common pricing formulas are linear inch or square inch pricing. In other words, you charge a set dollar amount per square inch (that's the length times the width of your piece), or a set dollar amount per linear inch (that's the length plus the width of your piece).
There is no right or wrong method; choose what works for you, and stick with it across every piece you create. Then, when you're ready to increase your prices, it will be straightforward and easy for both you and your collectors to understand. Read Help! How Do I Price My Paintings? for a helpful breakdown of various pricing formulas with examples.
Never fluctuate your pricing.
What this means is maintain your prices until you raise them for good. Don't lower your prices for an outdoor art fair and then raise them back up for a gallery show. This is unprofessional and can be be harmful for gallery relationships.
Maintain consistent prices across sales channels.
You should be selling your work on your website for the same price that you sell it in a gallery, the same price that you sell it at art fairs, and the same price that you sell it at an informal private showing. As in the previous point, consistency is professional, and potential collectors will come to understand what they should expect. They will be more likely to buy your art if they recognize consistency and aren't worried that they might be missing out on a deal through a different sales channel that they aren't aware of.
Your originals should sell for many times the price of your prints.
If you're selling prints, don't price them too low. You want to be sure that not only does your price cover the cost of the print itself, but that you make a nice profit. Along with this, the price of your prints should make sense alongside the price of your originals.
Going back to the notion of clear pricing that doesn't confuse potential collectors, prints that are priced too closely to originals will confuse collectors about the value of your work, and may make it less likely that you will sell either.
Never undercharge- and don't be afraid to raise your prices.
This one can be tough to swallow, especially for artists early in their careers, and those struggling with confidence. Do some market research and see what other artists of a similar skill level and style are charging for their work, and don't be afraid to charge a similar amount. Similarly, as demand for your work grows over time and you grow in your career, don't be afraid to raise your prices. Your work is likely more valuable than you think it is!
Experienced artists willing to share their expertise can be a treasure trove of good advice and can help you avoid making some of the same mistakes that they made early in their careers. One such example is Melissa Dinwiddie, who has written some excellent guest blogs for us including 5 Art Pricing Lessons I Learned the Hard Way. Check it out and learn from her wisdom!
Building your art business is a hustle, to be sure. But a final note to keep in mind is this: if you are booking shows, moving work consistently, and feeling constantly busy but not seeing the income you want to see, there's a great chance that you need to raise your prices. Don't be afraid to do the math to ensure that you're able to make a living from your hustle. You're worth it!