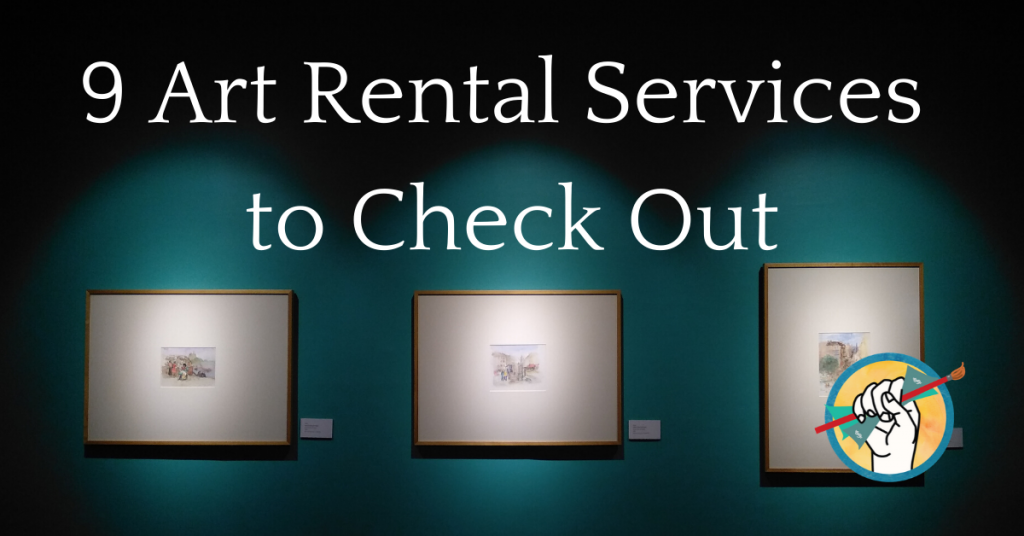 (note: this blog post originally contained more services, but consolidation and downturns in the market forced some of them out of business)
The art rental scene is an easy way for collectors, businesses, and regular art lovers alike to enjoy fresh contemporary art without the commitment of purchasing (until they're sure they love it). There are a few different art rental models out there that cater to different clientele and different needs.
For an artist with an extensive inventory of original works, signing up with an art rental company can be a way to earn continuous passive income and find new buyers. Some art rental services even offer representation, although this means that in general they are more selective than, say, print-on-demand websites. We looked into 9 different art rental services — some are limited to a certain geographic region, but several are available to artists from anywhere around the world.
IPaintMyMind is a 501(c)(3) non-profit dedicated to increasing the public's exposure to art as well as supporting artists. In addition to their art rental services they run an online arts publication and a gallery in Chicago. Their art rental service, Shared Walls, assigns curators to assess the client's space, help them choose art, and install it, rotating in new art every six months. Clients have the option to purchase art they've fallen in love with.
The art collection at IPaintMyMind is focused on illustration, collage, mixed media, and photography screen prints and giclees. They provide supportive services to approved artists and try to work them into their various arts programs and services, not just art rentals.
Overall Impression: This is speculation, but as the only non-profit on the list, approved artists may have a very arts-friendly if somewhat less lucrative experience. The company offers more than just art rentals and they endeavor to involve their artists in multiple projects. The goal is support of the arts and artists trying to make a living. The website doesn't specify that artists must be local to Chicago, but keep in mind that that's where the company and gallery is headquartered.
Rise Art is a UK-based company that offers art rentals for businesses and residences. Renters earn credits towards the eventual purchase of original art. The ultimate goal of the Rise Art rental program is to connect clients with work that they will want to purchase.
In order for your artwork to be featured on Rise Art, it will have to be approved first by the Rise Art community (via "follows" and "favorites" of art you have submitted) and then by the Rise Art Insiders, a board of independent art experts who curate the art that appears on the site for sale and rent. Any art you submit must be original art that has not been previously reproduced for commercial purposes. Rise Art artists will earn 50% of monthly rental fees, and 60% of the sale price if a piece sells.
Overall Impression: The submission process is pretty selective, but if you don't want to wait for your art to gain the "follows" necessary to get in front of the Board, you can pay a fee to fast-track your submission. The site claims that all artists are considered equally whether they are voted in or pay to fast-track their portfolio, but I would just consider this a pay-to-submit and skip the community approval process if you're serious about getting into renting your art quickly. Commission on originals is low compared to other art sales sites.
TurningArt provides art rentals for businesses and residences, catering in particular to the real estate business, as well as sales of originals. They also provide print-on-demand services. Artists must register for an account and then apply to sell/rent their art on the site.
Artists earn royalties on art that's rented out, and earn a commission on print sales (the site takes care of all printing and shipping) and sales of originals.
TurningArt does not maintain inventory of original works, so artists submit high-res photos of their work and ship them only if they are purchased or rented (TurningArt provides shipping assistance). The artist dashboard includes helpful analytics and features a referral program that rewards you for getting your friends involved.
Overall Impression: Although the selectiveness of the approval process is unclear from the website, this may be a good choice for an artist dipping their toes into the art rental waters since there is also the option to sell prints. No fees is a perk, and they are extremely helpful about assisting you with packing and shipping your art.
Like many other art rental services, GetArtUp provides renters with credits towards the eventual purchase of original art. The company provides curator assistance upon request but it doesn't come standard with rental; customers simply check out on the website and the art is shipped to them. Various subscription plans are available.
Artists featured on GetArtUp are hand selected, and typically must have an MFA or other formal art training (or currently be graduate students) and display continuity in their body of work. Artists receive a portion of rental and sales earnings.
Send a submission email to be considered (check the "I am an artist" box).
Overall Impression: This is a great option to look into for art school grads and soon-to-be grads. This is not an option available for those with only an undergraduate art degree or who are self-taught. This site feels a little more firmly set in the 21st-century with the ability to complete a rental or purchase online from start-to-finish.
Hang Art offers art rentals for residences and all kinds of businesses including restaurants and hospitality, corporate and small offices and stage & film productions. At the end of a rental term 50% of the rental fee is applied towards purchase of the work. Hang Art is limited to San Francisco Bay artists only, and accepts only paintings, drawing, and sculptures. Hang Art offers exclusive representation for chosen artists.
Overall Impression: If you are in the applicable regional area, your art fits into the acceptable categories, and you're interested in exclusive representation, why not give it a shot?
Art Dimensions Online is limited to artists in the Los Angeles area, and provides art leasing and shorter-term rentals for residences, business, and stage & film productions. They offer a lease-to-own program, and also offer giclee prints for sale.
Overall Impression: There is little information available for prospective artists on the website. Artists are limited to the Los Angeles area. They receive a high volume of submissions, so don't expect a quick reply.
Film Art LA offers rentals of original artwork exclusively for film productions. All work available for rent is also licensed to create digital reproductions should the client need a different size. Check out the extensive list of films that artwork has appeared in: http://www.filmartla.com/about/
To submit email a website link.
Overall Impression: Worth a try, but there's little information available on the site about a submitting artist's chances of acceptance or what commissions/fees are involved.