If you're intimidated by the idea of applying for art grants, you're not alone. Long applications and complex criteria can make even the seasoned professional artist shy away. But dipping your toes into the water could pay off in a big way: the average cash amount among the 25 grants included in our list is just over $5,000.
Art grants fall into one of three broad categories. The first is for general business development and growth, in which the grant is awarded to an artist for the purpose of growing their overall art business through a variety of means, sometimes including a mentorship or "incubator" program in addition to a cash award.
The second type of grant is project development. These grants generally provide funds to research, develop, and complete a specific project such as a show, installation, or particular series or collection of works. These grants are often awarded to artists working in various modes of activism or works with a high level of benefit to the community.
The third category is unrestricted funds. Professional and project-development based grants typically cannot be used for immediate financial needs like rent, but unrestricted funds take the shape of a simple no-strings-attached cash award. A few require the artist to demonstrate immediate financial need, while others are simply awarded to artists excelling in their field.
In compiling this list, we've made an effort to include mostly nationwide grants that accept applications from artists anywhere in the United States. See our tips below for how to search for grants that are specific to your region.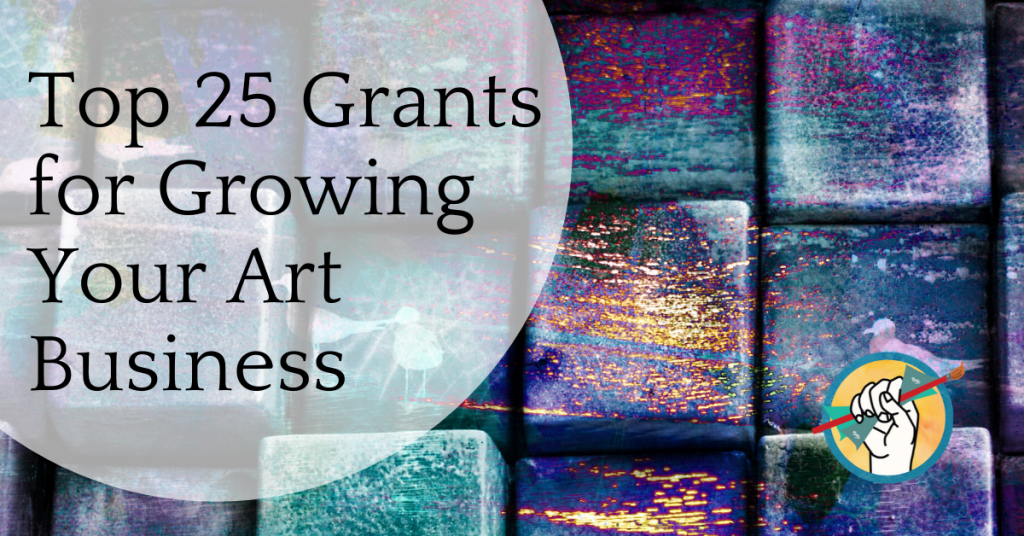 Once you've found a few grants you're interested in applying for, check out this guest post from professional arts grant writer Claire Willett: How to Write Grants for Your Art Business.
Top Professional Development Grants for Artists: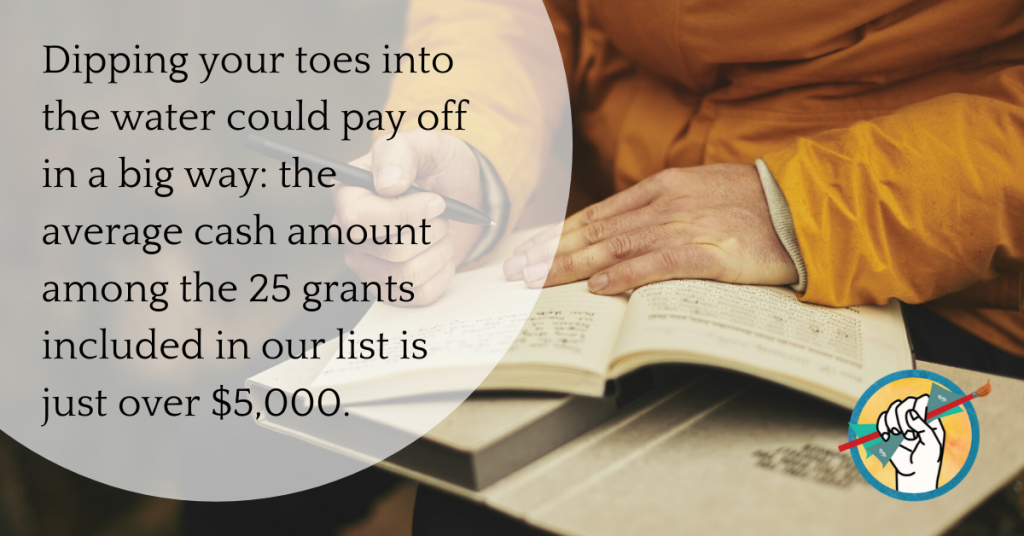 Top Project Development Grants for Artists:
Top Unrestricted Grants for Artists
How do I research art grants?
Our extensive list only scratches the surface of the grants available to artists all over the world. The catch is that many grants have very restrictive criteria. If you attempt a Google search, rather than simply searching "artist grants" try adding your city, region, and state in separate searches to narrow it down. You can also try these search terms to get better, more specific results:
"artist grants + (medium)"
"artist grants + (art subject)"
"artist grants + (emerging or mature artist)"
Making a list of all the unique descriptors that apply to your art and to you as an artist can be helpful for deciding on search terms. There are many grants available for minority artists as well as those engaged in various types of activism, so if that describes you be sure to include those details in your search criteria so you don't miss out on available opportunities.
If you are looking for a grant for a group or organization project, include that in your search term. Otherwise, searching "individual artist grant" will help to eliminate group grants that don't apply to you.
Grant applications can be long, involved processes with multiple steps over many months. Try searching for grants for the next calendar year in order to find larger grants currently accepting new applications.
If you are searching for a specific grant from among the three criteria we identified: professional development, project development, or unrestricted (or emergency), be sure to include those terms in your search as well.
Have you ever been awarded a grant for your art business? What kind of difference did it make for you? We've love to hear from you in the comments.
Give yourself the best possible chance by learning how to excel at grant applications- check out our post How to Write Grants for Your Art Project.