Two years ago, lifelong artist Chelsea Lang was working a full-time job in marketing and driving an old Honda. When she decided to pursue selling her work more seriously in 2018, she had only ever sold a very occasional commission to family and friends. Today, Chelsea is the owner of a brand-new Tesla, has quit her day job and is on track to make over six figures this year. What changed?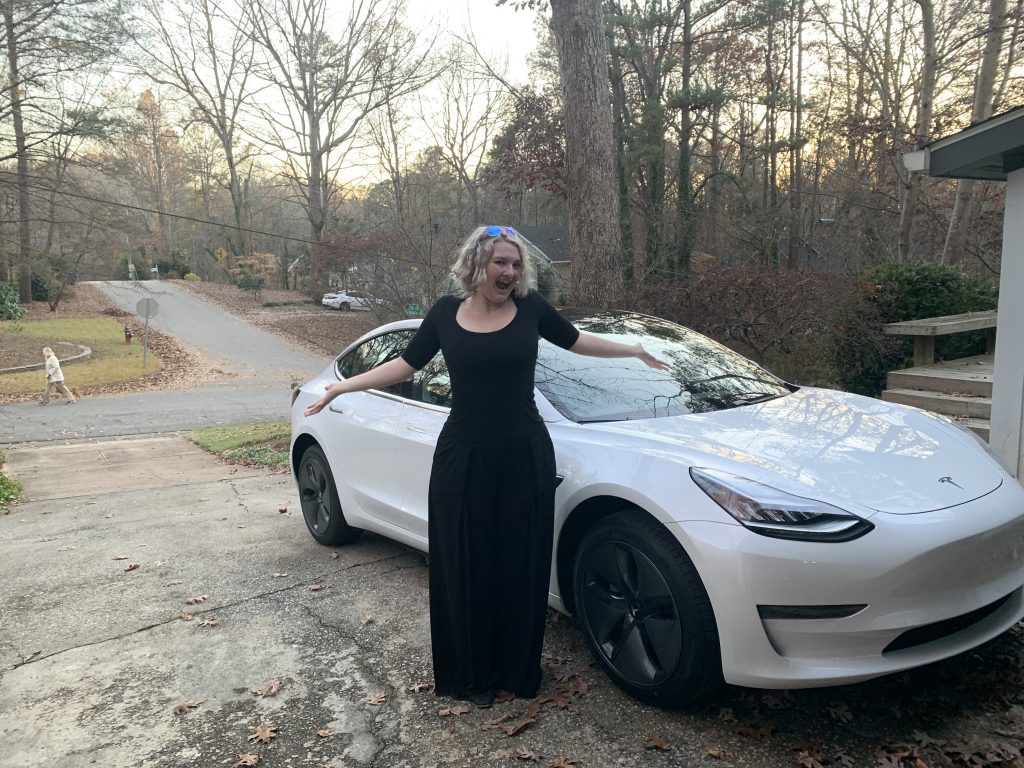 Chelsea sat down with us to share her journey and how The Abundant Artist enabled her to reach wildly improbable goals.
Art was always a part of Chelsea's life; she made her first oil painting with the help of a relative at age three! But for many years she believed the myth of the starving artist. She languished under the assumption that to make a living from her art (and not to seriously struggle like all the fine artists she knew seemed to be doing) would require her to redirect her passion for traditional portraiture into concept art or illustrating. But Chelsea found that the repetitive and imaginative iterating of concept design was far outside her realm of interest, and she balked at trying so hard to force herself into a mold that she clearly didn't fit into.
"I realized…  there was no dream illustration job or no dream concept art job for me. I have to do the thing that's scary and try to figure out how to be a fine artist." – Chelsea Lang
Once she decided to stop fighting her natural  inclinations and instead attempt to make a go of it, she had her first pop up show as part of an art walk in September of 2017. She casually invited friends and family via social media, and made a couple of sales throughout the day. But what truly vaulted Chelsea over the moon was a tattoo artist who fell in love with one of Chelsea's pieces, borrowing money from her father on the spot in order to place a down payment on the piece. She was touched that someone who didn't know her at all could love her work enough to borrow money to buy it, and she realized that perhaps it was possible to sell her fine art for a living.
Having closed the pop up with $1,000 in sales, Chelsea barrelled forward, taking the How to Sell Your Art Online courses and making slow but steady momentum in her art business. Although she was very new to selling her art in a serious manner, she knew immediately that she was in need of a more consistent and personalized push than the self-study courses would provide her, and she requested to join a TAA Mastermind group.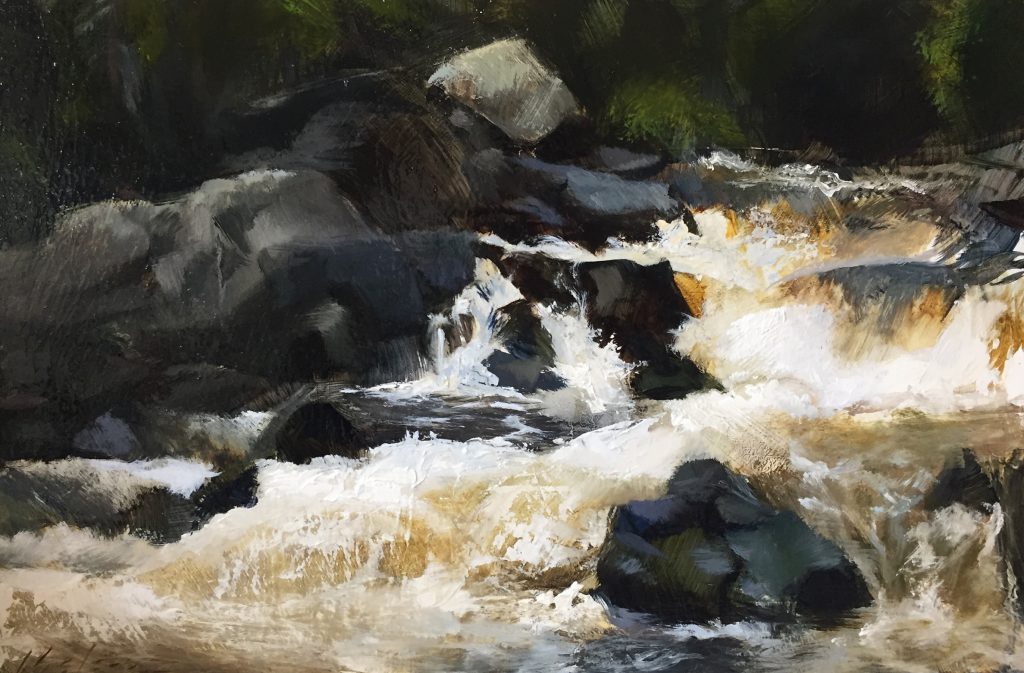 By the summer of 2019, Chelsea had hit a wall in her day job. Although she loved her boss, her heart was restless and the stress of the work was complicating her efforts to focus on growing her art business after hours. As she expressed her discontent to her Mastermind group and the reservations of her well-meaning loved ones who were concerned about her quitting her day job, the group encouraged her to run the numbers. How much she would need to make by the end of the year in order to pursue her art full time?
"Last year my therapist introduced me to wildly improbable goals: the idea of a goal that when you hear it, you think 'That sounds crazy and I have no idea how the hell I could possibly do it, but I know I'm going to do it.' I had this wildly improbable goal at the beginning of 2019 which was to make $30,000 off my art." – Chelsea Lang
Although every month of 2019 wasn't a big win due to the stress of her day job, Chelsea was putting what she had learned from the HTSYAO courses into practice with the steady and focused encouragement of the Mastermind group. She picked up a series of commissions that enabled her to reach her audacious goal by the end of the year… as well as another goal that had most people looking at her funny:
"(In one of our Mastermind meetings) we talked about goals that we could reward ourselves with for crossing a certain threshold. It dawned on me that  I want to be able to afford a Tesla! The plan was maybe this time next year I could have saved up for it, and it just so happened that a couple months before taking the leap (to quit my day job) my little Honda had some issues. It was $1,600 of repairs on a $2,000 car. I thought alright, we've hit that threshold. The car is costing more than it's worth." – Chelsea Lang
After a week of mulling it over and talking to friends who encouraged her, she figured out how to make it work. Chelsea noted that the large purchase encouraged her to hustle even harder. Although her financial planner was reticent to rejoice as excitedly as Chelsea was, she has marched determinedly toward larger goals that dwarf the extra monthly car payment.
At the end of the year, Chelsea's largest wildly improbable goal of all came to fruition when she made the call to quit her day job. Chelsea acknowledges that her rapid-fire vault to full-time artist is not the norm, but that it shows what is possible when one is motivated by the lack of an extra income from a spouse or any other financial safety net:
"I'm the extreme because most other people I know who have made the leap have a spouse or some other safety net. Part of the reason I could do it so fast? I don't have someone else's income supporting me. I have to make enough to cover my mortgage, to buy health insurance. I don't think I would have done it as quickly. There would have been some complacency if I thought that I could rest on my laurels at all." -Chelsea Lang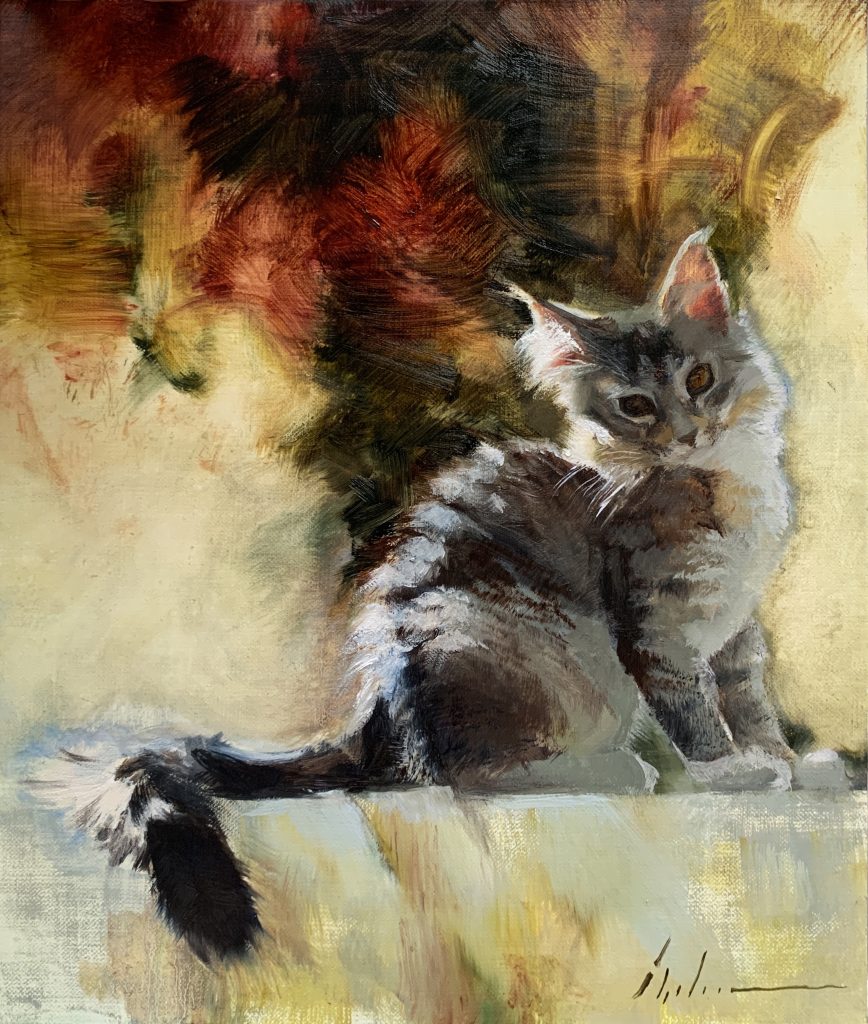 As of early 2020, Chelsea's business model is primarily in selling 11×14 portrait commissions at the $1,250 level, and she is moving upward toward commissions at a higher price point. Through the lean and abundant months and reaching milestones that in her past she would have thought entirely out of reach, Chelsea has realized that art and marketing are two entirely different skill sets:
"I think the interesting thing about all of this that I've really had to come to terms with is so many artists think if you build it they will come, and if the quality of work is enough people will pay you want you want to be paid. In reality they are completely different skill sets, and for artists who already make excellent work that can be disappointing news. But I think for artists who still know that there's a long road ahead of them in terms of their artistic growth, there's no reason that has to slow you down. There's no reason you can't make an amazing living right now and get paid well to keep furthering your craft. I think that's what excited me most about this. I'm proud of my work, I also can't imagine how great my work will look in 10 years, and the fact that I get paid to go on that journey… I'm incredibly fortunate." – Chelsea Lang
If Chelsea's story is exciting and inspiring, sign up for How to Sell Your Art Online 101 now to join a cohort of artists in learning how to tell your story, sell your art, and start reaching your own wildly improbable goals. 
You can learn more about Chelsea at ChelseaLang.com, or subscribe to her Youtube channel.