Image via Ledbetter Architect
What's the best place for artists to live? New York is too expensive. The traffic in Los Angeles is terrible. But what do you do if you are an actor, a dancer, or a painter and you want to make your mark?
Move to Paducah.
What's that, you say? Where is Paducah? It's in Kentucky. Why should you move there? Because they'll bribe you.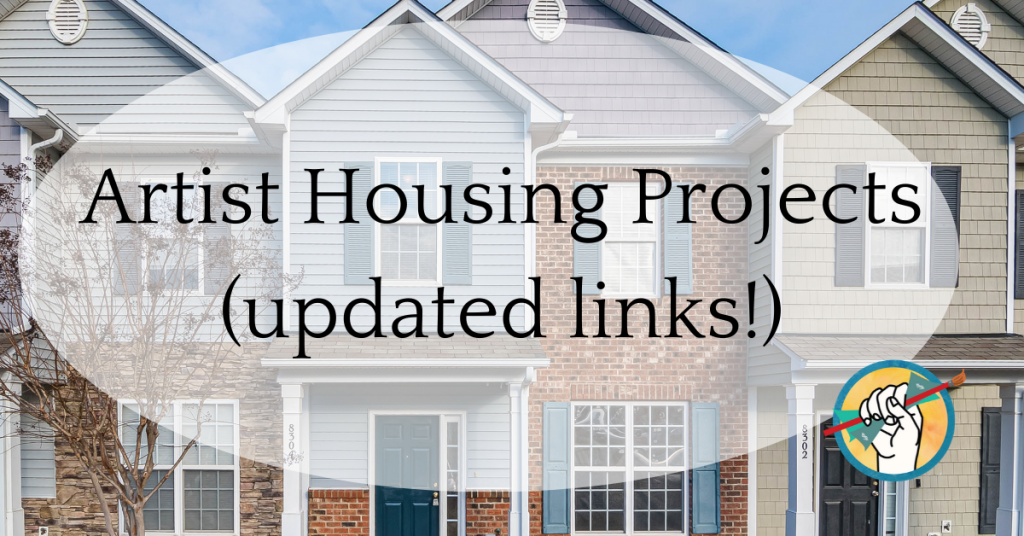 Artist Housing Projects
In 2000, the leaders of Paducah got together to figure out how to improve the image of their town. They wanted to revitalize the community. The solution? Invite artists to move to the city — an artist relocation program. Nine years and over $6 Million in investments later Paducah has become an artist haven and a model for how other communities can build their own artist communities.
"The Artist Relocation Program is about artist ownership, thus giving the artists a vested interest in our community. To date we have relocated seventy artists who have taken us up on our financial and cultural incentives." — Paducaharts.com
These incentives include money for relocating, grants for purchasing or building homes, and promises of business coaching and new venues for the artists. Paducah made good on those promises and they are now the example for best places for artists to live.
There is a boom in artist housing communities going on in the USA. As artists are priced out of the New Yorks and the LAs, and as the Internet makes it easier for artists to get the word out about their work, smaller cities and towns are becoming gathering places for the artistic elite.
Companies That Sponsor Artist Housing and Urban Revitalization Projects
Artspace Projects, Inc  – A nonprofit organization that purchases, renovates, and manages spaces that are used for artist housing and urban revitalization.
The Ford Foundation – Announced in 2010 that they would put $100 Million toward the building of new art spaces.
Partners for Livable Communities – A Washington DC-based nonprofit with the goal of developing livable communities around the country.
Cleveland's Community Partnership for Arts and Culture – another nonprofit with the goal of helping Cleveland revitalize through funding the arts.
Artist Housing Projects Across the Country
In addition to Paducah, these cities have started artist relocation programs:
Bradenton, FL- The Village of the Arts was founded by the Arts Guild of Manatee, and comprises approximately 35 arts-related businesses, many of which are also live/work spaces. The Downtown Development Agency administers two grants for homeowners, a facade grant for improvement to the front of a structure and a chain link fence replacement grant. 
Covington, KY- The Covington Commission has rezoned many commercial spaces for live/work galleries and studios. Additionally, they offer lots of financing options and tax incentives to help artists purchase and develop these spaces, as well as a flexibility that allows for "comparison shopping" of other like programs around the nation.
Cumberland, Maryland – Cumberland's Allegany Arts Council has created a very interesting relocation program. Complete with relocation incentives, the Arts and Entertainment district of Cumberland aims to upscale its town by bringing talented and hard working artists in to revitalize the district.
Chattanooga, TN – Forgivable mortgages, financial assistance, and career development training available for artists who are willing to roll up their sleeves and help build the cultural revolution that Chattanooga is developing. The program is entering the third stage of its development (no word on whether there will be a fourth) and may or may not be currently accepting applications for further residents.
Cleveland, OH – Artist Katherine Chilcote has a non-profit public art organization called Building Bridges. They are focusing on renovating abandoned houses for artists to live in and turning abandoned buildings into studios and galleries.
Collinwood, OH – Arts Collinwood has a program for helping artists set up and sustain businesses in this Midwestern town.
Detroit, MI – No relocation programs exist in Detroit at the moment, but artists are buying houses for as little as $100 and turning them into artist studios and live/work spaces.
Johnstown, PA – The Kernville Arts District has another relocation program. Great terms for mortgages for artists who are willing to relocate to Johnstown.
Lowell, MA- The Appleton Mills Apartments offer affordable live/work lofts for artists in a remodeled textile mill, complete with galleries, freight elevators, sink rooms, and basement storage. Their current application period is up, but check back for the next opportunity! An added bonus: Applewood is really not that far from Boston, and much more liveable.
Oil City, PA- A combination of financing packages, live/work spaces in historic Victorians, business support for artists, and an already-established arts scene make Oil City a city worth looking into. Check out the National Transit Art Studios to see what this community has to offer.
Pawtucket, RI – Thanks to Kate for mentioning this program. Competitive rental rates and a dedicated Cultural Affairs Officer to act as a contact person and advocate are all part of Pawtucket's comprehensive cultural plan.
St. Louis, MO – An abandoned shopping mall is offering studio space for as little as $100 per month.
Can't Bear to Leave the Big City?
The Seattle Housing Levy – The Seattle Housing Levy has funded three apartment buildings with units affordable to and designed for working artists.
Fort Point Arts Community, Inc. – An advocacy organization that helps Boston area artists obtain studio space.
Elizabeth Foundation for the Arts Studio Center – Provides subsidized workspace for visual artists in Manhattan.
Artist Housing Projects Across the Country
Do you live in an artist housing project or do you know of one not on this list? Leave a comment below and I'll add it to the list.