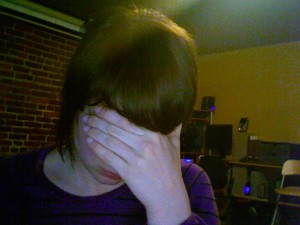 I have a confession: I am about to become a woman without a website.
My current site, which I created through Other People's Pixels and chose not to renew, is about to blink out of existence any day now, and then the only way to see my work online will be through my Vimeo channel, which is woefully sparse. How did I get myself into this pickle? A fatal combination of fear, laziness, and complacency. This is my cautionary tale- because in the immortal words of Joey Comeau, "If you can't be a good example, you have the obligation to be a horrible warning."
My first website…
was a Frankenstein monster spawned by Dreamweaver and created to showcase my (in hindsight) rather hilarious undergraduate portfolio. It took months to build (a semester of web design for artists 101, in fact) and was STILL pretty lame. And I don't even want to TALK about how long and unintelligible the URL was! This was about five years ago, too, when Facebook was still just for college kids and Twitter hadn't fundamentally changed the way people communicate.
When the time came for me to put together  my "official" artist site, I was about to present my MFA thesis, and the idea of putting in the work to build ANOTHER site was as daunting as the idea of paying someone to do it for me. I don't know if you're aware of this, but grad school is expensive! I saw companies like the aforementioned OPP as a happy medium- I'd be able to control content and some design elements, but the heavy lifting would be left to the experts, at a fraction of the cost. At the time, it seemed like my best option.
Times Change
Problem was, between 2006-2011 my work had fundamentally changed, and so had the world. For a newly-minted time-based artist such as I, prices for sites like OPP jumped significantly. By the time I figured out how to format and Flash-encode my videos for uploading to my site, I realized that the quality of said videos was sub-par, and that there were no analytics to determine if people were actually watching them. But I had paid for the full year up-front, and I wasn't about to let that money go to waste. I resolved to do the best with what I had, and make the most of the customizations I was afforded.
In making my decision regarding whether or not to renew the site, I thought about downgrading to an image-based site and just linking to Vimeo-hosted works from within it. But media quality wasn't my only problem with my online face- the frame designs and layouts offered by OPP were just not fit for the content I wanted to add! There is no way to upload art writings I wanted people to see, or list links to other artist sites, without annoying scrollbars built in to the frames. I've experimented with the interface so much that I might as well have built the silly thing from scratch in the first place. I didn't like the blog/news format at all, either. I couldn't add installation shots of shows I was in, for example, and people couldn't leave public comments, so dialogue was impossible.
Artist Website Templates Don't Work
Meanwhile, I began reading more and more about the perils of "stock design" sites, how they fail to set artists apart due to their telltale template formatting, and how they aren't set up for the kind of social media integration that's so de rigeur these days. You can link to a Facebook page, but there's no "like" button embedding, no "retweet this" options, and no way to build a feed into the home page. When I met Cory and started reading this blog, the WordPress option became more and more attractive, especially since I have used the WordPress format a lot in work for other clients. I've shied away before, citing time constraints, but I am officially out of excuses. It's time to make the site my work deserves!
In the following weeks, I'll be taking Cory's WordPress for Artists course as part of The Abundant Artist Community and sharing my journey with you. Maybe my experience will convince some of you that the perfect site really IS within your grasp. If I can do it, after all, anyone can.