At the beginning of February I announced the Fight the Monsters contest. The idea was to get artists to draw out their deepest fears, manifesting them into something that can be dealt with, instead of allowing it to mentally cripple them. The entries were very telling, and very familiar. Who doesn't recognize the monsters of criticism, fear, and all of their cousins?
I said that I would give prizes to the winners, and I will, but before I do, I want to say this: I think everybody who entered the contest won the prize of getting real about what fears they face, and how they might confront them.
So, without further ado, the winners:
Critical by Leah Jay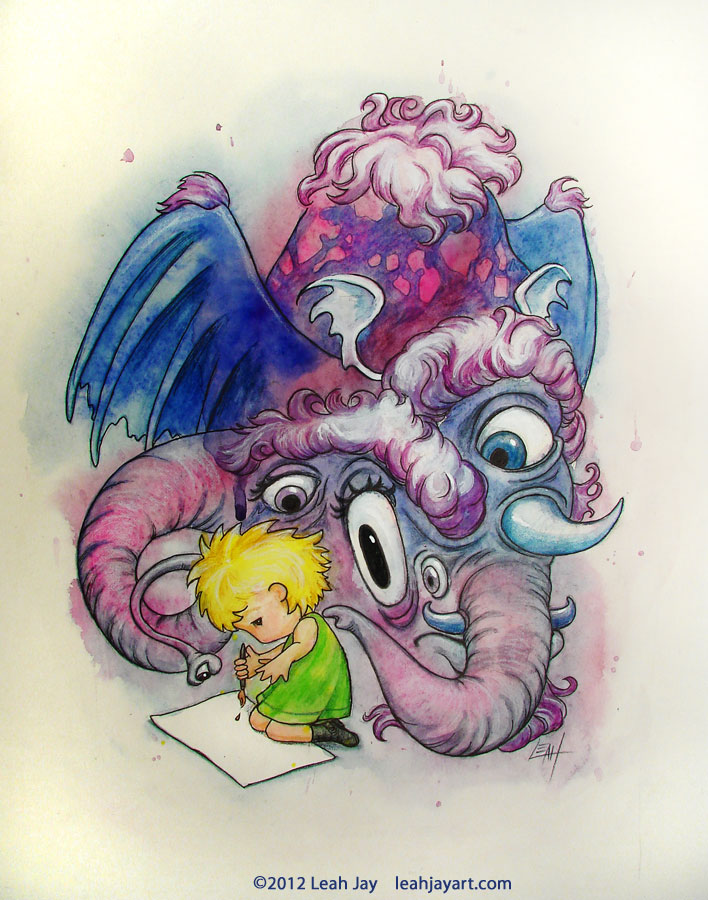 From Leah's comment on the Fight the Monsters contest entry:
"This guy, that critic that stares over your shoulder, worrying that you'll make a mistake and – what if nobody likes it? What if it's garbage? Hmmpf. He's a big ugly monster and difficult to ignore."
Indeed.
Check out Leah's work over at LeahJayArt.com, a beautifully done WordPress site.
Leah is the winner of the Monster Coloring Book from the Fluent Self.
Fear Monster by Marie De Mars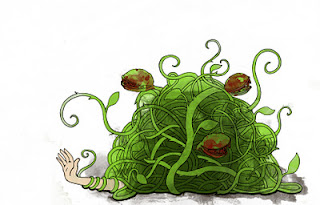 From Marie's comments:
[It comes from] the strangled feeling that always comes with fear. Drawing it out makes me think all I need is a pair of hedge clippers to deal with it!
Hedge clippers indeed! Congratulations Marie! She wins the 3 month membership in ArtEmpowers.Me. Looking forward to seeing you there!
What I Learned From Fight the Monsters
The most obvious thing that stands out to me is that all of the monsters were cartoons or cartoon-ish. They were in the vein of children's books. The things that hold us back and manipulate our fears are often preying on the part of us that feels small, vulnerable, and innocent. How we deal with those fears is unique for each of us, but taking care of that scared little one is important.
I also learned that there are a lot of artists out there who have secret fears that they are unable to let out. One of the funnest things about drawing out your monster is that it helps you see that so much of what holds you back comes from within. Face your monster, and then put it down!
"This was an excellent contest! I think everyone should complete this task in life, not only artists." – Alison Quine
The Monsters Live On
I want everyone to feel great about sharing their monsters. and about the fact that many of the monsters were created by very skilled, experienced artists. I would like to thank for them for sharing their work. To that end, I'm arranging for the pieces to be put into a well-crafted poster with quotes from each of the artists who want to participate.
I'm hoping that this poster will be an inspiration to others out there who are afraid of pursuing their dreams, and that they will be inspired to face their fears and realize that they can overcome them and do what it takes.
Thanks for participating, and let everyone know about the monsters!