A couple of weeks ago, Gmail rolled out a massive change to your email inbox.
If you are an artist that runs an email newsletter, I would bet that you are upset and scared by the new changes. They can impact your art business in a massive way.
Let's see if we can clear up some of the confusion.
Here's what happened:
Gmail Category Tabs – A New Art Business Barrier
Gmail has divided your inbox into three tabs – Primary, Social and Promotions. See this image: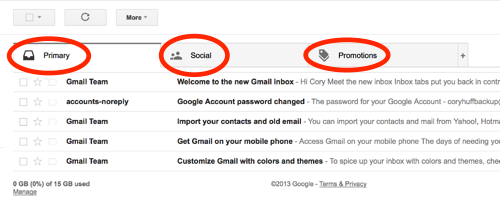 Here's why this matters to you. In many cases, Gmail labels your art newsletters as Promotions.
This means that people who signed up for your art newsletters, daily paintings, and other stuff about you that they love won't see it. Even though they wanted to! Your stuff is showing up next to spammy promotions for the latest weight loss drug.
If you are an artist with a following, or you want to be, that's a problem. Gmail's taking the choice away from you and your followers.
Of course, this also means that if you signed up for The Abundant Artist list to get free tips on how to sell art online, you might not see those emails either. Annoying. In fact, I bought Facebook ads just to make sure you knew about this new tactic.
A Couple of Suggestions
Option #1
I prefer the old gmail inbox. You can opt out of Gmail's new tool by clicking on the plus sign to the right of the Promotions tab and deselecting Social and Promotions. This way I get to manage my inbox the way I want to do so.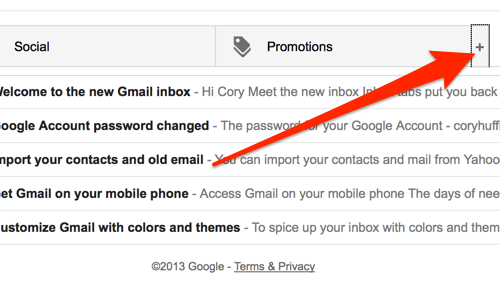 and then de-select the Social and Promotions box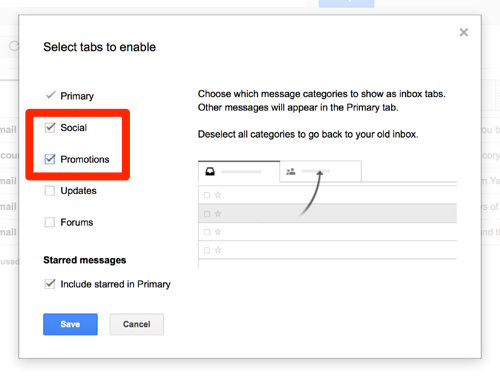 Option #2
If, for some crazy reason, you want to keep the Promotions tab but you want to make sure you don't miss out on any valuable emails like mine :), then here's what you can do:
Find an email from me, Cory Huff, and drag that email into your Primary inbox. This will ensure that all future emails will continue to to land in your Primary inbox.

A final thought: in the weeks since Gmail rolled out these changes, I have seen open rates for Gmail drop by nearly two-thirds, and click rates drop by half. Since the majority of free email accounts are run by Gmail, this is absolutely huge for you and your collectors. Keep it in mind.