This is a guest post from Laura Reynolds
As a growing profession offering a range of beneficial services across the arts world, art consultants can offer enormous value to anyone looking to make an impact on the art scene. Whether you're an artist, a gallery or a collector, art consultants can guide careers and collections to get the most out of both.
But what is an art consultant? And how can they help you specifically? Take a look through our guide and get a better understanding of these unsung heroes of the art world.
Art Consultants for Artists
As an artist, your primary concern is the production of art that speaks to your creative drives and allows you to retain your artistic integrity.
However, any successful artist needs to understand where their art fits in the marketplace in order to continue to produce the art they love. An artist cannot live on creativity alone, and in order to earn money as well as respect all artists need to find a market for their artwork or risk losing out on a career that they love. This is where the guidance and mentorship of an art consultant can prove extremely beneficial.
Lita Albuquerque, an installation artist based in Santa Monica, California, has worked with an art consultant throughout her career. She describes her consultant as an "extraordinary ally" and apportions a large part of the credit for her flourishing career to the mentorship and guidance of a consultant who understands her, her art, the marketplace and the business of being an artist.
In addition to providing support and guidance in making business decisions, Albuquerque's art consultant has helped her make connections and placed her art in prestigious collections.
Keith Sklar's "Learning Wall" mural in Hayes Valley, San Francisco
New York-based mixed media artist Keith Sklar has similarly glowing praise for the role of his art consultant in the development of his art and career. Describing his art consultant as a "critical advocate," Sklar says that his ability to produce art that is resonant with his audience is due in large part to his conversations with his consultant. These discussions have led him to place artworks in major curated collections and the art museums in Berkley University and the San Francisco Museum of Modern Art.
An art consultant is, then, more than an agent who can find you a place for a completed work. A consultant works alongside an artist to:
stimulate their creativity
constructively question their choices
advise them on becoming a success both artistically and financially.
Consulting on Collections
As part of developing their networks, art consultants grow relationships with a wide range of contacts in the creative world. This makes them exceptionally well-placed to bring together artists and exhibition spaces to create collections that are well-curated and successful.
Art consultants have a major role to play in bringing together gallery collections for major exhibitions. With a wide range of contacts, art consultants have a huge amount to offer gallery owners in bringing together high-quality artwork for exhibitions that will attract visitors.
One of the ways in which art consultants add value to curators and galleries is in their understanding of artistic trends and which artists are currently producing work that captures the current zeitgeist.
While artist's agents have a responsibility to promote the work of the artists on their books, art consultants are able to stretch beyond a small pool of represented artists to bring together creative content that is most relevant. This is also the case with private collectors with whom art consultants work to create collections that are both creatively relevant and a good investment.
Corporate Artwork
Of course, galleries aren't the only destination for completed artworks. Non-artists form a considerable portion of the client list for many art consultants, who help collectors and corporations select appropriate artwork for collection, display and investment. Many art consultants come from a background in gallery curation and bring that experience to clients seeking artworks for their private collections.
Companies seeking to invest in prestigious art collections as part of their interior décor will find art consultants to be of tremendous use.
Consultants use their expertise, contacts and knowledge of the market to source existing works of art and commission new pieces according to the specifications of the client.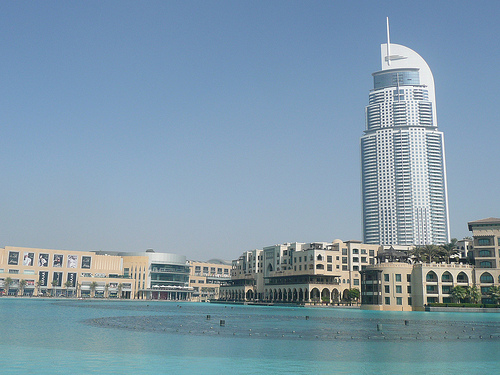 An architectural masterpiece like The Address demands a sculptural masterpiece for its forecourt
Construction and project management consultancy Atkins sought a partnership with an art consultant when furnishing one of the most prestigious skyscraper developments in downtown Dubai. With a clear brief, the firm accepted a proposal to work with art consultancy Artzu to commission a new piece of sculptural art to stand in the forecourt at the front of the hotel. British artist Berlino was chosen for his architectural scale sculptural style based on natural inspiration and La Concha was created – a stylised seashell that stands at the front of the hotel entrance.
Not all corporate projects are on such a grand scale, however, and even smaller firms can benefit from the expertise of art consultants in selecting artwork to complement their interiors. Working hand-in-hand with interior designers, art consultants can source or commission pieces to suit the company, their budget and their taste and even provide the opportunity to invest in an asset that will appreciate in value.
Common Criticisms of Art Consultants
So far we have discussed all the positives of art consultants and the valuable work they carry out for both artists and clients alike. Having said this, they do have their criticisms and as with most professions you get the unscrupulous few. A few common criticisms are:
They want a cut of everything and are not transparent with their fees.
They can become control freaks to the extent of micromanaging the careers of their artists.
They become too busy to meet or speak with their artists as they become pre-occupied with working on other deals.
But do not let these criticisms put you off as they only really apply to a minority few who seem to be doing their best to tarnish the industry's reputation.
Conclusion
Art consultants are a great resource to anyone with a vested interest in the art industry. Working with artists, consultants help shape the artistic market by ensuring the production of art that will find willing purchasers while clients in galleries, corporations and private collections helps ensure the matching of artwork with appreciative homes.
Image Credits: torroid and peartreedancer
Author Bio:
Laura Reynolds is a lifelong artist currently working with Gallery Rouge – an innovative and exciting art destination in Hertfordshire, UK. She has a wealth of experience in the art industry with the likes of Kerry Darlington.